Q&A with NhSolarGarden founder Andrew Kellar
Co-founder of the Green Alliance, Kellar is no stranger to innovative green ventures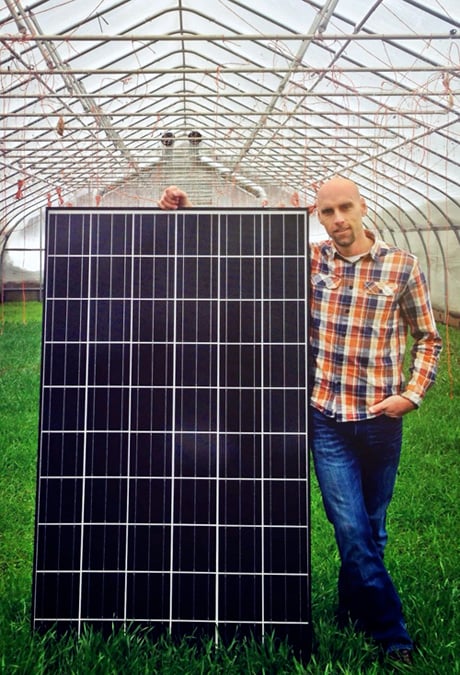 When it comes to spreading solar power generation in New Hampshire, green entrepreneur Andrew Kellar believes that waiting for solutions from government or large corporations won't work.
For the past two years, he has formulated an ambitious and potentially game-changing plan to create Stratham-based NhSolarGarden, which has a goal of making solar energy plentiful in the state by going small, one community at a time.
The plan involves a decentralized and entrepreneurial approach that taps into grassroots support by connecting small to medium-sized solar installations on farms, other property and suitable rooftops throughout the state to members who sign up for service and get a twice-yearly rebate – while paying nothing extra for solar energy.
Using the little-known group metering law passed by the New Hampshire Legislature in 2013, Kellar believes NhSolarGarden will have a dramatic multiplier impact on local economies while bolstering greater land conservation and local agriculture.
"The key to supporting a growing infrastructure and distributed solar generation across the state is to use the grid at a local level," Kellar says. "We don't need a large $10 million project to kickstart widespread development."
Kellar is no stranger to innovative green ventures. In 2006, he founded Simply Green, which has since become a successful biodiesel fuel company. Later, he co-founded the Green Alliance, the Portsmouth-based green business advocacy organization, and was entrepreneur in residence at the Green Launching Pad incubator at the University of New Hampshire. He then worked at the solar company Revolution Energy, where he said he "was fortunate enough to learn from the best" about solar financing and project development.
Q. You've said that NhSolarGarden was two years in creation. What have you been doing?
A. I spent four years in the solar industry seeing what worked and what didn't. Most of all, I was trying to create a sustainable model that would work in New Hampshire.
While they are nice, we don't need large projects that depend on often-complex tax equity financing schemes. We are self-financed through private investors who understand what we are doing. We can plant hundreds of small installations and connect them to the grid and consumers to create an effective critical mass.
If you look at solar community development in Colorado, you can see how they have succeeded with direct solar energy distribution. It will work differently here because of the regulatory and utility structure, but it can succeed. We haven't reached rate parity yet, but we are getting close, and creating more supply and demand will drive down prices.
Q. In your model, who are hosts and who are members?
A. Hosts can be farmers, landowners and even residential and commercial rooftops. We finance the installations and take care of the administrative work through the utilities and pay lease revenues to the hosts. Landowners, homeowners or commercial buildings with as little as 7,000 square feet of space can become hosts. We believe people will embrace this model when they understand that even a rooftop array can generate a lot of clean energy and contribute to a dynamic, growing network.
We can't sell directly to users through their utilities, but due to the group net metering law, we can generate electricity at a host location and share the value by selling the excess to members at another location. Members can be a residential user, a business, a town or school who signs up on a first-come, first-served basis on our website and become part of projects in areas covered by their main utility. They get assigned to a solar garden project.
As part of our incentive program to drive participation, members share in the value of solar energy that is locally produced and get twice-yearly rebates of 1.5 cents per kilowatt hour. The important thing about our model is that everybody can be involved.
Q. How does the company make money?
A. By selling the excess power not used by hosts or members to the utilities.
Q. How many projects do you estimated will be up and running by the end of 2014?
A. Public interest has been strong from people interested in being hosts and members who want to get involved. Probably 15 to 20 projects – and this will generate enough clean energy for 300 homes year-round. We have multiple projects in the Seacoast region and the Lakes Region and in the central and western parts of the state. Within the next two years, I believe we will generate more solar electricity than was generated overall in the past five years.
Q. What lessons did you learn in previous entrepreneurial ventures that will help you with NhSolarGarden?
A. I've learned two big lessons. First and foremost, my goal is to find a niche within a very established industry and build that niche. With Simply Green, we were filling a niche in the big oil industry and ended up growing leaps and bonds because public support was there to pay a little bit more for a sustainable product. We are now carving out a niche in the solar industry that can foster widespread growth.
Second, it's important to stay focused. It's not good to try to be everything to everybody. It's more valuable to find the niche and stay focused on the mission that will provide success. We may not have huge, hockey-stick type growth, but the slow and steady climb of consistency is much more satisfying.