Q&A with NHDOT Commissioner Victoria Sheehan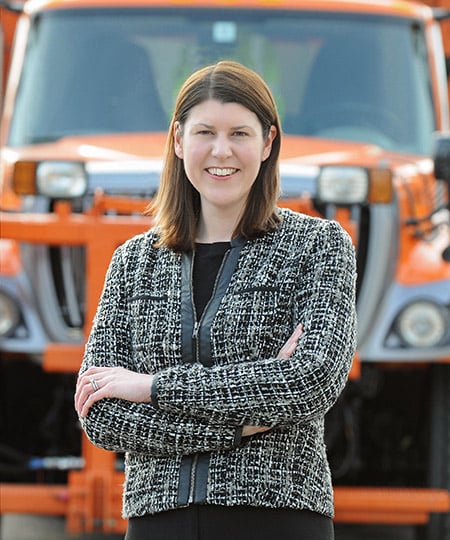 Growing up around the construction industry, and attending an all-girls school that encouraged her natural talent for physics and math, Victoria Sheehan foresaw her engineering studies as part of a natural progression. What she didn't foresee was a career in the public sector in the U.S.
A native of Northern Ireland, Sheehan received her master's degree in engineering from the University of Edinburgh in Scotland before accepting a job as a project design engineer with the Massachusetts Department of Transportation's Highway Division. Over 10 years, she served in a number of roles, including accelerated bridge program manager, bridge program consultant contracts administrator and, lastly, as manager of strategic planning and highway performance.
Gov. Maggie Hassan got word of her experience and nominated Sheehan to become NH Department of Transportation commissioner, a job she's held since October.
Q. What similarities and differences have you noticed working for the Departments of Transportation in both Massachusetts and New Hampshire?
A. I think there's a lot more similarities than differences. Every state is faced with the challenges of doing more with less.
Specifically in Massachusetts, there were very different transportation needs in the Boston area, vs. the Cape, Berkshires and central Massachusetts. In New Hampshire it is the same. The needs are different in the central and southern areas of the state vs. the more rural parts, especially because those regions rely on tourism. Ultimately, many of the same issues are prevalent here, but the priority of those issues might be different.
Q. There's a lot of discussion concerning infrastructure needs across the country.
A. Many states have been struggling for too long due to budget limitations. We have deferred investment in terms of maintaining our infrastructure. Across the country, states are forced to face this backlog.
If we weren't able to invest at the right time, we now have to invest three or four times more to get it back to the same condition. As DOTs, we continue to balance meeting the needs of the public in terms of expanding services but also maintaining existing infrastructure.
Q. How does that apply specifically to New Hampshire?
A. Completing the widening of I-93 from Salem to Manchester is important for the state, as opening that corridor helps bring economic opportunity. We need to ensure we have a balanced program however, so that we can take on these large projects, but also continue to invest in other roadway segments and other bridges across the state.
Q. How do you manage New Hampshire's aging infrastructure?
A. I think the age and condition of our network means that we as a department need to continue to invest in our condition monitoring. There are federal requirements we have to comply with, and they have traditionally focused on bridges and the condition of our pavement. NHDOT is not alone in terms of needing to not just track the current condition but model what we expect the future condition to be with different levels of investment. We are also building out inventories so that we can monitor the condition of other assets, our signs, guard rail, drainage systems and culverts, beyond what our staff are accustomed to.
Q. Congress recently passed a five-year highway bill. Will that help?
A. We've been in a period where there was no long-term funding bill for transportation, with multiple short-term extensions. The passage of a five-year bill brings stability. To know what the available federal dollars will be allows us to plan and move forward with certainty. It also allows the design and construction industries to prepare accordingly, as they can have confidence the projects are funded and will actually move forward.
Q. What is an interesting challenge you faced while with the MassDOT?
A. In Massachusetts, I was the program manager for the accelerated bridge program, which was a $3 billion, eight-year program to address the condition of bridges in Massachusetts. That program was considered Massachusetts' laboratory of innovation.
Within the legislation that established the program, we were specifically tasked with doing business differently and using new technologies, so it was a fun program to be part of.
We implemented initiatives to expedite project delivery, getting projects ready to advertise quicker than ever before but also completing construction more rapidly. This experience I draw upon regularly. That program was also tasked with being more transparent and accountable. There were a lot of project metrics we had to measure and track and I hope to expand NHDOT's reporting in a similar fashion to bring more visibility to the work we do.
Q. How do you keep track of the work quality of contractors that work on projects?
A. We have a prequalification process for our contractors. We track their performance, but we also have a presence in the field, staff that are responsible for ensuring quality. We also do materials testing to make sure we're getting the product quality we're looking for, and all of our construction inspectors are trained and certified.
If we're using federal funding, the Federal Highway Administration has an expectation we will provide that oversight. At the end of the day, we are New Hampshire residents, we are taxpayers as well, so we take pride in the work we do and want to maximize the value.
Q. What sort of impact did this past winter have?
A. In terms of our sheds, they have been depleted. DOT crews have been out there doing winter maintenance especially in the northern part of the state where there hasn't been significant snowfall but there has been plenty of winter weather with smaller accumulations and freezing rain. That being said, it does appear at this stage that we're under budget.
Recently, as part of House Bill 2016, the House approved the use of up to $2.5 million of excess winter maintenance funds for the purchase of equipment, with up to $2.5 million allocated to the State Bridge Aid Program. This has been an unseasonably mild winter, but it's just as likely next winter we could have significant snowfall events again. We do have an aging fleet and a lot of equipment needs to be replaced, so investing these additional dollars will insure we're prepared for future years of winter maintenance.