Q&A with NH Parks and Recreation Director Phil Bryce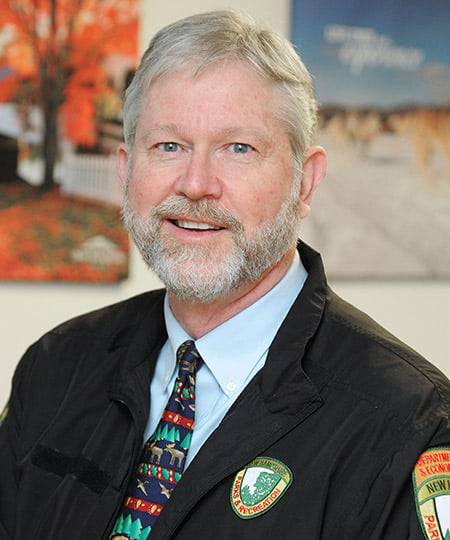 New Hampshire has 92 state parks, including coastal beaches, geologic sites, historic sites, mountain passes and inland lakes. They are the responsibility of Phil Bryce, director of the Division of Parks and Recreation.
A Chicago native, he developed his love of the outdoors while spending summers with grandparents in Ontario. He went to the University of Maine to study forestry and remained in New England, earning a MBA degree at Plymouth State University. From 1997 to 2008, he directed the state's Division of Forests and Lands, and in 2011 was appointed to his current job. Now, Bryce runs a division with four bureaus, a $30 million operating budget, and 1,100 employees.
While he can't control the weather, he handles everything else the 6 million yearly park visitors might encounter — right down to the last picnic table. While it has had financial struggles in the past, New Hampshire's park system remains the only state park system in the country that is entirely self-funded, with the exception of capital expenditures.
Q. Why are our state parks important?
A. People want to live in a place that has open space, or access to open space. We know this has an effect on where people choose to live, work and retire. We're fortunate to have a state park system that offers a wide range of experiences in relatively close proximity. You can be at Hampton Beach State Park with 50,000 other people, then drive up to the Connecticut Lakes Headwaters Tract in Pittsburg where there's no one else around.
Q. How do the parks benefit New Hampshire's economy?
A. The parks system is one of the top tourism businesses in the state. Visitation contributes over $500 million to the economy and directly supports 8,000 jobs. There are associated benefits such as the rise in property values adjacent to parks. And managing parks successfully has an impact on businesses. For example, investments in facilities at Hampton Beach State Park resulted in the expansion of businesses across the street.
Q. New Hampshire's state park system is self-funded, with the exception of capital expenditures. How is that possible?
A. We fund the operation of all of the parks and administration, with the exception of our 16 historic sites, with fees for the use of the parks. Entrance fees bring in the most revenue, although half of our parks are free and we haven't raised day use fees since 2010.
Concessions and snow sports generate the second-largest portion — that includes store sales, food, rentals, lessons, ski school and the nursery, followed by ski tickets and passes, camping, leases and parking meters. It all goes right back into the park system. When we get a new truck, I remind staff that 10,000 children paid a $2 entrance fee for that, so they'd better take good care of it.
Q. Weren't there some state park closures a few years ago?
A. Yes. In the mid-2000s, there was a $2.6 million deficit in the parks fund. We've erased that and are in a much better financial situation. Over the past five years, we've had double-digit growth in our revenues, which corresponds to an increase in visitation to national parks and state parks across the country.
Q. Were there other factors that helped?
A. When I arrived, we were in the process of getting rid of the deficit. I came up with some focus areas for making the parks more attractive, and the staff was wonderful in embracing those. We worked on lawns, trash, paint — things that don't take tens of millions of dollars but make the parks look good. We focused on picnic tables. When you're camping or picnicking, the table is the center of your universe. It can't have holes in it.
Q. What role does state funding play?
A. Capital funds are essential to the equation and allow us to improve facilities so that people want to come. We receive general fund support through the capital budget — roughly $5 million over the biennium. Also, it's critical that we have the statutory authority that allows us to operate efficiently. When summer comes, we can't wait for funds to be approved. If we did that, the season would be over before we could pay our staff.
Q. Which parks are the most profitable?
A. Franconia Notch contributes the most by far — almost half of our revenue, due to Cannon Mountain and the Flume. The system is structured so that the parks that generate the most revenue support the rest.
Q. What challenges does the parks system face?
A. Unpredictable weather is our major challenge. We estimate that a 20 percent increase in rainy days would cost us $2 million in revenue. Deferred maintenance is always an issue; we have 656 buildings, 21 bridges, 26 dams, 149 septic systems, 91 water systems and hundreds of miles of roads and trails. The increase in visitors is great, but that puts a strain on facilities like parking. And personnel — it's increasingly difficult to find new employees who have the skills and dedication to take care of the parks and our visitors.
Q. How has park use changed?
A. Mainly in the demand for access during what was traditionally considered off-season. We're opening earlier and staying open later. We've started plowing the sidewalks at Hampton Beach so people can walk all year round. People want to do more activities, like kayaking and using a playground. We have more requests every year from groups wanting to use the parks for fundraising events. We need to balance achieving our primary focus and assisting other entities with their missions.
Q. What are your challenges as director?
A. Besides the challenges of running any organization, there's managing our relationships with the many partners operating within the parks, such as the Seacoast Science Center, Mount Washington Observatory, Auto Road and Cog Railway. They bring so much value for our visitors, and providing that stewardship is important. Our missions overlap but are not fully aligned.
Q. How much time do you spend in the parks?
A. I don't get to spend as much time in the field as I'd like. Nearly all my time is spent in my office, in meetings and in my vehicle.
Q. What are the hidden gems of the system: the under-appreciated or under-visited parks?
A. If I tell you, all the people who appreciate them now will be mad at me, but I'd suggest Wadleigh, Chesterfield Gorge, Kingston, Wentworth. Clough needs work, but it's beautiful. In the North Country, Forest Lake and the rental cabins at Coleman State Park. For camping, Mount Sunapee. Lots of people don't know about that.
Q. Which park is your favorite?
A. I always answer that with, "Whatever one I'm in."
Q. What do you wish more people knew about New Hampshire state parks?
A. That we are a self-funded system that depends on user fees. Everyone in New Hampshire should be really proud of that. I'd also like people to know that you can purchase a state parks license plate that gives the park system a stable source of income. It allows free admission for each passenger in the vehicle, so if you're a frequent park user, that's good value.