Q&A with NH Lakes President Tom O'Brien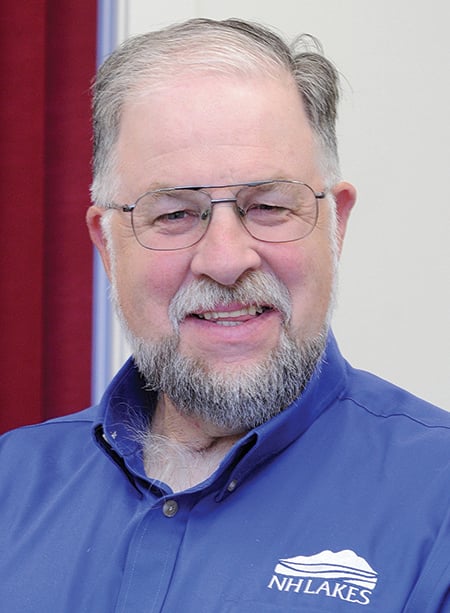 NH Lakes is 26 years old, but its name is new. Formerly known as the NH Lakes Association, it recently simplified its name, unveiled a new logo, moved into larger space in Concord, increased its staff, exceeded its major gift campaign goal and renewed its efforts to ensure that New Hampshire's 1,000 lakes and ponds remain clean and healthy.
Tom O'Brien has led the organization for seven years. A New England native, he has worked to protect watersheds in Oregon and New York. At NH Lakes, he works with local lake associations, environmental groups, public agencies, and individuals — including hundreds of volunteer "lake hosts." O'Brien sees New Hampshire's lakes as one of the state's greatest assets – and he would like to paddle every one of them in his Old Town canoe.
Q. What is the purpose of NH Lakes?
A. We work to promote clean water policies and responsible use, and to inspire the public to care for our lakes. Without an intentional approach to maintaining the health of lakes, they will age more quickly, some within our lifetimes.
Q. What do you mean by "aging?"
A. We think of lakes as living things that have a natural life cycle with a beginning and an end. New Hampshire's lakes were created by glacial activity about 10,000 years ago, so they are young, geologically. A young lake is clear and has very little organic matter and high levels of dissolved oxygen. Over time, lakes essentially begin to fill in with decayed plant matter and sediment from the adjacent landscape. What we do around lakes, and how we do it, determines the rate at which they age.
Q. Why should we protect our lakes?
A. We rely on clean lakes to drive our economy, our quality of life, even to some extent our identity as a state. They provide vital habitat for wildlife. They're a source of recreation and scenic beauty. And they're valuable economic resources that support business and tourism.
We love them for these reasons, but there's the danger of loving them to death. There's always a catch-22 with development pressure. If we want to widen Interstate 93, we need to recognize that when we do so, we encroach further and further into the watershed of a lake or pond. If we want bare asphalt in the winter, there's a cost in terms of water quality.
Q. How is your message received?
A. Everyone who lives in and visits New Hampshire loves the lakes. Every business owner I've met whose business relies on lakes implicitly understands that however goes the lake, so goes the business. We have municipalities whose economies rely on marinas, camps, rentals, and clean water is essential to them. It's in their best interest to maintain clean, healthy lakes.
Q. What are the main threats to New Hampshire lakes?
A. Over the past 40 years we've been dealing with two primary threats: the influx of aquatic invasive species and the widespread and, we think, ultimately more lethal threats of polluted runoff from the developed landscape, which is changing the lakes right before our eyes. Added to these are weather changes that are warming lake temperatures and changing precipitation patterns. In the past 40 to 50 years, some lakes have gone from a cold water fishery to a warm water fishery.
Q. What do you do to protect lakes?
A. Advocacy, conservation and outreach. We advocate in Concord on behalf of lakes, and we think we've done that well. It's challenging in a state where there are 400 representatives and 24 senators up for election every two years and agencies that are overburdened with responsibility.
We've been involved in legislative issues that will affect our lakes for generations to come, such as the Clean and Drain Law that went into effect last year to control invasive species. We serve in the public sector on boards, committees and councils, such as the advisory commission that was established to assess the Shoreland Water Quality Protection Act.
Q. How do you educate the public?
A. Our Lake Host Program is our first line of defense, with 800 trained volunteers and staff members who educate boaters and provide courtesy inspections at 102 heavily used boat launches. We educate property owners about best practices, such as planting vegetative buffers like meadows and blueberry bushes instead of lawns. We educate citizens, business owners and visitors about everything from boat safety to lake-friendly practices.
This year, we reached out to the NHDES to join us in asking Governor Sununu to designate July 2018 Lakes Awareness Month. We hold an annual Lakes Congress, which provides training, education and networking. It's a great opportunity for citizen scientists to learn more about lakes and watersheds.
Q. How successful is the Lake Host Program?
A. The program is in its 17th year, and this year we celebrated our 1 millionth inspection. This summer, there were 24 "saves" — instances where suspicious fragments were discovered on boats or equipment and sent to the Department of Environmental Services for identification and found to be invasive species. Every save potentially prevented 24 infestations — each of which could cost communities tens of thousands of dollars.
Q. By invasives, do you mean milfoil?
A. Exotic milfoil is the poster child, since it's the most common invasive plant in our lakes. About 85 lakes have a milfoil infestation of some size. But there are other invasive plants and animals.
Several New Hampshire lakes and rivers contain Asian clam infestations. Zebra mussels are in Massachusetts, and last year they were found on a sailboat that was about to enter Lake Sunapee. It had last been in the water on Lake Champlain, albeit several years prior. Chinese mystery snails occur in an uncounted number of lakes.
Q. Who are your partners?
A. We work with local groups and individuals. There are more than 100 lake and watershed association in the state. Some, like the Squam Lakes Association and the Newfound Lake Region Association, have been around for years and years and are doing great work.
Q. What are people surprised to learn about New Hampshire lakes?
A. Many people don't realize that fewer than a third of them are in the Lakes Region. There are lakes in every region, and some towns have multiple lakes. The town of Harrisville has seven.
Q. What's the best thing people can do to protect lakes for the future?
A. Whenever people ask me that, I say "mow less." The best thing people can do is to maintain the land around the lake in a forested condition.
Q. How many of New Hampshire's lakes have you been to?
A. I'd say between 100 and 200. I hope I live long enough to dip my toe into every one of them.
Q. Which is your favorite?
A. The one I was at last. New Hampshire's lakes are all unique in their own way — the way they look, smell and sound, their temperature, and the community around them.
Q. What is your favorite lake activity?
A. I'm a paddler. I like canoeing, mostly on small lakes to avoid large boat traffic. But my favorite activity is just having coffee and conversation around the lake, hearing people's stories about the lakes they love.