Q&A with NH Center for Nonprofits CEO Kathleen Reardon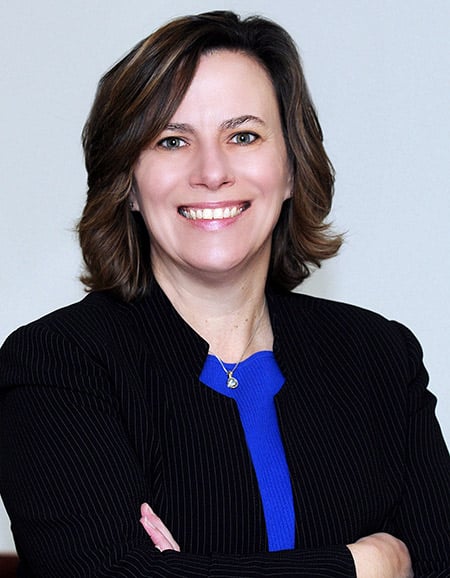 In January 2016, after an 18-year career at Citizens Bank, culminating with the job as director of corporate giving across the bank's 12-state footprint, Kathleen Reardon took over as CEO of the NH Center for Nonprofits, an organization that provides nonprofits across the state with programs and resources to support their growth and sustainability.
Q. What led you to leave the corporate world to head up the Center for Nonprofits?
A. It really felt to me that everything I had done has led to me taking the job at the Center for Nonprofits.
I started my career in the nonprofit sector, working at a really small service agency in Cambridge, Mass. I then worked at the Girl Scouts for a couple of years before getting a great opportunity at Citizens, to be in the corporate world to focus on community partnerships and nonprofits.
I had a great 18-year career at Citizens, where I had the opportunity to grow and learn different things, but this was really a great opportunity.
Q. What is the center's mission?
A. It is a statewide membership organization, and our objective is to strengthen and give voice to the nonprofit sector by providing a variety of educational tools and resources to help nonprofit staff and board leaders strengthen the capacity of their organization. We also provide visibility to the sector.
Q. What is the current state of the relationship between the donor and nonprofit community?
A. I would say there are a lot of myths or misperceptions about the nonprofit sector that the general public doesn't always understand, and that is something that the center tries to shine a light on.
One is the funding environment and the world in which we work. For example, there is always a lot of attention by donors and the general public about how much money goes to programs as opposed to funding overhead, the percentage of funding that goes to fundraising and other activities. That is not a question for-profits, but it is a question for nonprofits.
There has been a long history of donors thinking that if more money is going to programs, that's going to be more effective. The reality is that you still need to have management costs to be effective – one number does not tell the whole story.
We need to have a real conversation on the true costs of delivering those services. We need to recognize that nonprofits are providing very sophisticated programs, managing sophisticated, complex issues. We need a talented workforce and need to pay that workforce.
With that being said, nonprofits provide things more cost-effectively than other entities, and the nonprofit sector needs to better communicate how we save taxpayer dollars.
Q. What is the economic impact of the sector in New Hampshire?
A. New Hampshire nonprofits contribute about $10.5 billion to the gross state product, about 15 percent. One in eight people in the workforce are employed by a nonprofit organization.
I do think that business and government leaders are more aware of it than they used to be, but I don't think it's uniformly understood. People often interact with nonprofits, but they don't think about whether the organization is a nonprofit or not. They think about visible charities, like soup kitchens, which serve the less fortunate. But the reality is if your daughter is in the Girl Scouts or if you're going to the Palace Theater, those are both nonprofits.
Nonprofits touch every aspect of our lives. There are environmental organizations like the NH Audubon Society, the Society for the Protection of NH Forests, small local land trusts that help to conserve those special places in our state. There are arts organizations, youth-serving organizations, afterschool programs, child care programs, community health care programs, hospitals, educational institutions, public radio and TV.
It's a diverse array that goes beyond what is typically thought of as a nonprofit, providing social services, food, housing, shelter for the homeless.
Q. During the recession there was a lot of consolidation among nonprofits. Is that still a trend?
A. When I started at the center, I held a series of listening sessions across the state and met with a number of nonprofit and business leaders about what they were working on, how they were managing their challenges and adapting. What I heard a lot was interest in collaborating.
I think that in the post-recession, people thought that mergers were going to be the pathway to more efficiency. I'm not sure that has completely borne itself out. We have seen some successful mergers, but there are broader ways for people to work together, which can have a bigger impact.
You can see that around the opioid crisis. There are a lot of interesting ways that nonprofits are working in deeper collaborations. Collaboration has always been part of the sector's ethos but it's even bigger now.
Q. Why is that?
A. Some of it is the scope of the issues we're facing, and some of it is the reality of the resources. How do we enlarge the pie and not just think of this as a zero-sum game. If we together more purposefully, can we garner more support?
Q. Do you sense that the new administration and Congress will be making changes in terms of funding sources that go to nonprofits?
A. What I would say is that it is an uncertain time for everyone. I think it's going to be more important than ever for nonprofits and even businesspeople to be more nimble, more adaptive. We are working with a national group so we can be poised to help our nonprofits understand what's coming down the pike.
What's very clear is that people have lost a lot of faith in our institutions, whether it's the government or the media. Nonprofit institutions still have a level of trust, so we have an opportunity help the broader public and folks who are engaged with us to change that dialogue.
Q. What about at the state level?
A. Obviously one of the issues is around Medicaid expansion. A lot of nonprofits, whether they're focused on substance use disorder or community health care or meals on wheels, are very oriented around that Medicaid funding. What will any changes to the Affordable Care Act mean for nonprofits, both as employers and providers of services?