Q&A with NH Audubon President Doug Bechtel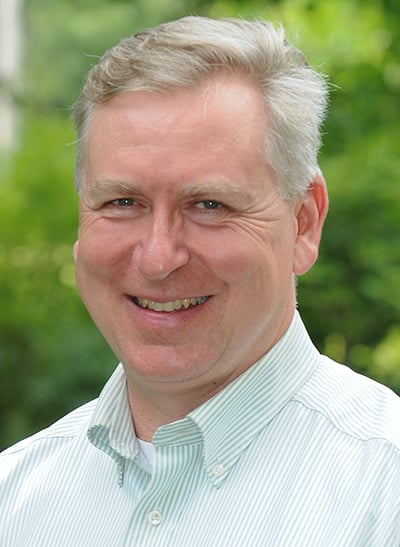 In 2016, NH Audubon hired Doug Bechtel as president. He was hardly new to the state's conservation scene, however. Bechtel has spent most of his career as an environmental professional here, 15 of them with the New Hampshire chapter of The Nature Conservancy.
Entering its second century, NH Audubon has a membership of 5,000, "an army of volunteers," four centers and 39 sanctuaries. More than 100 businesses and foundations support the organization, and hundreds of families send children to its environmental education camps. Bechtel says he's looking to chart the organization's second 100 years, grow the organization, and continue the mission of protecting New Hampshire's environment for wildlife and for people.
Q. What does NH Audubon do?
A. We have four main program areas: owning and managing land for wildlife; environmental policy; environmental education; and science. We offer opportunities for people to connect with nature, because if they care about nature, they'll make decisions that protect the environment.
Q. How does NH Audubon differ from other environmental organizations in the state?
A. We are close partners with other environmental nonprofits, such as the Society for Protection of New Hampshire Forests, the Appalachian Mountain Club, The Nature Conservancy and the Conservation Law Foundation. We have areas of overlap. We all own and manage land for environmental purposes, and we all do policy. NH Audubon has a strong focus on environmental education, and our resident expertise in birds and wildlife is probably the strongest. Our lands are called sanctuaries, and three of these have nature centers and interpretive trails. We also have a very successful summer and vacation camp program. We had 615 kids this summer from 40 towns.
Q. How much land does NH Audubon own?
A. Our sanctuaries cover 8,000 acres of important wildlife habitat, in every county in the state. We maintain 70 miles of trails on these lands, which are open to the public free of charge. The largest is Willard Pond Sanctuary in Antrim, with 1,671 acres, and the smallest are less than an acre in size on islands in Lake Winnipesaukee.
Q. What are your policy efforts?
A. We focus mostly on state legislative issues, such as energy, transportation, contaminants, forest resources and wildlife. For example, NH Audubon was among the opponents of a bobcat hunting and trapping season. The NH Fish and Game Department ultimately withdrew the proposal that would have allowed the season. We work on federal issues as well, such as management plans for the White Mountain National Forest and National Wildlife Refuge lands and high-priority environmental issues facing Congress.
Q. What do NH Audubon scientists do?
A. Our efforts are very targeted. We monitor species that are in decline, not just for the sake of that species but because of the broader implications — what that decline means to the larger environmental story. Birds are environmental indicators. By monitoring bird populations in New Hampshire, we are contributing to solving larger environmental challenges in terms of climate change, pesticide use and habitat decline.
Q. What are some examples?
A. Bald eagles are a well-known success story. They are recovering and their numbers in New Hampshire have never been higher. Right now the rusty blackbird, which is found only in northern Coos County, is declining faster than any other native bird in the state. Its range is shrinking and we're terrified that it's going to go away.
Q. Where does NH Audubon's funding come from?
A. We're one of multiple independent Audubon societies in the country — we are not an affiliate of National Audubon. Our funding sources include membership, camp and program fees, grants, special events, and individual and corporate donations.
Q. How do businesses support NH Audubon?
A. In our fiscal year 2018, we had cash or in-kind support from 147 businesses or foundations. Corporate sponsors generally have a very specific purpose, such as helping with signature events like our Earth Day celebration at Massabesic Audubon Center in Auburn. Eversource has been a sponsor of the Amoskeag Fishways Learning and Visitor Center on the Merrimack River for over 23 years. Through a partnership with Saint Paul's School, we use a portion of their land at our McLane Center in Concord for programs, camps and general recreation. Our most recent corporate sponsor is Chippers, a tree service in Meredith. They're helping fund our annual meeting.
Q. What would you like more people to know about NH Audubon?
A. Our sanctuaries and centers are open free of charge to the public and there's a huge variety of activities at all our centers. We offer lots of educational opportunities, some of which are free. Every Monday morning in May, we have free bird walks. We have guided paddle trips, lectures and field walks on topics such as turtles, dragonflies, mushrooms, trees and practical workshops like tree identification, natural landscaping and preventing the spread of invasive species in our lakes and ponds.
Q. What are the organization's challenges?
A. I'd like to grow the organization across all our program areas. They are all equally important to our constituents, so we need to continue to be strong in every one of them. Membership is rising, but very slowly. I would like to double our membership and attract a younger and more diverse donor base. Fundraising is a challenge. The trend that nonprofits are seeing is that people retiring now don't have the kind of cash wealth the previous generation had. The hardest money to raise is general operating support, which pays staff costs and allows us to be responsive and nimble in what we do.
Q. What is your background?
A. I'm a birder. Loons had a big impact on me as a kid spending summers on Lake Winnisquam. I majored in biology major at Grinnell College and went to the University of Vermont for my master's. I worked as a nature guide in Vermont and Arizona, and started my career in New Hampshire with the Natural Heritage Bureau doing field ecology. I'm a nature nerd. I love to be outdoors and I'm still excited and amazed at birds. I love taking a group out on a bird walk or watching a kid "ooh" and "aah" when they see a robin feeding her chicks.
Q. What is your favorite place to go birding?
A. In terms of pure birding excitement, it would have to be the Grand Canyon. In New Hampshire, it would be the Isles of Shoals; and not far away, Plum Island in Massachusetts.