Q&A with NH AFL-CIO president Glenn Brackett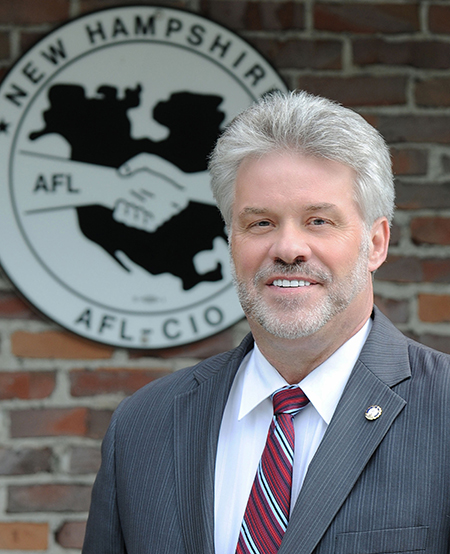 Don't think that Glenn Brackett – former business manager of IBEW Local 2320 and leader of the four-month strike against FairPoint Communications – as some kind of fire-breathing militant. In fact, Brackett, who took over as president of the NH AFL-CIO after appealing a close election in July, tells NH Business Review that his first priority is to create jobs and build relationships with business.
Q. When did you get involved in your first union?
A. I became a steward in 1980 of IBEW 2320 at 23. I always played sports, and I saw the benefits of individuals putting their talents together. The whole philosophy of unionism to me was a democratically elected organization where we all worked together for a common goal.
Q. What were you doing then?
A. Telephone repairman. In 1979, I started with AT&T, which became New England Telephone, then Nynex, Bell Atlantic, Verizon and finally FairPoint.
Q. Tell me about the FairPoint strike.
A. The company gave us 65 proposals. They responded to none of our counterproposals. The company imposed a contract that took away our pension, health care, job security, 35 years of collective bargaining gains.
When the company started telling us, "As of this date your pension is gone forever," we went on strike for 131 days. We got our pension back, at a reduced rate. We did get health care back. A lot of our job security was wiped out, but we retained a bunch of it also. The strike was a victory for labor.
Q. Why did you end up running for president of the AFL-CIO?
A. I was 37 years in telecommunications. I've been through divestiture. I've been through strikes. I've been through a sale. I went through a [FairPoint] bankruptcy. I went through another strike. To be quite honest, I had fatigue dealing with the issues of FairPoint. I'm well known in Concord. This was a good opportunity.
Q. Did you just want the job?
A. What I saw in the FairPoint strike was this: A group of people working together made such a difference. Why instead of being two locals, what if the entire union world in New Hampshire decided we are going to all work together? This is a great opportunity to do just that.
Q. Tell me about the election.
A. It was not me running against Mark McKenzie. Mark has been the voice of labor for a long time. On the other hand, I have new ideas. I've run a union for the last 12 years. I have a direction to take the organization. There is nothing personal at all.
Q. But you had to win on appeal.
A. Some ballots were not counted. My appeal was the intent on those ballots was clear and should be counted. The national organization agreed, that we are a democratic organization. That was paramount. Without counting the ballots, I lost by 20 or 21. Counting the ballots, I won by over 600 [out of] almost 10,000.
Q. What difference are you going to make?
A. I believe our first responsibility is to grow good jobs in New Hampshire. We need to work with businesses, with apprentice programs. Our prime directive is good jobs.
Q. Are there any issues where you will be a little different?
A. I look to our affiliates, the local unions, and I take their direction: which issues will provide them the opportunity to create the most jobs. That's how I see my role, as a facilitator.
Q. You see yourself more conciliatory?
A. I think it is all about doing business. It doesn't do any good to burn bridges. Success in life is in building relationships, and I think that's a strong point I have. I will talk to anybody about anything.
Q. Do you think unions need to be more willing to strike?
A. It all depends on the particular situation. With the FairPoint issue, we didn't have a choice.
Q. How about on the legislative side?
A. When someone runs for an elected position, they have to take a pledge of no broad-based tax. Then you have to look at cutting. If we can't cut enough, then we need to find another revenue source. The one that stands out to me is expanded gaming.
Q. How about labor legislation? Anything new on the horizon?
A. The big thing really is the minimum wage. Today in New Hampshire, two people working 40 hours a week earning minimum wage can't afford a two-bedroom apartment. The more money people make, the more money goes in circulation, the better the economy does, the more people you need to run your business.
We value the work of our citizens the same as someone from Louisiana, Alabama or Mississippi. That's an embarrassment.