Q&A with New England College President Michele Perkins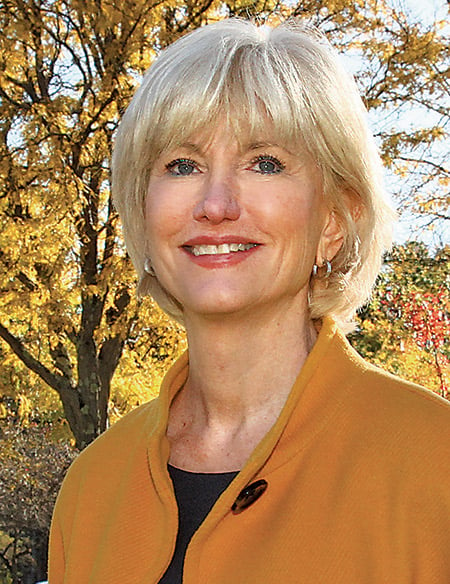 At a time when many schools are struggling with enrollment, New England College in Henniker this year welcomed 490 first-year students, the largest first-year class in the college's 70-year history.
Overseeing NEC's successful strategies at expanding the school's offerings, raising its profile and attracting more students is Michele Perkins, president of the college since 2007. She's been at the college since 2001, first serving as vice president for enrollment and then senior vice president.
Q. When it comes to enrollment, what is New England College doing differently from other schools?
A. It's been a multi-year effort, obviously. It's been a process that I have to say that is working well for us. I've been here for 16 years. When I first arrived here in September 2001, we had a little over 600 students, and now with graduate and online and graduate residential, I think we're looking at 2,700 this year. For us, that's significant growth.
As regards the traditional undergraduate population, the college-bound high school populations are dwindling, so we began developing a marketing strategy for looking at secondary markets, and we have been very successful at getting students not just from northern New England, but all of New England, particularly the Boston area, Connecticut, New York, New Jersey and the Maryland-D.C. area.
The other thing that we've done deliberately, and it's been a multi-year process, is to really seek to increase the diversity of our students on campus, so now we are the most diverse college in New Hampshire. We are at about 36 percent domestic racial diversity, about 25 percent of that being African-American. I think Dartmouth is about 33 percent, that's second.
Q. Could you talk about the marketing efforts to reach out to those other markets?
A. It's something all schools do. You purchase names from the SAT, PSAT, ACT and groups like that. You send them materials in the mail, but you do need to follow up on that, and we've been very successful in increasing our applicant pool. Thirty years ago, if you said "we doubled our applicant pool," that would be phenomenal. Today it's relatively easy to do with digital communication and the common application. But we have really increased our applicant pool, and that was part of a deliberate strategy.
We have also been developing our sophistication, being able to identify the student who is the right match for New England College. It's sort of a deliberate haystack and we find the 500 needles in there. That requires a lot of work with CRMs and really analyzing the pool and making sure the outreach is targeted and effective.
Q. Why are students coming to NEC as opposed to another school?
A. I think that we communicate our distinctive advantages perhaps more effectively. One of the things that I realized when I came here, sometimes we would say we were close to Boston, for instance. A majority of college-bound students want to be near a city or just outside a city, but we're not. But look at what we have here – we have the mountain, the river – it's over 200 beautiful acres. It's a natural paradise. The demographic that is attracted to that environment is perhaps a bit smaller, but if you want that, we communicate that, so we attract that student. A student who likes the outdoors is successful here.
Q. You've also been successful at growing your online and graduate programs.
A. One thing we do differently, and every school has its mission and particular strategic objectives, are graduate and online programs. When I first came here, we had some graduate programs, but we only had a few dozen students, and now we have a whole array of modes of delivery.
In 2005, we started offering online courses, which we saw as an opportunity from a number of fronts.
At that time, getting graduate students to Henniker was a challenge, but if you can go online, then there is a huge opportunity. But it was also a business decision. Traditional residential undergraduate is very expensive, and there is fluctuation in any market Enrollment can go up and enrollment can go down. You can try to control that and be vigilant in your ability to forecast where you're going to be next year and the year beyond. But if you are tuition-dependent, which we are, as most private institutions are, looking at an undergraduate-only revenue source was something we decided wasn't optimal.
If you think about it, it's like an investment portfolio with revenue sources Something's always going to go up and something's always going to go down. We feel it's a good financial model for us.
Q. You've recently hired a new vice president of business development, Jeffrey Brown. What's his job?
A. The whole idea of the business development appointment is to develop more business-to-business agreements where employees would be offered either online or hybrid programs. That is a highly efficient way of developing enrollment streams in that you're not doing a broad shotgun approach to lead generation, as they call it.
One of our other real strengths is our institutional culture. Any program we launch has to align with our mission and make sense not only for the short term, but the long term. Our institution and many others are ready and willing to develop programs for specific needs of organizations and companies, and that's part of what Jeffrey Brown will be doing – not only taking about our existing programs, but coming back with information about what companies need. We are happy to develop a program to meet that need – again, if it aligns with our mission and if its something that we feel is viable , our infrastructure.
Q. With your on-campus enrollment growth, what are you doing in terms of housing?
A. Our strategic plan calls for increasing the residential population to 1,500. We have 1,000 right now, and if we keep doing what we've been doing, that will happen sooner than we thought. We converted three smaller buildings on campus that were office buildings into residence halls. But we are full to bursting right now, and are considering what our options are. We have been building new buildings. We just opened a the Lyons Center, a classroom building, and we're also building the Rosamond Page Putnam Center for the Performing Arts, a 350-seat theater.
Q. How has the current political climate affected your ability to reach out to students overseas?
A. That's been a little more challenging because it's not just that visas are a little more difficult to obtain but the perception of what it's like to study in America has changed. Students are nervous that even if they do come over and go home, will they be able to come back and finish their program? So you're seeing a decline in interest from abroad, which hopefully will turn around. Enrollment has not declined, but we are prepared to see that happen.
Q. What does it cost to go to NEC this year?
A. A little less than $50,000, but on average, a student can expect about half of the tuition in terms of grants and scholarships.
Q. What do you do to keep a handle on tuition costs?
A. We've been trying to keep our tuition increases as small as possible, but our expenses go up, so we try to make sure the gap doesn't widen in that regard. We don't make money on residential undergraduates.
People ask why college is so expensive. It's expensive because it's expensive. It's very labor-intensive, high-touch. We are deliberately small – our largest classroom holds 35 students, and we have a lot of support systems in place – mentoring, tutoring advising, athletics are big here. That's expensive, not to mention things like campus safety and health services. There's nothing you can cut from that – that's all important and integral to students, not to mention full-time faculty and making sure the instructional program is first-rate.
That said, we give out over $20 million in scholarship and grant aid each year. We have a really high percentage of students who are Pell-eligible, which means they have a very low expected family contribution, but we figure out ways to make it work for them.
Q. How do you view the role the arts and humanities play in education and getting people ready for taking part in the workforce?
A. We're fiercely committed to providing a quality, comprehensive liberal arts education. You can major in business, criminal justice, and get all kinds of practical education and training as well, but you will have a solid liberal arts preparation.
If you think about where the world is going, in terms of what the demands will be in the workforce – the role technology, artificial intelligence and automation play in terms of the future – I think being able to be adaptable, and having strong critical thinking skills and communication and writing skills will always serve you well because very few people join a company and work the next 40 years for that company.
I think a solid, well-rounded education, being able to adapt and learn, will serve you well. Most technical skills will be obsolete in five years as new technologies emerge, so how do you prepare yourself to be nimble? That's why this is so important.
I like to say, at New England College, we don't just educate you for your first job, we educate you for your last job and everything in-between.
My advice has always been, "study what you love," because if you love it you'll be happy, you'll be good at it and you'll find our way. Someone once said to me, "How do we get more students to go into STEM fields?" Well you want to make it attractive, but if you don't want to go into STEM, you shouldn't go there. If you want to major in English, you should major in English because we want you first and foremost to be happy. When are people ever going to be more passionate than at this stage in their lives, when they're emerging adults? I think it's our job as educators to help them harness that passion and find their way. And if they feel they have to go into a profession that they don't love, that's no way to live your life.
Q. Does NEC have an endowment?
A. Yes it's a little over $13 million. We'd like to see it grow, and we are in the quiet phase of a our first-ever capital campaign, but we are frankly focusing on bricks and mortar, although we do have several large gifts that are for scholarships, for instance.
We're moving in the right direction. Our endowment is over twice what it was when I first came to NEC. But we will always be tuition-dependent, at least in our lifetimes, unless something amazing happens. We can add a zero to that $13 million and multiply it by two, and we would still be tuition-dependent. But we have worked very hard to develop a much stronger culture of philanthropy at the college, and we have been very successful at securing six and seven figure gifts, and for us this is significant.
Q. You didn't follow the usual path to becoming a college president. You have a bachelor and master's degrees in theater and performance studies, before earning your doctorate in higher education management from the University of Pennsylvania, for instance.
A. After my master's degree at Emerson, I was teaching speech and drama and the graduate dean at the time asked if I would be interested in becoming director of graduate admissions. And I thought, "Sure." It was a lot more than what I was making.
But I became really interested in what it took to run a college, and one thing led to another. I didn't plan on becoming a college president. In February 2007, I was asked to be interim president here, and I said, "Sure," and I threw my hat in the ring. And here I am.