Q&A with NEMO Equipment founder Cam Brensinger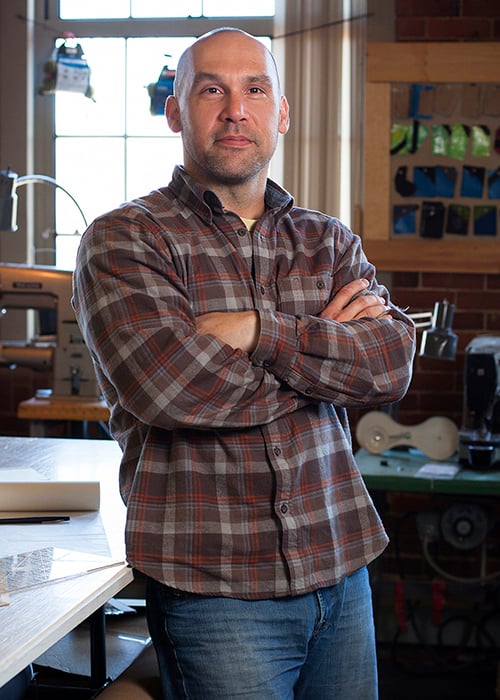 Cam Brensinger, founder and CEO of Dover-based NEMO Equipment, has a unique resume. A passionate outdoorsman, he studied writing, physics and studio art at Middlebury College before graduating from the Rhode Island School of Design. He was part of a MIT team that worked on a NASA-funded project to design spacesuit technology for a future trip to Mars.
Since Brensinger started NEMO in 2002, the company has garnered awards and attention for its state-of-the-art tents, sleeping bags and outdoor gear. "I happen to think of NEMO as an adventure in and of itself," Brensinger says. "It's certainly the greatest adventure I've been a part of."
That adventure has led to more than 50 pending and awarded patents and trademarks for his design work.
NEMO has ventured far from its early days when Brensinger and his first employees learned how to sew their designs into real products. The 16-employee company works closely with a number of vendors, including the Department of Defense and its U.S. Special Operations Command.
Q. How would you assess your company's development?
A. I think about that a lot. We say that we design lives for adventure, and this is what sustains the passion for what we do. When we started making products in 2006, we were learning how to sew and put patterns together. There have been wrong turns and stumbles, but those are inevitable and the key is to keep learning. There has been a lot of hard work and a little luck but nothing has detoured our spirit.
Here's how I would describe it: We went first through a jungle for a distant unclimbed peak. We're on the ascent emerging from out of the canopy and enjoying our first view.
Q. What have been your design and management influences?
A. I've always had a fascination with Japanese design details, in conjunction with Japanese martial arts and philosophy. I've learned from the "Book of Five Rings" by Miyamotto Musashi (a 17th century samurai), and especially the concept of choosing something in life to master. I love the process of solving problems as it applies to product design and development. There are always new challenges and new knowledge to acquire.
Q. How have you become a global brand?
A. The international market has grown a lot in the past three years. We wanted to keep production here in the U.S., but we learned that sewing skills at a production level have moved mostly overseas. Our main production facility is in Taiwan and our products are sold in 17 countries. Our four biggest markets are the United Sates, South Korea, Japan and the European Union. We are quite strong and have thriving markets in South Korea and Japan, where outdoors activities are integrated into their lifestyles. I think those consumers also have an affinity for high-quality and innovative American brands. All of our customers appreciate us, not just for the innovations but for the practical solutions that our gear provides.
Q. How did you become a vendor for U.S. Special Forces?
A. It was not something we set out to do when we were kind of discovered by them at a trade show in 2006. It's been very profound. We make specialized tents, shelters, sleeping bags and even shoot-through weapons bags for them. They have given us great feedback, and we've found there's no Hollywood in them. They are smart and dedicated with families and children. They don't brag and their egos aren't involved.
Q. What would people be most surprised to find out about NEMO?
A. How small we are for a company that had more than $10 million in revenues. That has been my challenge as a CEO – managing the growth while trying to keep to our ideals of taking risks and nurturing the passion and strong camaraderie we have. We appreciate being part of a team and being non-corporate. We are very much a design studio. We don't have cubicles and designed our own office furniture. Yet there is a very serious lab for creating great gear. We have our own hot and cold labs for research and testing. We also have a lot of dogs and surfboards and gear everywhere.