Q&A with N.H. Motor Speedway GM Jerry Gappens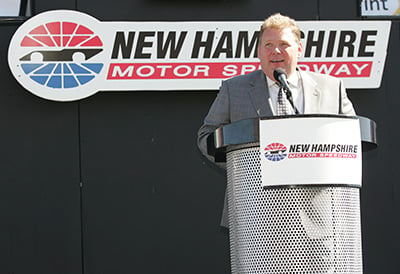 Come July, the pilgrimage to New Hampshire Motor Speedway in Loudon will begin again, with the first of two NASCAR races of the season. Since its first major race in the summer of 1990 – less than nine months after it had its groundbreaking as New England's largest spectator venue – NHMS has drawn more than 4 million fans and become a top draw spot on the NASCAR circuit.
With tens of thousands of racing fans coming into the state from 44 states and 12 countries – and filling up the 5,000-spot camping ground – NHMS has a small but vital impact on the New Hampshire economy. According to a 2011 Southern New Hampshire University study, the economic impact of the two Sprint Cup races at NHMS adds $179 million in spending, $103 million in income, and generates 2,500 jobs – including 1,500 part-time jobs at NHMS.
But the races reflect only the most public portion of the 1,200-acre multi-use complex. There are non-NASCAR races, driving schools and other uses of the track by the general public. In 2012, NHMS opened the Granite State Legend Cars dealership to serve the Northeast and Canada by providing a turnkey racing experience to aspiring up-and-coming drivers and teams.
Earlier this year, NHMS also launched the "Speedway for Kids" program, aimed at cultivating the next generation of NASCAR fans.
Q. How is the 2014 season at NHMS shaping up?
A. I'm very bullish. Once we get the winter season behind us, activity at the track is going up significantly. Our track rental program has high demand for dates and times on the track. We have two major NASCAR races as before, with strong sponsors Osram Sylvania and Camping World RV Sales. Beginning next year, the 10-year TV contract ($8.2 billion) with partners FX and NBC gives our sport stability. I also think fans are going to embrace the championship format (for the season-ending "Chase") that rewards winning over just collecting points. Our Legends dealership is employing people, generating revenue and creating an environment to spark the next generation of drivers.
Q. Earlier this year, you spoke at Rivier College's Leadership Forum. When did you emphasize during your talk?
A. The main thing was many of the commonalities in our sport and other industries, especially the focus on teamwork and communication. When we took over in 2008, the facility went from a sole proprietorship to one owned by a publicly traded company (Speedway Motorsports Inc.), and we know people were apprehensive.
When I moved from Charlotte, it was important to reassure people that change in this case would be to build on what Gary and Bob Bahre had done. We spent $340 million to buy what we consider the best outdoor entertainment facility in New England, and we have invested approximately $20 million to make it more fan-friendly. We've increased the full-time staff from 17 to 40 employees. Our Legends dealership has led to greater participation by the public along with more employees and it has generated profitable revenue.
Sometimes it takes a combination of words and deeds, and I think we've done that successfully.
Q. What is the top role that NHMS plays for NASCAR?
A. This is seventh-largest market in the U.S., and it's not just the New England fan base that supports us, but Canada too. Our entire team here works to promote the sport. We have seen the demographics of the sport change dramatically, to 60 percent male and 40 percent female. People who haven't experienced it have a misconception that it's just watching 43 cars going around in a circle for three hours. It's a weeklong happening that encompasses a state fair or a major concert. It's a big festival. You can taste, see it and smell it.
Q. What are some of the financial challenges NHMS and your sport face?
A. Obviously, the economic downturn from 2008 on has presented challenges for fans in New England and across the country, and NASCAR has noticed it.
The most unique financial challenge is growing a younger generation of fans. We need to be open and flexible in our content. Generation Y fans are connected to their iPhones and they interact through the world differently. They are used to immediate gratification; we don't think a lot of them will sit through three-hour races. That's why our Wi-Fi interaction has become important, and we need to think carefully about the template for our races.
Other sports like football and basketball have constantly changing plays. This is not your father's NASCAR, and we need to think about creating more urgency in our formats such as shorter sprints and eliminations.