Q&A with Marcus Hampers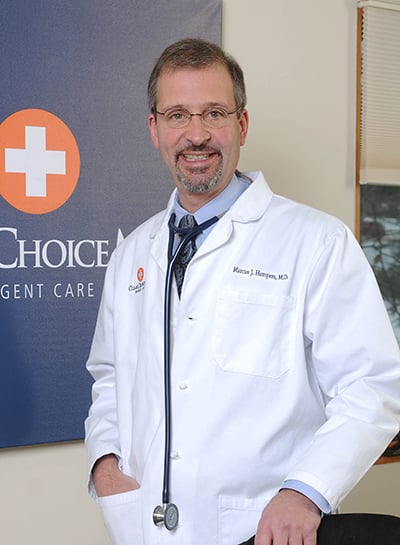 Earlier in December, ClearChoiceMD opened its latest urgent care facility in Keene. The company, founded in 2013 by Dr. Marcus Hampers of New London, has opened facilities at a targeted but whirlwind pace, with three others in New Hampshire (Portsmouth, Lebanon, and Belmont), four in Vermont and one scheduled to open soon in Maine.
ClearChoiceMD is no small venture. Hampers, a veteran emergency room physician at Dartmouth-Hitchcock Medical Center, has raised $20 million from other physicians. With the exception of a few major holidays, the centers are open 12 hours a day, seven days a week.
Hampers said the urgent care centers offer affordable services – insurance covered or on a low set-fee basis – that might normally require either a visit to a primary care provider or an emergency room.
Q. What was the genesis of your company?
A. I've practiced medicine for more than 20 years, and most of those as an emergency room physician. So many times we have commiserated about overcrowding in the ER for non-life threatening care or for people who don't have a primary care physician.
We thought there was a strong market for urgent care centers in northern New England because it fits the need for affordable, high-quality care and cost-containment. This is what prompted me to start ClearChoiceMD.
Q. How has the transition been to business owner?
A. I had never negotiated insurance contracts before. There were a lot of regulatory hurdles in New Hampshire. It is a fairly rigorous process and takes a lot of planning for the licensing of a free-standing non-emergency center.
I was in a program at Syracuse for a combined MBA and medical degree, but there is no substitute for the school of hard knocks.
Q. What is the advantage for patients?
A. What I think we've done best is to simplify the process. We strive to get people in and out in less than an hour. We know that the cost of a necessary trip to the emergency room can be overwhelming. For patients without insurance, the visit costs only $100. There are extra costs for X-rays or stitches, but the total bill for a visit will never exceed $250.
Q. What are your relationships with local hospitals?
A. We have gone out of our way to introduce ourselves to local hospitals. It's very important to have good relationships with local providers and hospitals. We have had varied results. We've formed partnerships with some. Brattleboro Hospital streamlines referrals to us. A few other hospitals have declared war on us. Two have built urgent care centers right across from us.
You can understand why the hospitals are reacting to us, but they are big, bulky institutions. In our instance, they can't compete on cost. We don't have the same overhead costs or incur hospital fees.
Q. How has the public response been so far?
A. There was a lot of virgin ground in Vermont and New Hampshire. In large urban markets like New York or Boston, it usually takes a year to 18 months to establish [a brand], but I'm pleased that we are on track about our expectations.
We have one center which has seen as many as 40 patients in a day. We know there is a lot of education to be done because we will thrive in the communities we serve through word of mouth. Overall, we are very excited about the growth of the company and we are doing analysis of markets in Maine, Massachusetts and New York for potential expansion.