Q&A with: Manchester attorney David Nixon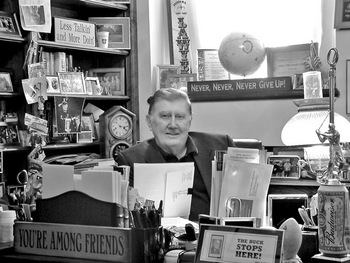 A native of Concord, Mass., David Nixon has been practicing law in Manchester since he arrived in the city in 1958 from the University of Michigan Law School.
He started with the McLane Law firm "at 70 bucks a week, which in 1958 was not bad money," he recalls. He was later a partner of the late Gov. John W. King and is currently senior partner of Nixon Raiche Vogelman Barry & Slawsky. He has served as president of both the Manchester and New Hampshire bar associations and was the first president of the New England Bar Association.
His numerous awards include the NHBA's Distinguished Service Award and the Trial Lawyer of the Decade Award by the New Hampshire Trial Lawyers Association.
A Democrat since 1986, Nixon gained political prominence in the 1970s as a leader of the liberal wing of the Republican Party under former Gov. Walter Peterson. He served as Senate president in 1973-74, then ran against conservative Gov. Mel Thomson in the Republican primary of 1974 and was defeated. Following the impeachment and Senate acquittal of Chief Justice David Brock in 2000, Nixon represented Brock in the unsuccessful suit for state compensation for the chief justice's legal expenses.
---
Q. What is it about the legal profession that drew you to a career in law?
A. I thought it was a chance to help people. As the sign in my office says, "Afflict the comfortable and comfort the afflicted." And I thought it was an interesting career. I admired lawyers. I just thought it was a chance to do something to help people. It was intellectually challenging and interesting.
Q. Much of your practice has been in personal injury law. Is that a field you particularly enjoy?
A. I enjoy it because most of the time, they need help. They're out of work, they have no income, their bills are piling up. The insurance companies are screwing them over. (McLane) was a litigation firm. It was a blue chip firm and it was the largest law firm in New Hampshire. There were 12 lawyers. I was the 12th lawyer in the firm. There are now about 90. And I got a chance to work for Stanley Brown, who was a great trial lawyer — the best one I ever saw. From there, I developed an interest in personal injury law and litigation.
Q. You've also been involved in the practice of business law, and employment law in particular. How has that field changed over the years?
A. The practice of law has changed, and it's like everything else in our society, much less civil. It's harder to get cases done. Insurance companies spend billions propagandizing the public, jurors, judges. People who make claims of personal injuries are "fakers, exaggerators." Their lawyers are "shysters."
It's much more difficult to get justice, that is to say that full, fair and adequate compensation that the law is supposed to provide.
Q. How has business law changed?
A. It's much more complex, much more specialized and there's much more litigation. They litigate over litigation — motions, depositions. Finally after hundreds of hours of lawyer time, the case settles at some stage of the game.
Q. In employment law in particular, do you find businesses are much more careful now?
A. Yeah, they learned the hard way after getting whacked by good employment lawyers like Jon Meyer (of the Manchester law firm Backus Meyer Solomon & Branch), like my partner Larry Vogelman. So now they're much more adept and trained in how to get rid of people they don't like without violating the law. At the same time, federal law has become much more employer-directed, so it's harder for people who are discriminated against to prevail.
Q. What's been the most significant case you ever tried?
A. Boy … I represented Chief Justice Brock, attempting to get his (legal) fees paid by the state after they impeached him. I represented the court stenographers, after the Supreme Court fired them, in violation of promises and commitments made to them by the Superior Court …
I guess the most memorable individual case I had was in 1976 – a 2-1/2-year-old boy who went into the Portsmouth Hospital for removal of a growth on his tongue and had to be suctioned. He had a tube in his throat and there was a shift change of the nurses and the tube clogged and nobody cleaned it out. And he, in effect, died and he was out for about 20 minutes and then the doctor was called and finally resuscitated him and got him breathing again. But by then he was in a coma, which he was in for about three months.
And come to find out, the boy had leiomyocarcinoma, the most virulent from of cancer known at that time. The parents got him away after three months and took him to the Dana Farber center, where they cured the cancer. But the boy was left spastic, blind, deaf … I tried that case and the jury came in with a verdict of $1.5 million, which was the biggest one in New England at the time. And (the parents) took the money that they got from that settlement and adopted two more disabled children and raised them together with their son and his healthy brother. That made me feel good. Made me feel like a lawyer — like a lawyer should feel.
Q. Why were you interested in going into politics?
A. Mostly because of law-related things. Improvement in the courts, trying to make the playing field level. For instance, they had the doctrine of contributory negligence. The jury was instructed in each and every case that if the plaintiff was even 1 percent at fault, regardless of whether the fault with the defendant was 99 percent, the plaintiff could not recover anything. That was the law. And in 1969, I drafted and filed a bill that created the comparative negligence law, which provides that a plaintiff can recover unless his or her fault was found by the jury to exceed that of the defendant.
Q. How did you enjoy your tenure as Senate president?
A. I enjoyed being a House member more than I did being a senator or Senate president. It was like being the manager of a baseball team of all pitchers. Everybody had their own agenda, and you're trying to create some order out of the chaos.
Q. Was it difficult to be running for governor with the name Nixon in 1974?
A. Oh yes, as time went on. Don't forget I declared on Law Day on May 1. And Watergate started coming down around us that summer and Nixon finally resigned. And then Ford pardoned him a couple of days before the Sept. 10 primary.
I remember meeting an old guy in the rain in Colebrook one August morning, and I was introduced to him as an aspiring young politician running for governor. And he said, "I don't think much of politicians. Whadja do before you became a crook?"
And I said "Well, I'm sorry to tell you sir, I'm a lawyer by trade."
He said, "That's two strikes against you. Whadju say your name was again?"
I said, "Forget it." I didn't want to have that third strike.