Q&A with Lobbyist Ed Dupont
Dupont is a Concord lobbyist, former Senate president and member of several state boards and commissions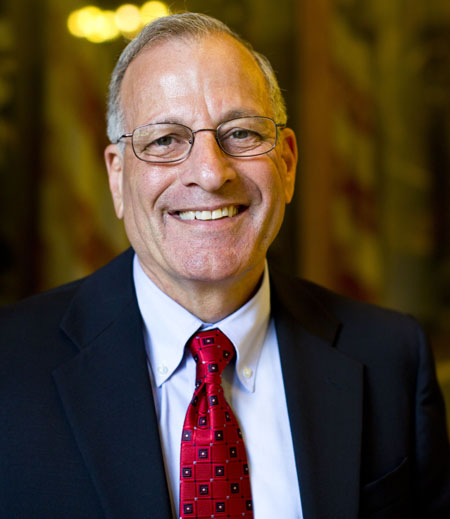 For Ed Dupont, when Gov. Maggie Hassan appointed him to her Commission on State Government Innovation, Efficiency, and Transparency in May, it was just another public service in a career with many of them.
And serving on that specific panel will be nothing new for Dupont – president of the Dupont Group, one of Concord's most powerful lobbying firms – who as a state senator in the early 1990s chaired a government reform commission.
The former New Hampshire Senate president has been committed to the "betterment" of the state as a lawmaker, entrepreneur, and as a member of a number of state boards and commissions, including most recently as chair of the University System of New Hampshire board of trustees.
But until he was asked, Dupont never planned on a political career (he served five terms in the Senate) or to leverage his knowledge of state government and the economy into a successful lobbying firm.
During his term as Senate president, he established and chaired the first standing legislative committee on economic development in New Hampshire history. Dupont also found time to remain a competitive water skier – at 63 last year, he returned to competition after a three-decade-long hiatus – an instrument-rated pilot, avid Alpine skier and surfer. In 1992, he ran in the Republican gubernatorial primary before losing to eventual governor Steve Merrill. Dupont, who lives in Durham with his wife and two daughters, recently spoke to New Hampshire Business Review about his career path and passions for the state.
Q. How did you get a start as an entrepreneur?
A. I dropped out of UNH after three years and ran a service station in Dover and worked as a mechanic before I bought my first oil truck. It was during a time of oil shortages (1973), and I had no experience. But I was 23, and this was a good way to learn about the challenges of being self-employed and taking on all the risks, which in my family is normal because we chose to be self-employed.
After a couple of acquisitions, we moved the business, Strafford Fuels, from Dover to Rochester, until I sold it in 1993. One of the interesting things about being a boss at the age of 25 is that everybody that worked with me was 10 to 15 years older. It was a good learning experience.
Q. Did you plan on being a lawmaker?
A. No. I had supported Republican candidates but hadn't planned to run. But there was a special election in my district in 1983, and Gov. John Sununu asked me to run.
Back in those days, it was very different. We only had one major session and a short session in the second year, not the full annual sessions like we do today. The change to annual session was on the ballot as a constitutional amendment in 1984, and nobody thought it would pass but it did. When you think about it, it really has changed who runs for office. Serving has become a much bigger burden and a challenge.
Q. What led to lobbying?
A. It was hard to sit on the sidelines and relax after I lost to Steve Merrill and left the Legislature. I was called and offered jobs with companies asking me to help them with government affairs work. I wanted to keep involved, and after I sold the petroleum business, I wanted to be my own boss again. The phones started to ring and business grew unexpectedly and fairly rapidly.
I had a strong sense of what I wanted, since I had been lobbied myself. We decided we were not going to sit around the State House, but to go over and do our job and spend our time developing relationships and quality information for our clients.
Speaking as a former legislator, I knew the annual sessions created a lot more work for everybody, and the Legislature has a limited staff. I would say that for most of the lobbying firms, we know lawmakers need someone to help them through some of the most difficult issues.
Q. What has been one of the highlights of your lobbying work?
A. Restructuring of the electricity system in the 1990s was a pretty rough battle, but it has been good for the state. There was no competitive pricing for commercial or residential customers. Business owners like (former governor) Craig Benson of Cabletron Systems was one of our first clients, and he wanted to buy electricity from providers other than Public Service. He even looked to electricity suppliers in Maine.
Expectations were very different then, and this went on and on, and we even had to hire outside counsel from Washington, D.C. We keep pushing that this needs to take place for the state economy and to keep asking why it couldn't. Until competitive pricing came in, there was no market balance for businesses or consumer households.
Q. You served on the USNH board for a decade and the last four as chair. What has been the biggest accomplishment?
A. During the past decade, we made it a board priority to delegate more authority to the campus presidents from the system office. This was a major restructuring, because the oversight would still be in place, but the campuses wouldn't have to spend significant time in front of board committees. They (campus presidents) get to spend more time running their institutions, and the trustees spent more time thinking about governance and not doing what can be done by the campuses.
I believe the university system and the campuses are in good shape because of the restructuring.
Q. What would you like your legacy to be?
A. When I think about the public service piece, it's about doing things to help the state. I've had a desire to work for the betterment of the state. It was certainly unexpected to become state senator and then senate president, and have an impact on making the state economy better.