Q&A with League of NH Craftsmen Executive Director Miriam Carter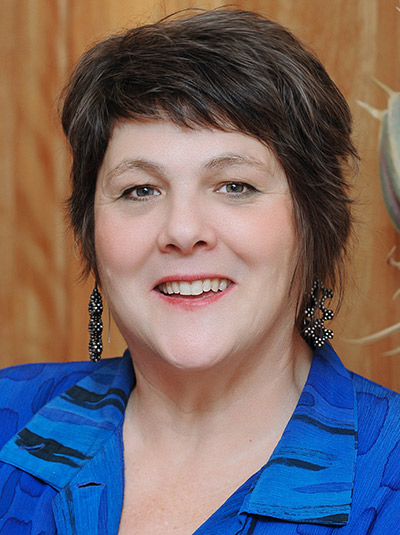 Peterborough native Miriam Carter has been a working artist for 30 years, but she's enthusiastic about her new desk job.
In July, she was hired to lead the 85-year-old League of NH Craftsmen – the second executive director in the league's history who is a working craftsperson and juried league member. She accepted the position after serving as interim executive director for six months and previously serving as a board member.
The league sponsors the nine-day annual Craftsmen's Fair, one of the largest events on the state's tourism calendar, which draws 30,000 visitors every August. It also runs eight galleries and holds classes, workshops and demonstrations throughout the state.
Q. Why do crafts matter?
A. Because people matter. The craft legacy we've inherited defines a culture and a place in history by giving us a window into our forebears' ingenuity, concerns and temperament. But preserving it as a cultural force isn't just a nostalgic exercise. It invites people into new kinds of relationships with materials of the natural world and enlivens our inherent creative capacities. I also believe that handmade objects elevate and enrich people's lives.
Q. What is the state of craft culture in today's economy?
A. People still value what's made by hand. Making and buying fine art and crafts is a way of living, of making choices. Craft culture is evolving, as it always has been — the range of media, the opportunities for education and improvement, the ways that makers find markets. And by the way, we're a culture that consumes. We like to buy.
Q. How does the craft industry contribute to New Hampshire's economic infrastructure?
A. Craftspeople run small businesses in every corner of the state, although not all of them are associated with the league. Through our annual Craftsmen's Fair and galleries, the league and its juried members contribute more than $4 million in sales each year to the creative economy of New Hampshire. Spending by visitors to these events and spaces — many of whom come from out of state — also provides a boost to the economy.
Q. What does the league do?
A. We exist to encourage, nurture and promote the creation, use and preservation of fine contemporary and traditional craft. The most visible way is through our fair and galleries, which provide markets for 750 juried member craftsmen. The fair alone provides an audience for 250 makers. Education is part of our mission, and we do this through our jury selection process and our many workshops and demonstrations. And finally, we advocate for craftsmen by finding opportunities to increase awareness and appreciation of craft culture.
Q. Could you say more about the league's jury selection process?
A. This is one of the best things we do. Our job is to help people evolve in their craft. Some applicants are accepted immediately; others are not quite evolved enough. They receive advice from the masters and maybe return when they have more expertise. We're known nationally for our rigorous standards. I hear from so many craftsmen that it's one of their goals to become a juried member of the league.
Q. Do you need to be a New Hampshire resident?
A. You have to live in the state or in a town that has part of its land within 10 miles of one of its borders. We have juried members in Vermont, Massachusetts and Maine.
Q. How important is the fair?
A. For craftsmen, the fair is an important market. Besides selling what you create, you just might meet the next person you need to meet to further your work. For the public, it's a wonderful opportunity to see the work and the artisan at the same time, and maybe observe the process of making a glass you can hold in your hand.
Q. What is your background in crafts?
A. I come from a family of textile workers. I grew up in a fabric store. My mom was a couture seamstress, and my dad did some weaving. I make clothing and hats out of felt. I didn't know it when I started this, but my great-uncle brought the piano felt industry here from Germany in the 1800s.
Q. How does this inform your work with the league?
A. Artists are not always interested or skilled in promoting themselves. Because I've been a self-employed artist, I know the mindset and the conditions. Creative people live life as an act of faith. It's amazing to me that we do what we do, considering the odds. But we're all driven by our passion.
Q. What are your plans as executive director?
A. I've been lifting up rocks, seeing what's there and what's not there, what might be done differently, and where we can find cost savings.
I plan to create more joint promotional programs and relationships that will allow us to do what we do best. I want to expand educational programs for professional craftsmen and students of craft. I also want to engage people to come to our Concord gallery. I don't think enough people know it's here and it's a wonderful place to visit, with rotating exhibits. I want everyone to experience the beauty of what we have to offer and to learn about the rich history of craft in this state.
Q. What do you want people to know about the league?
A. That we're an important part of the cultural landscape and that we are doing well. That craft is a viable career, and that if that's your calling, the League is a place to go to get what you need to follow that dream.
Q. What events are on the schedule?
A. A new exhibit at our headquarters, themed "Black and White." There's the fair in August, and spring and fall New Hampshire Open Doors weekends. We're creating a street craft fair for Columbus Day weekend in Concord. We have a schedule full of gallery talks and other events.
Q. Is your home full of handmade objects?
A. Oh, yes. I'm a maker and I've been trading all my life. Right now I'm looking for the right set of plates.