Q&A with Kerry Pfrimmer of SCORE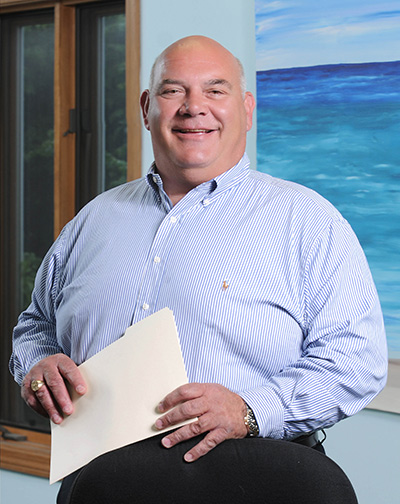 During the recent National Small Business Week, the volunteer business counseling and mentoring organization SCORE was recognized on its 50th anniversary. Since its founding in 1964, the organization has served an estimated 10 million entrepreneurs across the country.
Yet, says Kerry Pfrimmer, SCORE's New Hampshire district director, the organization has not rested on its laurels and has evolved dramatically over the past decade. It is no longer your father's or grandfather's SCORE, as a predominantly retired executive corps has become more gender- and age-diverse, and an estimated 40 percent of the SCORE mentors in New Hampshire are still working.
Even its motto has changed from "Counselors to America's Small Businesses" to "For the Life of Your Business."
The 57-year-old Pfrimmer, a former top executive in the instrument and control industry who oversaw the sale of one of his former companies to General Electric, relocated to New Hampshire in 1999 and joined SCORE in 2007. He became New Hampshire director last fall.
In 2013, SCORE mentors in New Hampshire conducted more than 5,000 mentoring sessions, with 70 percent taking place face-to-face and the rest online. The organization also hosted more than 60 training and education workshops.
Q. What was your first experience as a SCORE counselor?
A. I joined because I was still young and wanted to give something back, because I thought a lot about all the mentors who helped me in my career.
My first counseling session was with the owner of a very widely recognized hotel cottage complex. The issues were price maintenance and bundled pricing that hadn't been modernized. The owner was very apprehensive at the time, but I've come to learn that building trust takes times with clients who have established businesses.
It's sometimes easier with larger businesses ($5 million and up) because they are more accustomed to working with consultants. That's not the case with small business owners, who don't easily trust someone outside the business.
Q. How can a lack of trust hurt?
A. We tell our clients about our stout ethics policy and that we aren't there to take over but to help them. The engagement process can be a challenge for new clients who have existing businesses. Sometimes it feels like forever when these small business owners accept you fully and trust your advice. What ends up hurting these businesses is the inability to make faster decisions and then implement and execute them.
Q. What is SCORE's impact in New Hampshire?
A. We believe it is quite significant and growing each year. We are the single largest mentoring organization in the state. We have six chapters and more than 200 volunteers. For the third year in a row, we've had a comprehensive Client Engagement Survey done (by PricewaterhouseCoopers), and it showed 527 new businesses were started and 426 new jobs were created. The survey found that 68 percent of our clients were already established businesses and 38 percent were starting a new business.
One of the key facts in the survey was that small businesses that received three hours or more of mentoring reported greater revenues and business growth.
Q. Who are SCORE volunteers?
A. We are an all-volunteer organization, but all of us have either run or owned a small business. In New Hampshire, we have retired executives who donate an incredible amount of their time. Also, 35 percent of our mentors are women. We are also becoming more of a hybrid organization, with some mentors opting in and out depending on their circumstance. We are inviting younger mentors to join us because they bring a different skill set that we can all learn from.
Q. How do you envision SCORE by the end of the decade?
A. Because of technology, we believe the rate of impact and outreach will accelerate, and we will engage with a broader audience on a regular basis. We will see some SCORE mentors having shorter tenures but have a higher impact.
For example, while much of the mentoring historically has been face-to-face, we are already doing more online which is due to the needs of the Gen-X and Millennial generations. We are already doing some counseling though Skype and hope to have the infrastructure in place to staff online chat requests.
I work with 50 to 70 businesses online, and typically their questions are a lot more challenging than you'd think. They have very specific issues that need to be addressed. How we mentor is changing, and though there is always the hottest new communication method, the core issues and fundamentals of successfully growing a business haven't changed.