Q&A with Jordan Institute Executive Director Laura Richardson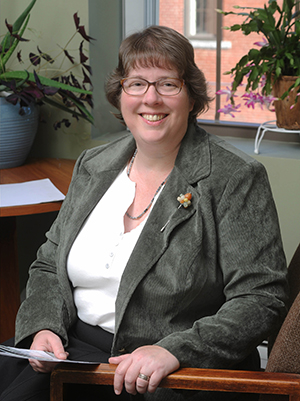 Laura Richardson took a unique journey to become the executive director of The Jordan Institute, the Concord-based nonprofit and energy-efficiency advocacy organization.
It started more than a decade ago with the designing and building of a radically energy-efficient home for Richardson and her husband Gil. Much to their surprise, their home became a popular stop for people interested in building their own "green" homes. Over the years more than 500 people have stopped by.
That led to the co-founding in 2003 of the New Hampshire Sustainable Energy Association, which eventually led to three years of directing stimulus-funded energy programs for the state's Office of Energy and Planning beginning in 2009.
Richardson joined The Jordan Institute as director of operations and was appointed executive director in June 2013. The organization also has undergone a major makeover with the spinoff of a for-profit company, Resilient Buildings Group, to handle construction management projects.
Q. Has energy efficiency become less of a novelty and more of a conventional, economically sound business practice?
A. It's interesting how the market has evolved because it is now possible to build net-zero energy homes and commercial buildings. It's just good business sense to make buildings more energy-efficient, especially in New Hampshire. It's a cost savings that you can count on year after year.
Energy costs and supply are dynamic. Natural gas may be inexpensive right now, but that doesn't mean that it will be in 10 years. Most of New Hampshire heats with fuel oil, unlike the rest of the country. It is that much harder to compete with businesses in other states when your operational costs are higher because you heat with oil. If you can reduce those energy costs by 50 percent or more, then you can compete again. And if you couple efficiency upgrades with renewable energy systems – photovoltaic, solar thermal, wood pellets – then you really close that gap and are very competitive.
Q. Why was the RBG spinoff important?
A. We launched Resilient Buildings Group for a couple of reasons. Our project implementation work – energy audits, monitoring and verification of energy savings, commissioning, LEED certification and consulting, building-energy consulting, and now energy-centric construction management – is ready to scale up as a "real business" and doesn't need the nonprofit umbrella.
We wanted to get into construction management, and that role doesn't fit a nonprofit. Dana Nute, RBG's general manager, has a lot of experience as a construction manager, and he recognized the potential. We had been setting up projects with our clients and then handling them off to CMs. More often than not, the CMs would talk our clients out of the energy portion of the projects. This model lets us stay on the project from start to finish and be accountable to the projects' goals.
Q. What are the benefits of the spinoff to each organization?
A. This model reinforces Jordan's mission and vision. We recognized that The Jordan Institute – like all businesses – needs multiple funding streams. When RBG realizes profit, and after taxes are paid, a portion of those profits will come to the nonprofit. We hope that those costs will help cover our overhead and some of our administrative costs.
It's also important that when RBG, its clients, collaborators, and even competitors, bump into policy or market barriers to broader energy efficiency and renewable energy implementation, Jordan can help solve them on the policy side, and vice versa.
Q. What is the most surprising thing about The Jordan Institute that people may not know?
A. The Jordan Institute was founded in 1995 by a gift from Doyle and Lenore Jordan. We are not named after the country, the basketball player or his line of sneakers, or the furniture store. The Jordans were interested in funding research and policy initiatives that explore the link between our environment, public health and the economy. Making buildings really energy-efficient ties those concepts together.