Q&A with Insurance agent and former state senator Ray White
Ray White runs Cornerstone Benefits and Retirement Group, a Bedford firm that sells employee benefit packages to businesses. As a Republican state senator last year, he was at the center of the debate over whether New Hampshire should set up its own healt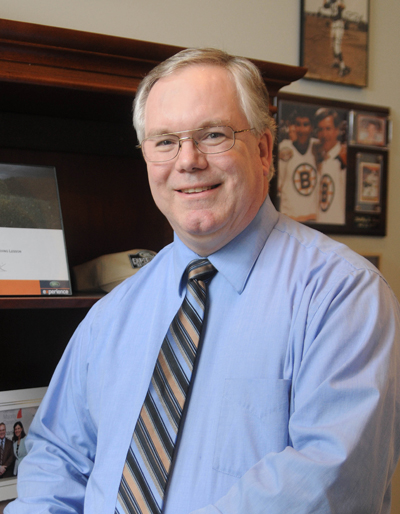 Q. Why did you leave the Senate after only one term?
A. You can't run a business, be a dad and husband and be a senator. I promised I would not run again. Some senators would say, "Ray, just show up for session." What's the point in holding the seat? I just find that distasteful.
Q. What's wrong with the Affordable Care Act?
A. The patient protections are good and overdue, but there is nothing in it that has anything to do with cost. It was way off the rails – a bureaucracy train wreck that's coming down the track.
New Hampshire can get out in front and enact our vision of these reforms. I wrote my bill — Senate Bill 163 — and tried to go in that direction. I got fierce opposition from the hard right. Their gripe was, "All you are going to do is to enable the ACA." We ended up tabling 163, and House Bill 1297 banned a state exchange.
Q. Has the hard right changed? Have you changed?
A. I kept telling people, "I'm with you, but what if the Supreme Court rules against us and President Obama is re-elected? We have to be prepared." My friends said there was no possibility. They were wrong. I am an insurance guy. I always think of the building burning down.
Q. What is coming down the pike on the ACA?
A. The idea of a partnership started to raise its head the summer and fall of last year, when President Obama saw he was not getting even half of the states to establish an exchange. OK, we'll build the infrastructure but we still we want their Department of Insurance, Health and Human Services involved — a plan management partnership, what I was saying in my bill.
In the last couple of months, up comes the idea of a consumer assistance partnership, much more socialistic than I'm willing to go with.
Q. A consumer assistant? Isn't that what you do now?
A. I do have a self-preservation element as an insurance agent. In my business, I have to get so many people into the system to cover my overhead to make a profit. I'm going to be competing with people who already have everything paid for. It is going to displace a lot of the delivery systems that have been in place for decades.
Q. Anything else coming down the pike with the ACA?
A. When they flip the switch in October and people have trouble accessing the exchange, what is the backup position? There was a provision in there to get rid of the New Hampshire risk pool — a small plan for people who can't access commercial insurance due to health concerns. This disappears on Oct. 31. What if the exchange is not until March while they iron out the bugs?
Q. Most people aren't going to be moved to the exchange.
A. I am not sure that is true. Small business groups of 50 or less are going to tell employees to go to the exchange to get out of the health insurance business.
Q. What will that do to the insurance industry if that is true?
A. In California, they have carved out a role for the brokers. They want them to be partners, not adversaries. That could happen here. It is dependent on the federal exchange. The partnership is about enrolling people, but the federal exchange is about who gets to play. It appears that they are going to credential brokers to work with the exchange.
Q. Are you soured on government?
A. I'm a business guy. Government is about consensus and egos — things that I did not have a skillset for. The landscape is littered with guys who thought they could make government a business.