Q&A with incoming Gov. Chris Sununu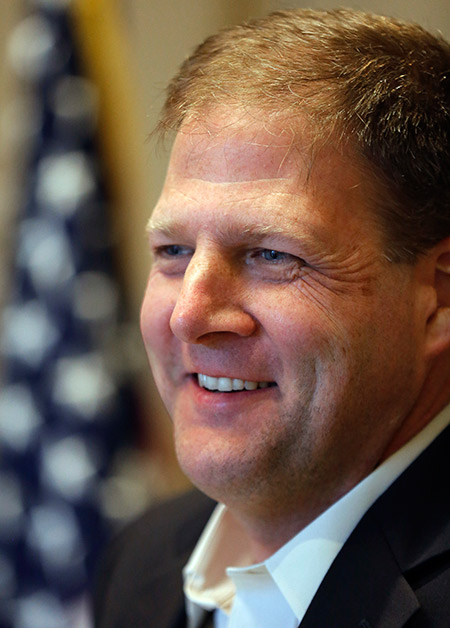 For the first time since 2003, a Republican will be sitting in the governor's office in Concord. And the name is a familiar one in modern New Hampshire political lore.
Chris Sununu, 42, will be the nation's youngest governor when he takes the oath of office Jan. 4. Sununu, the son of former NH Gov. John H. Sununu and brother of former U.S. Sen. John E. Sununu, served as a three-term executive councilor. On Nov. 8, he narrowly defeated fellow executive councilor Colin Van Ostern.
Sununu, a Newfields resident and former CEO of Waterville Valley Resort, talked recently with NH Business Review about his priorities and how he would like to take advantage of the "incredible opportunity" with Republicans in control of the state house.
Q. At the recent GOP victory dinner in Manchester, you said 'We're in the driver's seat. But believe you me, if we're not careful, it will be a very short ride.' What did you mean?
A. What I meant is that it is an incredible opportunity to focus on priorities and get things done to help the state move forward. We should be open to being inclusive and working across the aisle. We will have disagreements, but we can stay positive and not be disagreeable. We need to keep our ears open to what the state of New Hampshire needs and do the right thing.
Q. You've talked about changing the concealed weapon permit process. Why?
A. Constitutional carry is common sense. Maine and Vermont already have it, and if you're a responsible gun owner, you shouldn't need the arbitrary approval of a local police chief.
Q. You support "right-to-work" legislation. Who did you hear from during the campaign about this issue, and why is it important for New Hampshire?
A. I didn't hear from anyone. I'm not a union-buster. If the law is done right, it's really quite simple: Workers should have the freedom to join a union or not.
Q. Regarding the budget, you campaigned on cutting and simplifying business taxes. Which ones would you like to see cut and how much?
A. I'm a big believer in being smart about our fiscal decisions and sticking to the fundamentals of proper economic investments and being frugal where we can. Budgets are about decisions, and I have the fortune of working with a great budget team.
We're still in the early stages but we're going to have some opportunities to cut taxes that are too high anyhow and have more flexibility. But you have to do it within reason because government still has to run.
Q. What do you see going forward with Obamacare and Medicaid expansion?
A. I had a chance to talk to [Vice President-elect] Mike Pence about what's going to happen in the new administration. It looks that they will have a better design with more options. A lot of aspects of Obamacare have been a colossal failure. It didn't deliver on promises to cut health care costs or to keep your own doctor and it's been a huge burden on businesses.
On Medicaid expansion, we are going to measure the impact it has had on the opioid and heroin crisis in the state. Is it working to help people recover from substance abuse? We need to look at what we are doing because the state's share of the cost will increase over time.
Q. Family leave legislation has been filed in the Legislature. Do you support a mandated family leave policy?
A. We will look at the costs, but I don't think family leave is something we should mandate because the state shouldn't mandate much.
Q. What would like to see with Planned Parenthood funding?
A. I've been a strong advocate of making sure that women have quality health care choices, but I don't like the process of picking winners or losers. We could look at having more providers for those funding dollars to serve low-income women at more locations in the state.
Q. What would like to do as governor to enhance the state's business or quality-of-life profile?
A. Two key words: customer service. I want state government to be easier to deal with, more friendly, more transparent to help people get the services they need. If we can break down barriers and eliminate over-burdensome regulations, we can make state government more responsive.