Q&A with Hypertherm's Dick and Barbara Couch
The company recently became 100 percent employee-owned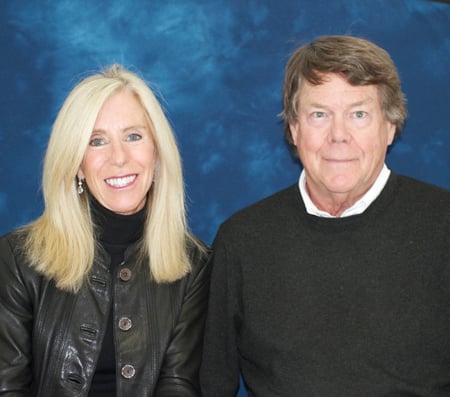 In January, Dick and Barbara Couch transferred their majority interest in Hypertherm – the Hanover-based manufacturer of plasma, laser and waterjet cutting systems that Dick Couch founded in 1968 – to the firm's employee stock ownership plan, the trust fund that has served as the company's primary retirement plan since the Couches established it in 2001.
At 71, Dick Couch remains as the company's CEO. Barbara, 64, is the company's vice president of corporate social responsibility.
Q. Why did you move toward employee stock ownership in the first place?
Barbara Couch: We formalized it in 2001 with a 30 percent ESOP. We had no intention of leaving, but we needed to begin to think about succession. Companies like Hypertherm are usually sold to a strategic buyer, financed through private equity. People began to ask us, 'What happens after Dick and Barbara?' We wanted to put some meaning around our response.
Dick Couch: We had a strong belief in creating a sense of ownership amongst the associates. We have a profit-sharing program, but we saw as a benefit some sort of allowing the associates to share in the value creation.
Q. Back when you formed the ESOP, were you thinking of going the whole hog eventually?
DC: We were definitely trying it out. The details of the structure changed significantly between 2001 and 2013, but I'm glad we experimented and learned some things about ESOPs.
Q. What changed and what did you learn?
DC: In 2001, the length of time that ESOPs were envisioned to allocate shares was typically 10 years. In year 11, there are no more shares available. This 2013 ESOP has 50 years to allocate shares. There is no point in a 10-year ESOP, because then something has to happen, like the company needs to be sold.
BC: It also creates an environment of those who are the shareholders and those who are not. Look at our core values. One of them is shared rewards. We all share in the profitability of the company, providing for the well-being of our associates. Alternatives to the ESOP didn't align with those values. But the ESOP allows us to share the rewards, making sure the associates maintain their jobs.
Q. How does the ESOP decision-making process work?
BC: This doesn't change our governance structure. All major decisions are made by the senior leadership team with approval from the board of directors.
Q. If you are employee-owned, doesn't that imply a certain right to make decisions?
DC: It's an ERISA-run set of regulations. There are certain things ESOP members have to vote on, but they are fairly big decisions, like selling the company, a major divestiture of assets. Day-to-day decisions in a company are made by the board and the senior management.
BC: The board, for example, has to always decide in the best interest of the shareholders, and the shareholders in our case are all the associates of Hypertherm.
Q. How is your board chosen?
DC: The trustee of the ESOP chooses the board, and the trustee of the ESOP is me.
Q. What happens when you are not around?
BC: After Dick, there is me. After me, there are three or four people.
Q: What happens 30 years down the line?
DC: Sometimes an external trustee is hired, maybe somewhat similar to an estate plan. There are companies that will be run by an independent fiduciary that's an external trustee.
Q. So you are not giving up control of the company?
DC: I am giving up control of the company because I have a fiduciary responsibility to the ESOP. I just can't fire board members because I don't like what they are doing. We were in control of the company. Now it's in the hands of the board.
Q. You are selling your shares in one shot. Were there discussions about your financial future?
BC: Is it financially the most optimal situation? No. We know we could get a higher price, but it is not what we wanted. We had offers.
Q. What do your children think about this?
BC: None of them are interested in Hypertherm.
Q. Did they have a problem with giving up your stock?
BC: Absolutely not. They have stock too and they were very proud to hand it over in this situation because they understand the bigger meaning of what's going on here.
Q. Dick, as an engineer, why translate your idea into a business rather than just selling it?
DC: Engineering is the science of utilizing our understanding of science in order to help solve societal problems. I like the idea of combining that with a business, so that always attracted me, even in college.
Q. Barbara, how did you get involved?
BC: We were married. Dick realized that Hypertherm might have an opportunity to double in size. We didn't have a personnel department. Dick asked if I might think about coming into the company. I had reservations. I was doing counseling work in the community. I agreed to come in to help Dick for six months, took a leave of absence from my job, and I fell in love with the work.
Q. Were you ever tempted to sell the company?
DC: It took a long time for Hypertherm to be a viable company. We were so small. I never really thought hard about it.
BC: Wouldn't it be safe to say that you were excited about the growth opportunities? Once Hypertherm started doing well, I think it became exciting to have this business that you birthed and watch it begin to grow and want to be a part of that growth.
DC: That's true. If I did begin to think about selling the company, then I would ask myself, "What would I like to do?" Run a technology-based company that had exciting growth prospects and was fun to operate. That's what we are doing right now.
Q. Do you ever disagree with each other on the company, and if so how do you deal with that?
BC: We handle that with mutual respect. I can't think of a single time when we acted like a "married couple." Now what goes on at home is very different. We talk a lot about Hypertherm – too much.
DC: My expertise is the technology side of the business. I'm very happy Barbara is an expert in human resources. I'm not going to say, "I think you are making a mistake here," and vice versa.