Q&A with House Speaker Terie Norelli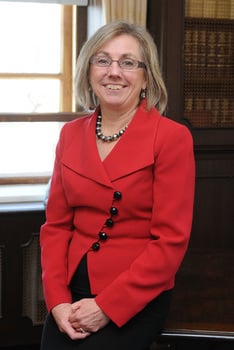 After a two-year hiatus, Democratic Rep. Terie Norelli of Portsmouth is back in the New Hampshire House's top leadership post following the state's third major wave election since 2006. Norelli assumed the speaker's chair from Republican William O'Brien, who succeeded Norelli in 2010.
The 60-year-old Norelli says her top priority will be dealing with the next budget cycle, which she says will be "the most difficult" in decades, due to declining revenues and long-term structural problems. She also hopes to soothe partisan tensions in the House after two years of O'Brien's leadership style, which was criticized as heavy-handed by members of both parties.
"I believe that Democratic members got the message from the voters," Norelli says.
That message, she says, was moderation and bipartisan cooperation. Of course, that might be easier said than done. Shortly after Norelli was officially elected speaker on Dec. 5, she was criticized by Republicans for staff changes, including the firing of the House receptionist who Norelli herself had hired in 2006.
Norelli, who has won nine straight terms since first winning election in 1996, talked to NHBR about the upcoming budget cycle, the expected debate over expanded gaming and how best to keep the public informed about the state's challenging financial situation and the choices lawmakers face.
Q. What do you think voters were saying in November?
A. Our candidates campaigned door-to-door across the state, and by and large, voters said they wanted common-sense solutions, moderation and were not particularly interested in the social agenda of Republicans.
We are already seeing a different tone from the Senate and from Gov.-elect Hassan, and at least there is a conversation for a willingness to work together in a bipartisan fashion and compromise. That's a word which did not have a lot of favor in the past two years.
Q. How different will 2013 be compared to 2007?
A. I believe we are facing the most difficult budget cycle any Legislature has faced in decades. We didn't know how severe and prolonged the recession was going to be.
We need to understand and educate the public about the fact that revenues have been flat and have not kept up with the pace of inflation. At the same time, the need for government services has increased due to the recession and its aftermath. We can't expect much help from the federal government, as those agencies cut back their budgets.
We face long-term structural problems, and there will be no quick fix. We are facing significant budget challenges, but the House is committed to working with the Senate and Senate President Peter Bragdon to find common-sense solutions.
Q. What are some of the structural dilemmas?
A. I believe our state agencies our state agencies have cut their budgets and their staff and have found as many efficiencies as they can. They may tell us that they can't continue the same level of services with the resources they have.
On revenues, the Legislature cut cigarette taxes and the DRA (Department of Revenue Administration) budget, which has led to fewer audits and revenues. We also have to consider the number of bills to cut $50 million to $120 million in business taxes that will go into effect beginning with the new budget cycle.
A lot of people don't know about these tax cuts, and there were no associated cuts in the budget. It's reasonable to want to do something because business taxes are high in this state, but our overall tax burden is one of the lowest in the country.
These revenue cuts lead to state budget downshifting to local communities. We have been meeting with and hearing from city delegations from around the state, and they are starting to feel the shrinking of the state budget through downshifting of costs at the local level.
Q. What's an example of this downshifting?
A. Cutting CHIN (Children in Need of Services) in 2011 saved $7 million in the state budget, but it has passed the costs to local communities.
This was a program designed to provide early intervention to kids with long-term problems rather than end up in the court system, which is far more expensive. We need to ask if we can spend money on these programs, which end up saving money in the long term.
Q. What revenue opportunities do you see?
A. I think the public will support a hike in the cigarette tax, and we can do more with tax audits. We could also return to dedicating a part of the rooms and meals tax revenue to the state tourism promotion program. We believe that this program succeeded in increasing tourism and revenues.
Q. Where does expanded gambling fit in?
A. Gov.-elect Hassan has expressed support for a single gaming facility in the state, and I do expect another robust debate.
As we have seen previously, this is certainly not a partisan issue. Members of both caucuses have supported or opposed expanded gaming for a number of policy and moral reasons. I think one of the problems is that even when support has been high, there are many different ideas about what that level of support means for their part of the state or for the state budget.
I've always been concerned about the accuracy of revenue projections. What will we derive from these revenues and should we rely on them during the course of the budget cycle?
As we have seen in Massachusetts, it's not that easy to put a process in place. If you also look at other states and their revenue estimates, we need to have a thorough debate about how realistic these projections are and what they will mean for the budget.
Q. What change in approach are you making?
A. I want to return to a more open and transparent process to the important work done in the committees. When we gained the majority in 2007, the National Conference of State Legislatures came in and provided training for committee chairs. This time I intend to do something different. We will have training for committee chairs and ranking Republicans in leadership training together. I believe this gives us an opportunity for a positive start on the journey we will have over the next two years.