Q&A with House Speaker Steve Shurtleff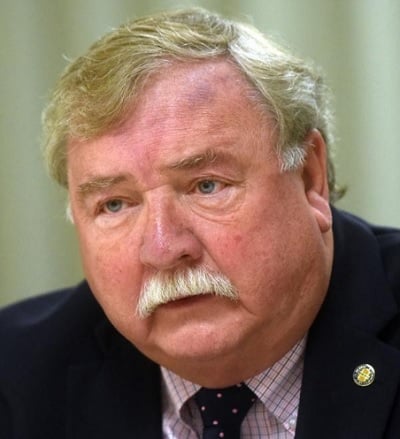 Rep. Steve Shurtleff, a Democrat from Concord, will be the next speaker of the NH House of Representatives when it convenes for its 2019 session. A., 71, is a Vietnam War veteran, a former Concord police officer and a deputy U.S. marshal. He was first elected to the House in 2004.
Q. Did you grow up in Concord?
A. I was born and raised in Concord. My dad was a plumber and my mom worked across the street at the state library. I grew up in the South End.
Q. You went to Vietnam. Did you volunteer?
A. I looked at my grades and my SAT scores and I knew that I was going to be drafted so I just enlisted. I spent three years in the U.S. Army Military Police Corps, a year in Vietnam, and then my last year with the armed forces police in New York City.
Q. What did you do in Vietnam?
A. A little bit of everything. We did convoy escort and did resource control where we'd go out with the Vietnamese national policeman and then we'd have a squad of infantry around us for security. Everyone coming down the road, we'd check him for weapons, excess rice, or other materials the Viet Cong could use.
Q. Did you have any opinions about the war before you entered?
A. No.
Q. Did you form any after?
A. There's a lot of propaganda from the army that we're there to support our ally. If Vietnam goes, all of Indochina will fall. They knew in 1968 that there was no way we were going to win the war. I've read Tip O'Neill's book, "Man of the House." He talked about the Gulf of Tonkin resolution that was passed in '64 and he wanted to vote against it, but he had pressure from leadership and the president. When that resolution passed, 12,000 had died in Vietnam. By the war's end, that number was 58,220. What would have happened if that resolution hadn't been passed? Here in the House, because of that, I always tell our caucus to vote your conscience and you vote your district.
Q. You became a marshal?
A. I got out of the service and joined the Concord Police Department. Then in 1974, I was hired by the Department of Justice as a U.S. marshal and sent to my first duty station in Cleveland, Ohio.
Q. What caused you to run for office?
A. I remember reading in Stars and Stripes about a brigadier general named Colin Kelly Jr. He told about his father, Colin Kelly Sr., who was a West Point graduate, a B-15 bomber pilot, and he led in a successful attack on Japanese ships off the Philippines coast. While flying back, he was attacked by Japanese. His bomber caught on fire and he stayed at the controls and had his crew jump. Shortly after the last man jumped, the plane exploded in mid-air.
President Roosevelt saw that Captain Kelly had died and left a wife and a three-year-old son. The president did something that had never been done before, and I don't think it's ever been done since. He wrote a letter to whomever was to be president in the year 1956, and it happened to be General Eisenhower. "Mr. President, in the year that you read this, Colin Kelly Jr. will be turning 18. I would ask you, for me personally but on behalf of a grateful nation, to appoint him to West Point."
Kelly Jr. graduated and retired as a brigadier general. I thought, "Well, gee, the state of New Hampshire should do something for the children of our members of the Armed Forces." I decided to run for the House to put in a bill to make that happen. That was the first bill, the only bill I introduced in my freshman year. I got it passed and signed into law by Governor Lynch.
The bill simply says, "Any child whose parent is a member of the Armed Forces that dies on active duty, if that child can meet the entrance requirements to any state college, university, or community college, they'll get up to four years of free tuition."
Q. Anything else that you worked on in the House?
A. I had a family from my district in Penacook who has a son who was a full-time seasonal employee for the state. It was a hot day and they took a break next to a pond, the young man took a dip, got a cramp and drowned.
If he had been a full-time state employee, they would have received a death benefit of $20,000 to help pay for burial expenses and whatnot, but because he was full-time seasonal, he couldn't get that. I was able to get a bill passed that would provide for the death benefit for full-time seasonal employees. That stands out because I remember the sincerity of the family.
Q. One issue that will come up in the next legislative session is the minimum wage.
A. Yes, I would like to see it graduated up to $12 over to a three-year period just so we can keep pace with our neighboring states.
Q. There are people on your party who want to go for $15.
A. Every time you go above $12, there's a tremendous drop-off in the support. I think if we can get a New Hampshire minimum wage which we don't have, and secondly to set it at $12 – I think that's a positive step forward.
Q. Paid family and medical leave passed three times in the House last year. Is that what you're going to do this year or will there be tweaking?
A. That's our starting point. Somebody said it has to be bipartisan. Well, that truly was because it was passed in a house where we Democrats were in the minority. We think it's important for employers to get and retain employees. It shows that productivity goes up in states that have family medical leave. The governor last year called it a vacation. Having had members of my own family with terminal illnesses, I know how important it is for individuals to have that time off to be with their loved ones, especially parents where the prognosis might not be too positive.
Q. There are some things coming in healthcare from the federal government, such as association health plans and expanded temporary insurance which don't have full Affordable Care Act mandates. What's your thoughts on that?
A. I hate to see us move backwards on what we're providing now for anyone. It just makes sense to me that we have a person my age get a pneumonia shot in the fall instead of showing up at the emergency room. I think it just makes a lot of sense for New Hampshire and our taxpayers that we do more to foster and support preventive medicine.
Q. As for Medicaid expansion, there is now a work requirement. Any changes in that?
A. I believe there is a bill that may be filed in the Senate for the state to provide more assistance in training and getting people to work. That's something that we would support, but otherwise I don't see any change.
Q. Taxes are supposed to go down in 2020 and 2022. You want them to keep going down?
A. We've got a good robust economy in New Hampshire. We don't want to do anything to jeopardize that. I don't see why we wouldn't maintain the status quo, but I would want to talk to both Democrats and Republicans on key committees to see what they recommend.
Q. The status quo means taxes are going to keep going down?
A. Over time – yes.
Q. Any ideas on the Internet sales tax this time around?
A. I served on that special committee last year. The court has determined that we've got to pay it, but we've got to find a way to make it easy and accessible for New Hampshire businesses to collect it. We want to make sure businesses are protected and also that they don't fall prey to scammers and others that are going to try and take advantage of the confusion that the decision brought with it.
Q. Any ideas or anything that the Democrats are going to try to come up with to address the workforce shortage?
A. I don't really speak for the Democrats, I actually speak for myself. One of our biggest problems in the state is the high cost of post-secondary public education. New Hampshire is 50th in the nation at 8 percent funding for post-secondary public education. If we double that amount to 16 percent, we'd still be 50th. I'd like to find a way to do more for post-secondary public education.
Q. Where would the money come from?
A. Well, there's the rub.
Q. You don't have any ideas?
A. I don't.
Q. School funding and building aid for the school construction. Anything new on that?
A. No. We've downshifted so much. I know there are some that are working on legislation, and I'm waiting to see the finished product to try to find a solution to provide more money for building aid and more money for adequacy.
Q. There are some people who say that kindergarten shouldn't be dependent on keno. Are you going to change that at all?
A. There may be legislation to take that the money from keno and instead of putting it into kindergarten putting it towards a building aid program. I would like to see the adequacy for kindergarteners be the same as elementary, middle and high school students. Now it's half the rate.
Q. Energy. What are your ideas on that?
A. Wind power off the New Hampshire coast has been mentioned. That could be a very viable solution since the closeness to the Seabrook power plant would be easy to plug into the grid. The Legislature did the right thing when we overturned the governor's veto of the biomass bill.
I'm a strong supporter of renewables. We saw with biomass the tremendous impact that it had not just in the North Country, but all over the state.
But we've got to look for other sources of energy, primarily those that are nonpolluting. But what Eversource wanted to do with Northern Pass was just too much. I know the impact it would have had on Concord – those lines going through conservation areas and impacting people in their homes and everything else. We have to find a way to bring hydro down from Quebec, but there's got to be a better way to do it. There's already a line available to Vermont.
Q. What didn't I ask that maybe you want to address?
A. You asked a lot of questions about what Democrats would do, but my hope is try to be the speaker for the whole house. We've got a Republican leader and we've got a Democratic leader, but I look at the speaker to try to work for the common good for the whole body and work to bring people together.