Q&A with Highlands Inn owner Grace Newman
An interview with Grace Newman, owner of the Highlands Inn lesbian resort in Bethlehem.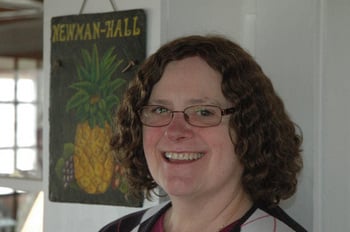 Thirty years ago, Grace Newman left her urban life as director of a social services agency in Boston to start a country inn catering to the gay community. She knew firsthand the discomfort of same-sex couples finding a comfortable place to stay — with one bed.
This was a big leap in 1982, but Newman felt pulled to start it in the White Mountains in the heart of the "live free or die" state. She found an abandoned inn at the end of a dirt road in Bethlehem. From humble beginnings, the Highlands Inn became a popular destination, and along the way it evolved its focus exclusively to lesbian guests.
With New Hampshire's embrace first of civil unions and then same-sex marriage (the first state to do this through the Legislature, rather than the courts, she notes), the inn gained more prominence — and became an ideal place for same-sex marriages. It has been hailed as the first and most popular lesbian inn in the country, but Newman is ready for a change and has recently decided to put the complex on the market.
Q. How did you end up in this business?
A. When I was in college there were two things that I wanted to do — one was to go into VISTA, the Peace Corps, and the other was to be an innkeeper. I've actually done both.
It's a funny story — it actually started with us thinking about installing a pool, and we ended up buying an inn with a pool. We looked in New Hampshire and western Massachusetts, but preferred New Hampshire. When we bought it, it was uninhabitable — had been closed for three years. It needed a total, complete renovation.
Q. Did you start with the idea of creating a lesbian inn or did that evolve?
A. We had the basic idea, but it did evolve. We thought the time was right for an inn that at least advertised toward the gay community. We envisioned gay couples being here with straight couples and everyone getting along. We thought we'd bridge the gap, but that didn't happen. There was such a need for a women's inn.
Over the years we became a women's place — our occupancy was 99 percent women all the time. When the number became so skewed it just wasn't so comfortable for either.
Q. Describe the discomfort that existed in the hospitality industry when you first opened.
A. That discomfort still exists in many places. New England is very fortunate. We are ahead of the curve. A gay couple goes in and is asked, "Did you want a single bed? Was this a mistake?" Things are different now, but there is always a need for women's space. A lot of our guests are from other places outside New England, where they can't reveal their sexuality. It's not so simple in many places.
Q. This was a bold move in 1983. Was there any pushback in the community?
A. In the beginning, most people up here would say I never met a gay person. We've done really well in Bethlehem — it's a wonderful town. We've been here 29 years, and we bring a lot of people to the restaurants. We pay our bills and people have seen they're really nice. We are a tremendously accepted part of the community. We definitely changed some people's minds. I'm proud to be living in New Hampshire.
Q. Were you surprised by the Legislature's support for gay marriage?
A. Even folks who are really political were shocked. Two-thirds of our Legislature is Republicans, and 65 percent of them voted to maintain same-sex marriage. Nobody expected it — it was a total shock. It was just such an incredibly proud day to be a living in New Hampshire.
Q. Does gay marriage help your business?
A. Sure, it helps in terms of hosting marriages. Lots of women come here from out of state to get married — 95 percent are from out of state. Florida and Texas are the biggest. My partner became a justice of the peace; she's done probably 100 marriages, including civil unions in the last three years.
Q. Describe the lesbian market — how do you reach this market and what are they looking for?
A. These days, the Internet is how we get most of our people. We have a good active website and engage in Internet marketing. Plus we've been here a long time. We have a good following. We're the largest lesbian inn in the country. There are a few in Palm Springs and a few other places.
It's a beautiful state. People want to come here. I can't tell you how many guests ended up moving here because they loved it so much and found it accepting.
Q. Inns change hands frequently; how have you stuck it out all these years?
A. It's definitely a lot of work, but it's a great life. It's seven days a week and long hours. What makes it worthwhile is the feedback I get from people. I think we help people feel better about who they are in some way. Some people come here and, perhaps at home, they don't even know other lesbian couples. They feel like they're the only ones around.
Q. What has been the key to your success?
A. You've got to keep changing, keeping rooms nice and adding amenities. But the most important thing is being friendly and comfortable. Knowing when to be really friendly and when to back off and give people space — that's really important.
Q. Did your social service work prepare you for being an innkeeper?
A. They're pretty similar in many ways. You have so many people coming and going with their little quirks and needs. Running a business is running a business. I'm an MBA dropout. You have to get the right people around you. When I left the work world, people didn't have computers in their office, so I had to learn that.
Q. What advice would you give businesses trying to develop a niche market?
A. Follow your passion. If you really love scrapbooking — to pick something — try to do something with that. It has to be something that you like and is real for you. See where your passion takes you. You can't be everything for everybody. You'll go crazy trying.
Q. The existence of an exclusive inn for lesbians shows progress, but it also shows we've not achieved full acceptance either.
A. Laws can change. If you follow the civil rights movement of the 1960s, you see laws change, but would any American say black Americans have the same opportunities as white Americans? It takes time for people to change their minds. Twenty-nine years ago, people never heard of same-sex marriage and over the years the percentage of people who support it has really increased to somewhere over 60 percent.
People do change. Part of it is educational, by meeting people and hearing their stories and realizing that we're more alike than we are different.
Q. Where do you see your business going from here?
A. I actually have the inn on the market. It's time for me to retire. Twenty-nine years is a long time in this business. I'm looking for just the right people to take it into the future. It's time for younger folks.
Q. Will the need for an exclusive inn continue as attitudes become more accepting in the next 30 years?
A. There certainly would be less need. Younger folk don't see the same need because they've grown up in a more accepting atmosphere. Yet when young women come here, they say they never knew how wonderful women space is or knew that it was something that they ever needed.
I can't even imagine what things will be like years from now. If you would have told me 30 years ago that my partner and I could be married, I would have said, "Oh sure" — it wasn't even on the radar screen.