Q&A with Henniker Brewing Co. Co-founder Dave Currier
The former state senator and successful businessman emerged from retirement to enter the beer business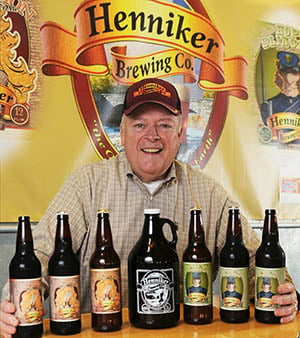 Many look forward to kicking back in their retirement with a cold beer by the lake, but for Dave Currier, retirement means not just drinking the beer, but brewing it too.
Currier, a Republican who served for 14 years in the New Hampshire House and Senate, is also a businessman who founded Bound Tree Medical, an emergency medical device company that he grew into a successful international business before retiring about a decade ago.
While he enjoyed his leisure days of fishing and relaxing at his second home in Arizona, Currier decided to emerge from retirement to start up Henniker Brewing Company, a 15-barrel production brewery housed in a building formerly occupied by Bound Tree at the end of a nondescript, wooded road in – where else? – Henniker.
"I've gone from Band-Aids to beer," said Currier, who along with eight other investors capitalized the new brewery. Since its launch in early 2013, it has already begun selling two flagship ales – Hop Slinger India Pale Ale and Amber Apparition, an American amber ale whose name and label was inspired by the local ghost story of Ocean Born Mary – and has plans to add another two signature ales that will also be brewed year-round.
The brewery, run by head brewer Chris Shea, sells 22-ounce bombers at retailers around New Hampshire and is on draught at restaurants around the state. It also has a taproom in Henniker, where it offers beer samples, free tours and merchandise from local vendors.
Q. How did you wind up brewing beer?
A. Out of college, I ran Pats Peak for 10 years, then I started my own medical business with an innovative product that was used to extricate people from automobile accidents. It was called the Sherman short spine board, and it basically stabilized them from any further aggravation of a particular injury they might have had.
I grew that company internationally. We had seven distribution centers around the country and one in the U.K., and then I retired. I was retired for eight years, and in between all that I served eight years in the state Senate and six years in the House. I did three different stints in the House – I was in the House in the '70s, then I went in the Senate in the '80s, then in the 2000s I was in the House again.
When I retired from Bound Tree, they were still renting this facility (in Henniker) from me for their northeast distribution center. I got notice that they weren't going to renew the lease and that they were going to move this operation to upstate New York to be closer to their medical surgical division. I had about a year's notice that this building was going to be empty, but of course the economy at that time, in 2010, 2011, was such that trying to sell this building was probably not going to work.
So I started to look for some opportunities, and we looked at possibilities of businesses going in. We were looking for something unique. There isn't a production brewery in the area — I think there's eight or nine production breweries in the state.
We started visiting breweries to find out about the brewing process, and then we started exploring equipment and what it would take to do something like that.
We're not on town water and sewer, so we had to actually explore a water source and a wastewater source, so we did that, and we hired a consulting brewer, then recruited for a brewer. On June 30, Bound Tree moved out of the building, and July 1 we moved in.
We brewed our first batch of beer in December, and then on Jan. 16, our first order went out the door.
Q. What beers are you brewing now?
A. We have an amber and an IPA, but we're going to ultimately have four flagships that we'll brew year-round. We're in the planning stages now for a third. The process for getting label approval and all this other kind of stuff is pretty interesting, to say the least, because you have to have state and federal approval.
Q. How long can it take to get a label approved?
A. It can take a month. Founders (Brewing Company of Michigan) has a beer, an oatmeal stout, that they weren't allowed to distribute in New Hampshire in six packs because it had a picture of a baby on the label, which implies underage drinking, or at least that was the ruling by the state. They could actually sell it in kegs, but they couldn't sell it retail because of the label. And yet, sometimes you wonder, because Stone Brewing has something called Arrogant Bastard Ale, and yet that made the cut.
Q. Were there a lot of other regulations and hoops to jump through to get into the brewing business?
A. Knowing state government because of my involvement in politics didn't hurt in terms of going through the process, but the fact that I was patient helped. At times I was frustrated because things seemed like they took forever.
There's basically nine of us who were investors in the company, and each had to fill out so much paperwork and we had to go through all that scrutiny of making sure you don't have a record and that whole thing you have to do for federal licensing, then you have to fill out another set of paperwork for the state. It'd be nice if the paperwork were consistent, but there were different forms for the state that requested a little more information than the feds did, so it was cumbersome.
Q. Who are the other investors?
A. A couple are my former business partners from Bound Tree, and then a couple of the guys involved with the planning process, guys that were entering the business world out of college, and some from out of New Hampshire. They put up some of the initial money to get us launched.
Q. It's very expensive to start a brewery, isn't it?
A. It's very capital-intensive. The equipment, we're sitting on a quarter of a million dollars of stainless-steel tanks between the brewhouse and the fermentation tanks. It's because of the size – we are a 15-barrel system, we can make 15 barrels (a barrel of beer is 31 gallons), so we can brew two batches of beer a day, then it takes 10 to 15 days to ferment, so your capacity is limited to how many fermentation tanks you have, because once the fermentation tanks are full, they're full.
We bought a used bottling line, and we had to put in a walk-in cooler to keep it chilled once it's packaged, and all of those things, it's pretty intense. But, we got through it all, and the beer has had some really great broad acceptance from beer consumers here in the state. We're getting great reviews.
Q. A lot of new breweries seem to have grown organically out of small home-brewing operations, but it seems like you're approaching this brewery from more of a business angle.
A. We started off right away from a business angle. I did not home-brew before. I was looking for another business and hired the people with the expertise to make the beer.
There's some magic number, that when we get to a certain volume, we'll be able to start offering six-packs, so that's going to help, but right now we're concentrating on 22-oz. bottles. When you go into grocery stores now there's typically a craft beer section that has all these bombers — it's almost like the premium wine section and it's pretty cool to see. We're focusing our distribution on New Hampshire right now, and ultimately we'll probably expand into eastern Massachusetts, and probably southern Vermont and southern Maine.
Q. Do you see the craft beer market continuing to grow?
A. My understanding is there are 900 breweries across the country that are in a licensing process with the TTB (the federal Tax and Trade Bureau). There's definitely a trend toward craft beer right now, and with this many people wanting to start breweries, there's also a concern on the part of breweries that right now we're already having to contract for our hops. If you're on the spot market for hops, they're going to cost a fortune, and the availability is going to be even harder. The more breweries coming online, there could be a shortage because of demand, then you get the other situation where grain could have that potential too.
Q. Can hops be grown in New Hampshire?
A. Interestingly enough, in the 1800s, New Hampshire was the largest producer of hops in the country, and yet now there's only spot hops being made here. Flying Goose up in New London has a section out back where they're growing some hops, but there isn't any real large producer of hops in New Hampshire. Obviously there was a lot of land in New Hampshire with hops on it at some point, so it would be interesting to see if it evolves as a potential agricultural product.
Q. Any concern with all these new startup breweries coming online that there's a bubble looming in the craft beer market?
A. Obviously, the more that are out there, the more competition there is, so it could be a bubble that bursts. But some of the smaller nanobrewers in New Hampshire are basically filling a niche in a local area. By niche I mean they're providing quality-brewed beer to a smaller region and they're not getting into the bottling and kegging in terms of mass distribution. You have Elm City Brewing in Keene, Flying Goose in New London, Milly's in Manchester, Martha's Exchange in Nashua, Portsmouth Brewery and a ton of them in the Portsmouth area, and some more that are just coming on, like a new one called 603 Brewery.
Q. Considering all you've gone through to get here, are you glad you got involved in the beer business?
A. I'm really enjoying the challenge of setting up this thing. I'm burning the candle at both ends at this point, and it'll be a year in July, so I'm hoping everything will be on a nice, even keel so I can take some time to play some golf this summer and maybe drown some worms. I was doing a lot of fishing in my retirement, and unfortunately didn't do much of that last year. I think I only went four or five times and I live on a lake.