Q&A with former VA Secretary Bob McDonald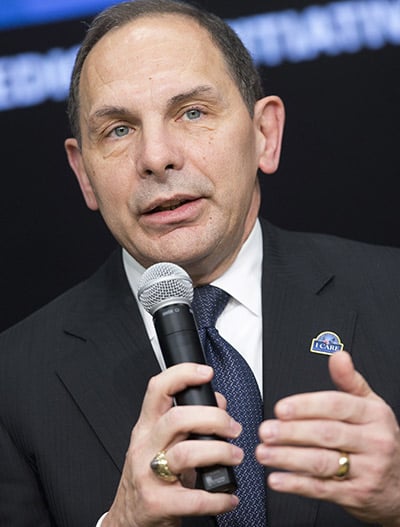 By any measure, Bob McDonald has had a varied and impactful career. A West Point graduate, he had a 33-year career at the giant consumer goods corporation Procter & Gamble, ending with a four-year stint as chairman, president and CEO. In 2014, President Obama appointed him as secretary of the U.S. Department of Veterans Affairs, which he headed until the Trump administration took office.
McDonald will be the keynote speaker at a March 28 forum, "The Real Cost to Business: the Mental Health and Addiction Crisis," where he will be among those discussing the challenges facing employers in addressing behavioral health issues in the workplace. The event will run from 8 a.m. to 12:30 p.m. at Southern New Hampshire University's Mara Auditorium in Hooksett.
Q. How did you end up being invited to New Hampshire to speak at the mental health conference?
A. I was asked by (former New Hampshire Supreme Court Justice and currently senior director of public affairs at Dartmouth-Hitchcock) John Broderick. He and I were at an event together for an organization, Give an Hour, in Washington, and we both received awards. I received an award for lifetime achievement or something for my work at the VA and he received an award for all the work he's done for making mental health an issue in the New Hampshire area. We got to be friends, and he contacted me and asked me to be part of the forum.
Q. How did you connect on the mental health issue?
A. In running the VA, mental health is one of your biggest issues. The physical wounds are obvious, the mental wounds are not quite as obvious. That became a lot of my work there. The wars we are fighting in the Middle East are wars of concussion, wars of IEDs blowing up, and that's where I spent quite a bit of my time on, both in terms of trying to pioneer new therapies, as well as trying to get the mental health community up to the same standards as the physical health community. In physical health, it's pretty obvious you have a problem and doctors know how to treat it. In mental health, a lot of the problems are not precise.
Q. What kind of progress did you make?
A. We were willing to try anything. The only purpose we had was to try to cure and treat veterans. So we opened an office of innovation that was run by (Deputy Undersecretary) Dr. Jennifer Lee, and basically anybody who contacted us with an idea, we worked with them to help them validate their approach.
Q. The problem, from a public policy standpoint, is cost.
A. When I was visiting Mass General, the CEO told me that for every mental health patient that walks in the door, they lost $100. The point is that mental health reimbursement rates aren't high enough. Not enough mental health professionals are being trained. Systemic problems with mental health are beyond opioids. We have to take a total system approach to the mental health system.
Q. What about the opioid and addiction crisis – how do you view that?
A. First of all, the VA has affiliations with medical schools across the country – the VA trains 70 percent of doctors in the country. What I found was that not enough medical schools focus on pain management. It's a little bit too easy to prescribe an opioid rather than to prescribe physical therapy or other activity to reduce the pain at its source.
The problem is you can't give people pills and solve the issue, nor can you take them away. One of the big things we had at the VA was yoga and equine therapy for post-traumatic stress, to get people off drugs. But it's hard work because it requires customized programs.
Q. It sounds like it's more expensive too.
A. Not in the long run. It's like homelessness. It requires investment on the part of an employer, no question, because there's not an easy, generalized solution. But in the long run, it's a good investment because you won't have the absenteeism and you create a bond with the employee that creates an intimacy by solving their problem. And that loyalty will also go more broadly – they will become an absolute joy an employee and a spokesperson for your company.
Q. What is the biggest challenge in health care today, from your perspective?
A. I think it's going from this mindset of curing something that is wrong to getting people to stay fit both physically and mentally.
I look around and I see obese people everywhere. I told Greg Page, former CEO of Cargill and a friend of mine, "You're feeding people too much sugar." "No, it's not that," he said. "It's that people are expending fewer calories." Jobs are less physical, there's less movement among people.
P&G put fitness centers at our facilities in the '80s, and people thought that was a dumb investment. Not true. We had instructors create individual programs for employees and we had measurable changes.
Another friend of mine is Steve Burd, CEO of Safeway, arguably a company with a lower-income, less-educated workforce than the P&G workforce, and we share data. He used BMI (body mass index) as an incentive and gave employees a discount on their health insurance if their BMI was below 30 (the number over which people are considered obese). It was very successful – over 75 percent of his employees took part.
Q. What about a smaller company?
A. If I had a small-scale business, I would buy people memberships at fitness facilities. I would provide them a trainer and a customized program, and I would incent people by making sure their health care premiums go down if their BMI goes down. People will act positively to the incentives you give them.
Q. What did you learn while working with President Obama?
A. I was a Republican in a Democratic administration and had been a lifelong Republican. Of course, I was subject to the same polarization of political thought that the rest of the country is, and what I discovered, of course, is that all of that is questionable.
With President Obama a man with great values, a great family, the word "politics" didn't come up. He went through eight years without a crisis of character, and it was very important to him. He talked about it a lot and it was very meaningful for him.
Let me tell you about one particular instance during the Ebola crisis. One of the VA's missions is to be a backstop for the U.S. healthcare system, if something goes wrong. At the time, Chris Christie was the leading Republican candidate, and Christie was trying to embarrass the president by saying we should just shut our borders and let Africa go it alone.
But we said, "Look, it may not be within our borders, if we don't send military medical units to west Africa, it will spread all over the world. So President Obama made the decision with (then-Joint Chiefs of Staff chair) Marty Dempsey to send the troops. And since then, what have you heard of Ebola? What would have happened if he followed the advice of the leading GOP candidate?
When you're president, at least in the old world, context means a lot. And politics – the birth certificate and all that garbage – is just that, politics.
Q. You have talked about and espoused values-based leadership. Can you explain what that is?
A. About 30 years ago, I started keeping track of what my leadership beliefs were, and I would share that with my organization and family. Through that process, I grew to believe that somebody who's really serious about leadership ought to take the time to be reflective about their different experiences in life.
I start with the premise that it's better to have a goal in life and to lead your life by a set of principles, values, or morals.
There are 10 key principles: Living a life driven by purpose is more meaningful and rewarding than meandering through life without direction; companies must do well to do good and must do good to do well; everyone wants to succeed, and success is contagious; putting people in the right jobs is one of the most important jobs of the leader; character is the most important trait of a leader; diverse groups of people are more innovative than homogenous groups; ineffective systems and cultures are bigger barriers to achievement than the talents of people; there will be some people in the organization who will not make it on the journey; organizations must renew themselves; and the true test of the leader is the performance of the organization when they are absent or after they depart.