Q&A with Entrepreneur Mark Galvin
An interview with serial entrepreneur Mark Galvin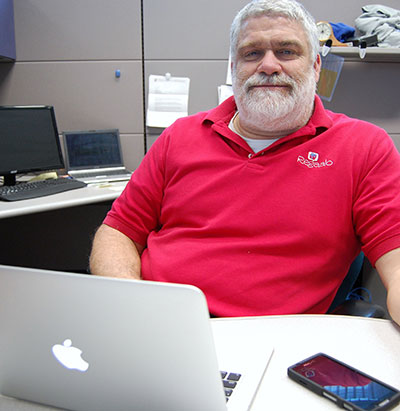 When the New Hampshire Innovation Commercialization Center in Portsmouth was started as a joint venture with the University of New Hampshire in 2010, the multi-designed goals were to commercialize a rising tide of UNH intellectual property and to help New Hampshire high-tech startups get a leg up in their development.
In addition to basic infrastructure — office space, labs, Internet connections — selected companies were to be given some startup funding and close mentoring from NH-ICC staff and UNH professors. Companies would also be able to employ UNH interns.
What was less clear at the beginning was an incentive program for professional staff members beyond below-the-market-norm salaries for experienced corporate mentors who were de facto chief executives, financial officers or marketing directors for the startups being developed at the NH-ICC.
That lack of clarity has led Mark Galvin, who helped develop the concept as the NH-ICC's first executive director, to resign — in part because the organization's status as a nonprofit precludes it from allowing equity stakes in the startups.
"I'm a leopard who can't change its spots," said Galvin, a serial entrepreneur who has successfully started four companies. Galvin will become the CEO of Regaalo.com, a two-year-old social gifting e-commerce company formed by UNH graduates.
Regaalo is one of six companies that have been developed at the NH-ICC that Galvin believes has a very good chance of survival and success.
Q. Why are you leaving now?
A. It's really about equity. I believe I am still the best person for the job because this had been a successful launch, but I was unsuccessful in delivering on the promise of an incentive program for the staff of the NH-ICC, including myself. This would have allowed us to participate in a small way in the equity of the companies we helped form and/or accelerate.
I knew from the beginning that it was necessary to have a common bond of equity and responsibility to other equity holders. I know that's what gets me out of bed in the morning and it's a motivation that drives entrepreneurs 24/7.
I'm a startup guy, and I believe one of the keys to managing decisions and driving the "take it to the mats" tenacity needed to overcome the non-innovative status quo, is that everyone needs to be aligned through the common incentive of improving equity value.
Each member of the team should have equity in varying and appropriate amounts based on their contributions to the mission. This is a very capitalistic view, which is hard for many who serve the nonprofit world to understand. Without this management tool, as a startup guy who has had access to that for my entire career, I recognized I could not overcome the challenges I faced without that weapon in my arsenal.
Q. What were the top accomplishments of the NH-ICC?
A. Most importantly, the staff has engaged closely and helped accelerate the development of new businesses in New Hampshire. The center has supported the inception, incorporation and operation of three new companies that otherwise would likely not exist today and have a good shot at becoming big successes — Regaalo.com, Unified Office and EZCao.
The center has also provided considerable business planning, operations, finance and marketing assistance to three others that have also shown considerable promise — Holase, PoKos and Innovacene. The facility also has become the home for about a dozen very innovative companies that are in various stages of incubation.
Q. What else did the NH-ICC do that went beyond its day-to-day duties?
A. We identified the two most critical issues facing growth technology startups in New Hampshire, namely investment capital and software talent, and took actions to resolve them.
The NH-ICC was the force behind creation of the NH Innovation Business Jobs Growth Program legislation, which was passed in a bipartisan way in 2011 and has resulted in the Borealis Granite Fund. The NH-ICC also acted as a fiscal sponsor and part of the core team that drove the Jumpstart Web Development Program providing training and college credit for high school students by taking classes at Great Bay Community College.
Q. What were some of the goals not reached?
A. We didn't raise as much money as we wanted or needed, which surprised me. We also wanted to have control or direct access to investment funds that could be invested appropriately in startups as they successfully met milestones. After receiving funding, we also wanted the startups, after receiving funding, to be able to pay a stipend to be at the center to help cover the Center's operational costs. We saw this as a "pay it forward" way to assist fledgling new companies that require the same type of support.
We spent a lot of time chasing the kinds of out-of-mainstream funding that requires proper applications and reporting, and it diminished our abilities as a staff. This was stuff we were not experts at.
Q. What are some of the factors and issues faced by entrepreneurs in this economic climate?
A. Some types of entrepreneurial activity are higher than they have ever been in New Hampshire. I often categorize this as the activity where you create lots of "melting pot" events and hope that something comes of it. There are massive quantities of what I call "whatreprenuers" who need very small investments ($10-$20,000) and mentoring.
To borrow a metaphor from nature, the hope is that some of the turtle eggs reach the sea before all the birds pick them off, not to mention the feeders that get them once they make it to the sea. Unfortunately, very few big companies got their start this way, and while so much attention get put on these activities, such as "Mass Challenge" and its $1 million annual giveaway in $10,000-to-$50,000 chunks, much of the wind is sucked out of the normal formation methods.
There are many people and organizations jumping on the "innovation, startup, entrepreneurial" bandwagon. Unfortunately, many of those have no real-life experience in what each of those stages are and the real challenges they face.
Reading someone's book on the subject, researching what others are doing in these areas, and even, in many cases, investing in some of these things, doesn't necessarily mean that you really understand any of it.
I'm guessing this is why, when Brad Feld wrote his book, "Startup Communities," he made it clear that when building an entrepreneurial ecosystem in your city, the activity should be led by entrepreneurs. I think too much government intervention is having a negative impact on and stifling entrepreneurial activity.
Click here to read an October 2007 Q&A with Galvin.