Q&A with Entrepreneur and Congressional Candidate Dan Innis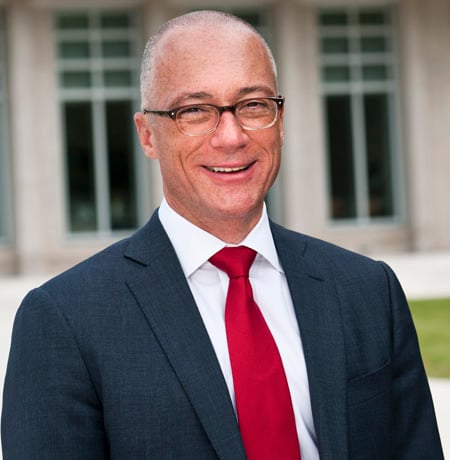 Like many entrepreneurs, Dan Innis has an ambitious schedule. Innis, who served as dean of the Whittemore School of Business and Economics at the University of New Hampshire from 2007 until he resigned late last year, oversaw the major transformation of the institution to the newly built and named Peter T. Paul College of Business and Economics. Innis and his husband Doug Palardy also are opening The Hotel Portsmouth in downtown Portsmouth later this spring – and this came after they sold The Ale House Inn in Portsmouth last year to Lark Hotels.
Innis, a Columbus, Ohio, native who moved to Maine in 2002, is also running as a Republican candidate for the 1st Congressional District seat currently occupied by Carol Shea-Porter, a Democrat serving her third term. This openly-gay political newcomer who was encouraged to run by Palardy is slated to run in the Republican primary against former Manchester mayor and former 1st District congressman Frank Guinta, who was defeated in a rematch with Shea-Porter in 2012.
Q. What's it like running for Congress and opening The Hotel Portsmouth simultaneously?
A. Sometimes it feels like a lot, but most of the time it's not. I enjoy everything I am doing, and it's a relatively quiet phase of the campaign. I put in a couple of hours a day at the hotel, but Doug is doing the lion's share of the work. He's the face of the place and my biggest booster.
It's a big-money project. When we acquired the hotel, we completely gutted it and everything went out. We've added new drywall and carpeting – new everything. We are planning on a soft opening for family and friends on April 1. I am also working on a curriculum project for UNH.
My schedule is all very positive. Talking about the issues on the campaign is lot of fun. It will become more of a challenge to balance everything when the campaign busy season comes.
Q. What motivated you to run for Congress?
A. It's a big thing, even bigger than I understood, to get outside of your comfort zone and do something important. My main motivation is the young people I know and have worked with. We have amazing students right now and I am truly impressed by the quality of the students we have seen at UNH. They are focused and motivated and bright and optimistic about the future, and hard workers.
I have three kids (ages 22, 20 and 13) and they see the world and the country differently and they see the American Dream differently than the one we saw. They have a sense of freedom and optimism and have really strong, vibrant opinions about the future and on issues such as the NSA (National Security Agency surveillance). They don't take these things lightly. I want to bring back the American Dream and encourage more entrepreneurial thinking and risk-taking.
Q. What's one aspect of your career that might surprise folks?
A. I put myself through college (Ohio University) by working on a maintenance crew for a golf course in Lancaster, Ohio. It was the perfect job. I could start at the end of each spring and I was continually grass-stained. I learned the value of hard work.
Q. What's your assessment of New Hampshire's economy?
A. What's really working for us is the diversity of the economy – there's a huge diversity of small to larger systems, of financial services and small entrepreneurial businesses. It's one of the reasons why the economic downturn didn't impact us as much as other states.
On the other side, we have two big challenges. We need infrastructure development, which is necessary for desired business growth. The other thing is workforce availability, and that's where the right kind of responsive education training comes into play.
Q. You're a Midwest native and have lived in Maine and New Hampshire since 2002 – what's your New England cultural education been like?
A. There are a lot of similar values, like the friendliness of people, so it wasn't much of a transition. While Ohio is part of the Rust Belt with much more of a manufacturing base, the personal and business core values are about the same.
Q. How has business education evolved since you began your academic career in the 1980s?
A. Technology has changed things, but the biggest single change is that we are obviously more focused on helping students develop critical-thinking skills and problem-solving skills from the time they walk onto campus. We know that all the information in the world will have no value to them if they don't know how to use it.