Q&A with eminent domain attorney James Morris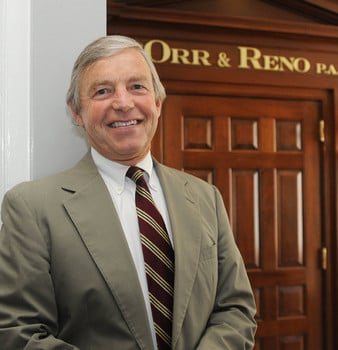 James Morris knows a thing about the issue of eminent domain. Since being hired in 1975 as an assistant attorney general for the state, he has been involved in scores of eminent domain cases on both sides of the issue.
Eminent domain is the sometimes-controversial right of governments to take, or "condemn," private property for public use. Morris, a graduate of Harvard and Boston University Law School, also served as general counsel for the state Department of Transportation and assistant general counsel for Allianz Insurance Company in California.
Author of the New Hampshire chapter of the new 600-page book, "The Law of Eminent Domain: Fifty State Survey, 2011/2012," he is now with Orr & Reno in Concord where he specializes in real estate development and finance, title insurance, eminent domain, zoning and land use and tax issues.
Q. Why is this book on eminent domain important?
A. The exercise of the eminent domain power has gotten a lot of publicity over the years, especially in New Hampshire with the proposed Northern Pass hydroelectric corridor. But the parameters of how and when it can actually be exercised are not widely understood. That's why each state's section was written by lawyers who practice eminent domain law in those states rather than by legal scholars or law professors — so that the law is presented in a useful, what-you-need-to-know format.
Q. How did you become an expert in eminent domain law?
A. I was hired by the Attorney General's Office in 1975 and there were four of us who handled eminent domain cases, mostly for the Department of Transportation in highway building projects.
By 1971, the Legislature had codified eminent domain procedures because so many cases were backlogged in the courts. The main focus was on just compensation, and probably 99 percent of the cases were settled. Very few involved a challenge to the eminent domain authority of the state.
Q. What's the abridged legal history of eminent domain?
A. The "Takings Clause" of the Fifth Amendment was added to the U.S. Constitution in part to ensure that owners whose property was taken by eminent domain would be fairly compensated. It goes back to the notion of forming a government — when a government is formed to protect the rights of the people, those people give up some of their rights according to their consent so the central governing authority can act.
In the case of eminent domain, when private property is taken, the U.S. and New Hampshire constitutions provide for specific protections. The 14th Amendment allows that no property can be taken without just compensation.
New Hampshire has a pretty comprehensive set of eminent domain procedures. Article 12 of the New Hampshire Constitution says that no property can be taken without the property owner's consent. In 2006, Article 12a was added, and that denied the right of eminent domain taking by a private entity for private use.
Q. What was one of the most interesting eminent domain cases you worked on?
A. In the 1970s, Gov. Meldrim Thomson wanted to take over railroad service to the North Country that was being abandoned by Boston & Maine. The state argued it was a public need and important to the state's economy to continue freight service from Concord to a paper mill in Lincoln.
What was ironic is that Boston & Maine had been granted eminent domain rights in the 1880s to build the railroad line. Though it had abandoned service, Boston & Maine still owned the line and the rights. It was eventually determined that just compensation was about $3 million. The state took over the line and contracted the service, even though the paper mill closed a few years later.
Q. Why do you think the Northern Pass project was not allowed eminent domain rights?
A. Northern Pass was interesting because the eminent domain issue was whether the private utilities could demonstrate a valid New Hampshire purpose for taking of private property. That wasn't the case here with a private utility asking for the right to exercise eminent domain. The Legislature acted to prohibit use of eminent domain by a private utility for electrical transmission if the electricity was not for New Hampshire.
Each eminent domain case I've been a part of rises or falls on its own merit. Since 1980, when I went into private practice, I've represented municipalities and landowners. It's been clear to me that New Hampshire has been very responsive to eminent domain issues and the protection of private property, especially since the 2006 Supreme Court case (Kelo v. City of New London), which allowed the government entity to take private land and give it to another private owner with the goal of economic development.
Public purpose can be a very gray area, but in my experience, the issue of eminent domain always turns on whether the government entity is able to demonstrate public purpose, like building a new school building. The Northern Pass case could not establish a public need.