Q&A with Economist and author Heather Boushey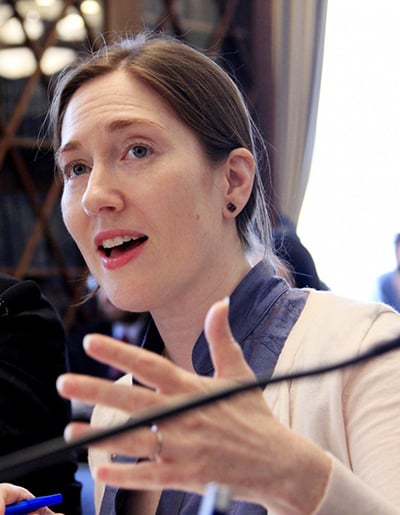 Heather Boushey, executive director and chief economist at the Washington Center for Equitable Growth, is the author of "Finding Time: The Economics of Work-Life Conflict." In the book, she argues that resolving work-life conflicts is vital, not just for individuals and families but for improving the nation's productivity.
Called one of the "most vibrant voices in the field," her research focuses on economic inequality and public policy, specifically employment, social policy and family economic well-being.
Boushey will be appearing from 6 to 7:30 p.m. Tuesday, May 9, at 3S Artspace in Portsmouth. For more information about the event, presented by the Carsey School of Public Policy and the NH Women's Foundation, visit 3Sarts.org
Q. In "Finding Time," you talk about four areas of policy that need to be addressed to help employees solve the everyday problems facing employees.
A. For shorthand, I call those areas "Here," "There," "Care" and "Fair."
"Here" addresses the needs people face when they need to be at home, like when they can't be at work because they're sick or their child or another family member is sick. That doesn't mean they can't work and be productive when they're on the job – it just means they need some time off to meet the needs of "here," or home, instead of "there," the workplace. Millions of American workers don't have the flexibility to do that.
When we're "there," the hours we work should fit the rest of our lives – many workers don't have predictable schedules. They don't get enough hours, or they're overworked or their schedules are so unpredictable that they can't meet their other needs. In other words, many workers' schedules are designed to meet the demands of businesses, with little or no appreciation for the needs of the workers themselves.
Families also need high-quality, affordable, safe ways to care for children, the elderly or sick relatives. That not only helps families, but benefits our society and economy.
Finally, all of these solutions must be fair. They should be available to all workers across the economic spectrum, not just those lucky enough to work for employers who offer them. And no one should be discriminated against because they need some flexibility to care for their family
Q. What kind of specific policies are you talking about?
A. We need to focus on helping families. So one is to allow workers to earn paid sick days or short-term leave. The other is paid family and medical leave for 10 to 12 weeks.
Only about two-thirds of workers have paid sick days and the overwhelming majority of workers do not have paid family and medical leave. There are employers who have made a point of offering the coverage, and there are three dozen places – five states and some cities and counties – that are doing it. But we need coverage that includes all workers, not just some of us
Like the rules we already have, some going back to the 1930s, regarding the minimum wage and workplace safety, paid sick days and paid family leave should be required for all employees and employers, with no exceptions, so that the rules are fair and apply to all businesses and their workers.
Another thing that's very important is that everyone needs to know that they will be able to use the leave without fear of retribution. And there's another easy first step – making it illegal for your to retaliate if you even ask the question about taking a short-term leave.
Q. Why do you think it's been such a long, often difficult, road to implementing policies like paid family leave?
A. I think people think of programs like child care, paid sick days, scheduling predictability, as some kind of handout. They're not seeing them as ways to make it easier to enable people to go out and get a job and work.
It's different from the 1930s, when so many of our labor standards and programs were established. In those days, during the Depression, they were insuring people against not working with things like Social Security and workers' compensation. Today we're talking about actually helping them through that little period when they can't work – a few weeks when they're sick or a few months when their child is born, and then getting back to work. Some people have a hard time thinking about it that way.
Q. The NH Legislature was considering a bill to set up a paid family leave mechanism this year, but it seems to have been put off until next year. It would include a provision that would allow employees to opt out of the system.
A. I've never heard about an opt-out clause in the other places they have paid leave. It would be an interesting experiment, but it would seem to me if you let everybody opt out, they'll say, "I don't need this" – until they do.
It seems like it would defeat the purpose of being able to fund the program so all workers are covered. Think of it like homeowners insurance – if you have a mortgage, the bank requires it. You may not think you need it, and if you could opt out, probably a lot of people would.
Q. In your book you estimate if we had work flexibility policies that covered all employees in the country, we'd save about $15 billion a year.
A. It's not a number I came up with, but it is an estimate of the money that would be saved from having flexile schedules, like allowing someone to work at home instead of taking a sick day and other ways of giving them flexibility.
Research shows that when employees are treated fairly and with respect, they work harder and they have more loyalty to the company. Employee turnover is a very large cost to companies – first coping with the absence of a former employee then finding a replace and then training that new person to get up to speed.
I did a paper with my colleague and looked at all the studies, and we found the median cost of finding and training an employee is from 16 to 20 percent of an employee's annual salary, and it's basically that across the board.
Q. So that would mean that work flexibility benefits employers too.
A. The biggest benefits of work flexibility for employers are being able to recruit top talent and being able to keep people on the job. Flexibility improves the bottom line as well as productivity.
For example, there was a utility company with two plants in two different locations that implemented a workplace flexibility plan in one of the plants for one year. Productivity at the site where they implemented it shot up that year, and productivity stayed the same at the other plant. Then they got rid of the flexibility program and the productivity shot back down at the plant where they stopped offering it.
Q. In your book, you talk about the "silent partner" that businesses had for years – the American wife.
A. The idea is that, for generations, you have had women who do unpaid labor in the home, and they don't measure that economic impact in GDP. American businesses benefit enormously from having this unpaid worker. They know that if they don't want to give a worker unpaid family leave, they have someone at home who can care for an ailing loved one, someone at home who is basically giving these bizzes a "big fat bonus," as I say in the book.
Q. Where does paid family leave legislation stand in Congress right now?
A. There was a bill introduced around flexible scheduling, and the FAMILY (Family And Medical Insurance Leave) Act was reintroduced. Ivanka Trump has her office in the West Wing as an unpaid federal employee, and all indications are that she is still talking to people about paid family and medical leave.
The bills in Congress right now have not gotten a lot of Republican sign-on, so there's still a lot of work to do to get the Republican caucus behind the idea in general. It would be fantastic if we could see movement on this issue, but will she be able to get Republicans on board, and will she be able to get Democrats on board?