Q&A with DRED Commissioner Jeff Rose
A Q&A with the new head of DRED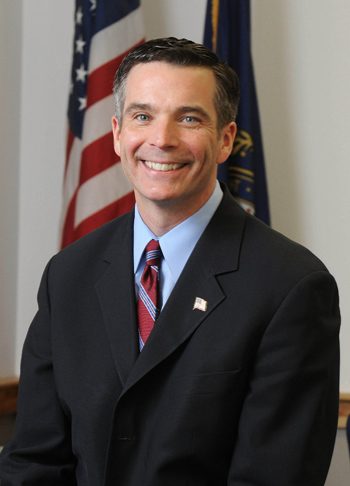 Jeff Rose is, in a word, "excited" about his new job.
Rose was sworn in April 1 as the state's new commissioner of the Department of Resources and Economic Development. Rose, a New Hampshire native, believes his background in the private and public sectors along with his personality will allow him to be an effective leader and "consensus builder" for state's economic development agency.
Prior to joining DRED, Rose spent nine years working for the defense contractor BAE Systems in Nashua, the state's largest manufacturer. Taking a pay cut, he jokes that he didn't take the DRED job "because of the compensation." He's accustomed to public sector service. For eight years, he worked for three members of the New Hampshire Congressional delegation (Bob Smith, John E. Sununu and Jeb Bradley), with emphasis on transportation, natural resources and economic development.
His community service includes stints as former chair of the Greater Nashua Chamber of Commerce and the New Hampshire Gateway Chapter of the Red Cross.
Rose, who was preceded by two-time DRED commissioner George Bald, oversees for the Division of Forests and Lands, the Division of Parks and Recreation, the Division of Travel and Tourism and the Division of Economic Development.
Q. Why did you want this job?
A. I grew up and have lived most of my entire life here. I cannot think of a better job in the state, to lead an agency as diverse and talented as DRED. There is a great deal of enthusiasm and renewed spirit and this is a group of really dedicated employees. It really gets me excited to help provide growth in our economy and protect and promote our state's resources.
Q. How would you describe DRED's budget after the agency dealt with the cuts to all its departments over the past few years?
A. In regards to the proposed budget, I believe that Governor Hassan has done a very effective job presenting her budget that shows her commitment to an innovative economy. The commitment covers a fully appointed economic development director to bolster the success of that division, the resources to help the International Trade Resource Center provide more technical assistance to exporting companies, which is very important for future growth opportunities, and to restore 1.5 percent to the Travel and Tourism Department, which is essential to effectively promote and share the wonderful story about this state.
Q. What other proposed budget areas do you think will help economic growth?
A. Passing the R&D tax credit was an important piece of legislation and shows Governor Hassan's commitment to an innovative economy. This sends an important signal to the next generation of entrepreneurs.
For the economic development of our businesses, restoring education funding to the university and community college systems is also vital. We have a fundamentally vibrant economy, and a well-educated and skilled labor pool is necessary for companies to grow and expand.
Q. It's still early, but how do you assess the state of inter-agency cooperation?
A. Since I was appointed, I've experienced a positive reception and outreach from my fellow commissioners and enjoyed meeting the committed and dedicated employees who work for the state. I do believe there is a spirit of cooperation among the commissioners. There's a collective sense of all being on the same team and all of us working with limited resources to provide the most services.
Q. What's it like following in the footsteps of George Bald, who was so highly regarded across the state?
A. He's somebody who will be on my speed dial. George left an indelible mark of commitment and advocacy. He was a consensus-builder, and that's an important part of the role. George had an open mind and that certain ability to work well with others and bring various parties to the table. I look forward to talking with him a lot and being a worthy successor.
Q. How's the health of the New Hampshire economy?
A. We have a very dynamic economy and are well positioned. Our unemployment rate has been lower than many states, but we've faced headwinds that haven't been unique to New Hampshire. The business community wants more certainty, and we've had anything but the past months and years, with the fiscal cliff negotiations and then the sequester budget cuts. Manufacturing and, increasingly, smart manufacturing, continues to be the largest sector, but we see opportunities for growth in finding high-value manufacturers, the biotech and medical sectors, retaining our workforce, and for areas such as aerospace, with companies such as Albany Engineered Composites in Rochester.
We also have an almost collective spirit in the state that has appreciation for the qualities that make this a unique state — lowest tax rates, best health, low crime rate and a highly educated workforce. There are a lot of opportunities for us to share that experience.