Q&A with David Stevens of True Progress LLC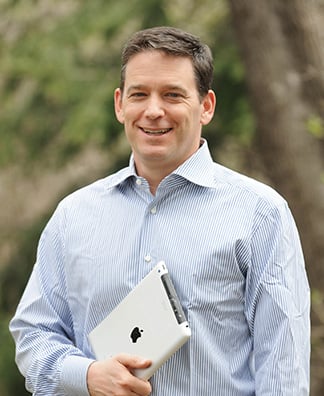 David Stevens, founder of the Hanover-based education testing firm True Progress LLC, has spent two decades as an educator trying to answer a simple question: Are we solving the problem?
Stevens, who has an education doctorate from Harvard, says he has spent his career working to help students "struggling to learn." Those students have gotten no help from the current, badly-prioritized system that reached its zenith in the wake of the federal No Child Left Behind law passed more than a decade ago. He believes the NCLB's emphasis on testing and accountability has left students and educators stuck in a "teach to the test" trap because the focus is on an ill-defined notion of political accountability.
Stevens founded and funded on his own True Progress in 2012 with a simple but ambitious aim to help schools prepare for the Common Core State Standards being implemented nationwide. Stevens, a trained cognitive psychologist, has overseen the development of an innovative online assessment program using computer adaptive testing technology with more than 7,500 math and reading questions developed mostly with input from teachers.
Q. What do you see as the main fault with the current educational testing system?
A. The problem is that the whole testing system was created by politicians for politicians to create accountability measures, in particular to punish schools and teachers whose students don't test well. But all the money and testing does nothing to help students or educators who are trying to help them learn. The tests have nothing to do with the developmental needs of children. It's the wrong path and leads to nothing more than teaching to the test, which is a waste of instructional time.
Q. What does Track My Progress do?
A. First, we have created a testing process that is engaging and not demoralizing and will help schools assess their needs to help with the transition to Common Core Standards. We've put the focus on improving student learning. Our tests are brief (as short as 20 minutes) because we've found that lengthy standardized tests sap student morale and attention the longer they last.
There are math and reading tests early in the year to set a baseline, and then we test three or more times. We combine questions that have been developed in large part by teachers with a computer adaptive approach that allows teachers to get immediate feedback.
We believe if you test four times or more a year you will get a far more accurate assessment.
Q. How do you leverage technology?
A. We know that teachers and many of their students are accustomed to using iPads, smartphones and applications like Netflix. It has become part of their everyday lives, so why not apply them to educational testing to get more accurate and quicker feedback about a student's development? The computer adaptive technology has been there for 20 years, but it hasn't been used properly yet.
We have a cloud-managed system that is intuitive in practice and can be accessed from a laptop, tablet or desktop computer.
Q. In practice, how does Track My Progress help a struggling student?
A. Imagine a third-grader who reads at a first-grade level. In the typical standardized test, it would be difficult if not impossible for the student to succeed. We also wouldn't know their score for possibly months, and it wouldn't tell teachers anything about what they know and can do – or how to help them make progress.
In Track My Progress, if a student is struggling, the program questions go to a lower level until they have success. We have best questions at each step of the process and the assessment is based on what they've answered. This keeps the student more engaged, and the teacher is getting better information to help decide how to intervene.
Q. What are the challenges of starting a company in this industry?
A. I co-founded two previous companies (Symphony Learning in 2004, which was focused on math intervention, and Lexia Learning Systems, as part of a federal grant to develop cognitive learning software). Because I bootstrapped this company, we are running a very lean business, and we see ourselves as being an Internet company.
We've had as many as 20 people develop the program, and we currently have four full-time employees. The benefit of a lean budget means that your focus is on really developing exactly what schools need you to do and not have venture capitalists pushing us.
The down side is that there is very little room for error, and we have to get it right. Another challenge is the education bureaucracy. When you have a lot of people to sign off on a project, it sometimes can take up to three years to make a decision.
Q. What has the feedback been so far?
A. The feedback has been almost all positive. We have more than 100 schools utilizing Track My Progress, from small schools to others in Florida and California with between 800 to 1,200 students, and most of the growth has been through word of mouth. Because of our lean approach, a grass roots growth based on merit will be the way we succeed.