Q&A with Currier Museum of Art Director and CEO Alan Chong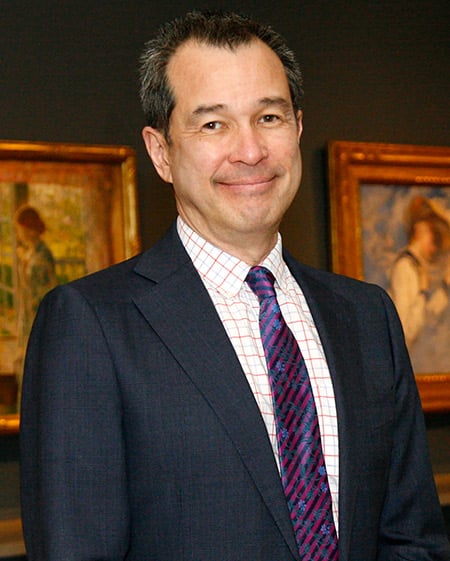 In 2016, Dr. Alan Chong became the ninth director of the state's largest art museum, located in Manchester. He served as the director of the Asian Civilisations Museum and the Peranakan Museum in Singapore for six years, but he was well known regionally from his work as a curator at Boston's Isabella Stewart Gardner Museum from 1999-2010.
As head of the 89-year-old Currier Museum, Chong oversees a world-class collection and programming that includes everything from art talks to jazz brunches to the occasional dance party, with a staff of 33 and an endowment of $80 million.
Now, the museum is addressing the state's opioid problem — one of the programs that recently led to its recognition as a Champion in Action in the category of community arts. He is an administrator, curator, fund-raiser and strategic planner — but first and foremost, "a lover of art."
Q. Where does your love of visual arts come from?
A. I'm not an artist, and it's not part of my family tradition. The first time I visited an art museum, I was most interested in the architecture of the building. Then I took an art history course in my freshman year at Yale, and had a very powerful teacher. She showed me that art is not only pictures on the wall, but a way into society. It's about literature, history, politics, economics. You can talk about all of these things through a single painting.
Q. When did you first become aware of the Currier Museum?
A. During graduate school at NYU, I came up to see the Dutch paintings, especially a landscape by Jacob Van Ruisdael. It's a very powerful painting: "View of Egmond-on-the-Sea."
Q. What drew you to this position?
A. I enjoyed being a museum director in Singapore: resetting the mission, restructuring, guiding it in a new direction. I enjoyed being a change agent in that sense, and I wanted to come back to the States as a director. The Currier is a great museum, financially strong, with an excellent collection.
Q. What do you see as the museum's greatest strengths?
A. One advantage of a small museum is that we can be nimble and experimental. We can be flexible in programming and try new things, and if they don't work, we alter them. In terms of the collection, we're very strong in American painting – though a lot of visitors specifically want to see our Monet and our Picasso. They're the big favorites. Some of the other star pieces are paintings by Marsden Hartley, Edward Hopper, Georgia O'Keeffe and Maxfield Parrish.
Q. What about the Zimmerman House?
A. That is our largest work of art. It's the only Frank Lloyd Wright designed home in New England, and it's a jewel. Every nook and cranny is designed to create an experience. We run two tours a day from April through December and a couple of twilight tours during the year, and we could do more. We need to get more people through it.
Q. What do you see as the museum's mission?
A. The board has a mission statement I fully agree with. There are three key components. The first is to welcome a broad audience, offering free events and ways for people to experience art. That includes reaching out to people to who don't traditionally go to museums, and targeting special needs in the community, which we do through things like our Alzheimer's Café, a program for families of veterans, and now "The Art of Hope," a program with the Partnership for Drug-Free Kids.
Q. How does the program help?
A. We're not front line workers. We can provide non-clinical support by offering a welcome sanctuary for families dealing with substance use issues; by providing a place to look at and create art together. It takes down barriers, not only in terms of access but also understanding of art.
Q. What else does the museum do?
A. In addition to welcoming a varied audience, we focus on depth of engagement. If you're interested, you can enter more deeply into the art experience by participating in a workshop or studio art class. Every fourth grader in the area visits the museum, and we'd like them to come back. We'd like to engage more high school students, and we're working hard to target classes in art, history and literature. We've started a student internship that's paid; we know that this makes it a more meaningful experience.
Q. What are the museum's goals?
A. To continue to be flexible in programs and exhibits, and commission new contemporary work that's cutting edge. One way is through a residency program, three or four each year. We'll bring an artist here for one or two months to help with community outreach and education and be involved in all aspects of the museum. The artist is selected for his work and originality. Our first is Ethan Murrow, who's going to transform one of our galleries into a 100-foot-long, hand-drawn panoramic mural focusing on the history, people and environment of the Manchester area.
Q. How do you choose that work, or those exhibits?
A. We have an excellent collection policy and a great curatorial team. It's a strategic collection: everything we acquire should have great impact for our audience. There doesn't have to be a direct connection: for example, we'll have African beadwork. It's a fantastic art form that has just taken off, and it's a wonderful intersection with another culture, especially as New Hampshire welcomes more immigrants from around the world. Some of the things we do may not result in an exhibition but they get people thinking.
Q. What are the challenges?
A. We're under-resourced, like most museums of our size. We're starting programs and can't fully staff them. Many people are doing two jobs in order to compensate. We balance our budget, but just barely — so we have to restructure to have money for special programs. I think there's a sense that we don't need money because of our endowment, but that's not true.
Q. How strong is your audience?
A. Membership is up, which is a good sign. As far as visits, there's not a museum in the world that's happy with their number. We have 60,000 visitors a year and we'd like more. We have free admission for New Hampshire residents the second Saturday of each month (10 a.m. to noon). I'd like to expand that, and have more free events where people come for fun and also experience art. I imagine more school visits, more partnerships with colleges and universities. We're also talking with the state tourism office and the Palace Theatre, trying to tap into the stream of tourists.
Q. What else would you like to do?
A. Among many other things, I want to make our landscape more inviting and exciting, make it a work of art. I want to find new ways to engage our audience, possibly include animation or performance art. We could do something around the political season. Artists are political beings, and New Hampshire is a focal point.
Q. What's on view now?
A. We just opened "The Sculpture of Augustus Saint-Gaudens." He was the most important American sculptor of the late 19th and early 20th century, with an active studio in New Hampshire. It's the first New England exhibition of his work in 30 years. "Going Baroque," a gallery of 17th century art, continues until the summer.