Q&A with Crotched Mountain CEO Don Shumway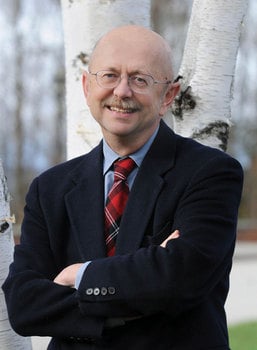 By any measure, Crotched Mountain Rehabilitation Center in Greenfield has been one of the great New Hampshire success stories since its founding in 1953.
Its creation was a model of civic collaboration between the state's business and medical communities. Their goal was to create an institution to provide round-the-clock care and educational opportunities for returning Korean War veterans suffering from brain trauma injuries, polio victims and people with disabilities.
Don Shumway, president and CEO of the Crotched Mountain Foundation, said the rural mountaintop location was decided upon to provide "inspiration and spiritual growth when facing a major loss and recovery."
Shumway, a former health and human services commissioner in New Hampshire, arrived at Crotched Mountain in 2002. He oversees a residential campus that spans 1,400 acres and includes a school, hospital, outpatient clinic, brain injury center, media center and an athletic complex. The hospital has 62 beds and draws patients from other hospitals in the Northeast, while 95 students are full-time residents and receive round-the-clock care.
Q. What would people be most surprised to learn about Crotched Mountain?
A. Probably quite a few of things would surprise people. We have a workforce of 800 people and a payroll of more than $35 million, which allows us to be a major economic contributor to the Monadnock Region. The technical skills of our workers are really unparalleled, as they handle some of most complex cases from serious brain injuries to clients with severe behavioral and emotional issues.
We draw from all over the Northeast and have (satellite) locations in Albany (N.Y.), Boston and Portland (Maine). We have built New Hampshire's first wheelchair-accessible treehouse and the country's first accessible high-mountain trail system.
Q. How has Crotched Mountain embraced community involvement and innovation to further its mission?
A. We've always viewed the health of the surrounding community as part of our health agenda. We work closely with the town of Greenfield, and recently we turned over a conservation easement to the state of more than 1,200 acres, which will be forever preserved for use in the region.
Economically, we switched from an oil-burning to a woodchip system that supplies heat and hot water through a network of pipes across our facility. We are saving significant money, paying the equivalent of 61 cents a gallon of oil, and contributing to the local economy because we buy wood chips from local sawmills. For them, it's mostly waste, so it's a win-win for everyone.
I am also proud of our wastewater system. We are located on a mountain with steep slopes, and we have to handle 60,000 gallons of wastewater every day. Working closely with the Department of Environmental Services, we piloted a wastewater drip irrigation system, a network of many tubes spread over 20 acres through the forest. In four years we've not had a single failure point. It has been a success that will not only save us many millions of dollars in the coming years, but we have been able to demonstrate to DES and other landowners new opportunities for responsible development in sensitive sites.
Q. How has your role changed over the past decade?
A. When I arrived, some of my initial goals were focused on enhancing the values and standard of care that we aspire to. Next, we began long-range planning for the challenges driven by demographic and economic forces we could see coming in the future. We knew that hospitals were going to look for a less-costly but high-quality alternative for long-term care. We knew that school districts that help fund special education were going to be facing even greater restraints on taxpayer dollars.
The change was coming, but we felt if we did it right, it would strengthen and prepare us for the economic challenges that were going to impact our country. The challenge has been to bring the workforce through the change process. It can be difficult, because these plans can sound far removed, but the workforce took tremendous pride to be part of the solution and see themselves as leaders in health and educational change.
It's exciting to work in a place where so many staff members have a great appreciation for the wider context. We have transformed the way we work in anticipation of fiscal restraints that are still emerging.
Q. On a day-to-day basis, what is the best part of your job?
A. We have so many great stories to tell because of the intensity of our work and the complexity of the care we provide. I try every day to walk through the campus and other sites that we operate and spend a few minutes talking to patients, students and direct support staff. I get a daily reminder of what we do, and when I come home, it's really those moments I talk about with my wife Miriam.