Q&A with compost entrepreneur Rian Bedard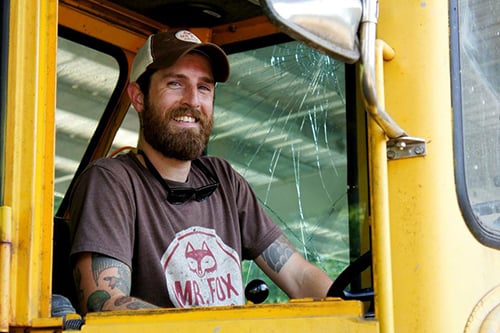 Few people were interested in curbside compost pick-ups in 2009, when Rian Bedard founded what became Mr. Fox Composting.
Bedard says he struggled against the tradition of typical waste hauling and found that, in a lean economy, there was little interest in lending to a compost-collecting startup. The company also had an original name (EcoMovement) that reflected Bedard's ecological philosophy but didn't translate well at a marketing level.
But Bedard persevered, and his Dover-based company has grown. The first batch of clients who believed in the model helped finance the purchase of Bedard's first collection truck. He had 30 residential and
commercial clients the first year and over 170 clients after three. Bedard says he's adding about five clients a week, hauling away as many as 60 tons of compostable waste a week from homes, restaurants, schools and flower shops.
A name change in 2013, to Mr. Fox Composting, boosted the company's brand recognition dramatically. Bedard has also realized his long-term goal of establishing a compost farm to sell rich fertilizer to nurseries, gardeners and farmers.
Q. How important was the name change for your company?
A. It has made a huge difference in how we are perceived. It became clear that EcoMovement was too political, even though it wasn't intended to be. We named it after my young son Fox. It's warmer, fun and cool, and people love it. The T-shirts and coffee mugs with the Mr. Fox logo are popular.
Q. How have your educational efforts benefited the business?
A. Education is the key, because it has helped us grow but also helped our clients because when they start composting, they start to look at other things.
For example, at the 15 schools we service, we've not only helped them reduce their garbage waste by 75 percent. They start looking at waste, such as Styrofoam, which can't be recycled, and they changed their practices because it makes sense.
Q. How has the compost farm enhanced your business model?
A. By turning the compost we pick up into rich soil, at the farm in Eliot, Maine, it gives us another revenue stream and expands the vertical integration of our sustainable model.
In the process, I've become a so-called expert in our static-area compost farm. The process takes about nine to 12 months, and we create an optimum product by blowing air through pipes to control moisture. We are showing how we have transformed waste that used to go into landfills into compost soil for local gardeners, landscapers and farmers.
Q. What other developments have changed the business?
A. We continue to add schools and restaurants, but our residential curbside pickup service has really grown. We are also in the process of setting up pilot programs to establish town-wide composting capabilities at six towns in Maine and New Hampshire.
The most important thing I've seen is how businesses themselves have embraced the composting model, from cafes in downtown Portsmouth to larger companies who didn't think about this at all until we came around.
Q. How would you assess your entrepreneurial path?
A. Nothing can prepare for owning a business, to live and die by your decisions and to learn how to be open to new ideas. I've gotten help and relied a lot on my grandfather, but also from the Small Business Development Center. There is a really amazing community of people out there that want us to succeed.