Q&A with civil engineer/advocate Darren Benoit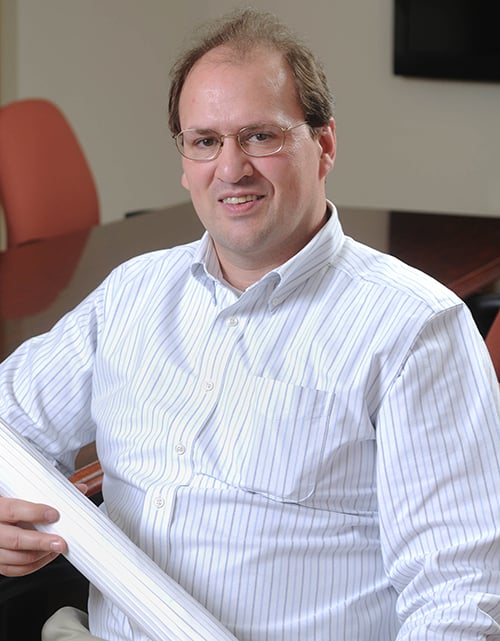 If you take the highway to Manchester Boston Regional Airport, you are driving on a road engineered by Darren Benoit, who heads the highway group for McFarland Johnson Inc. in Concord.
But Benoit doesn't just design many of the state's roads and bridges, he also lobbies for his industry. And he's apparently very effective at it, considering that the American Society of Civil Engineers recently recognized his efforts by granting him the Outstanding Civil Engineer Advocate of the Year Award. He is also co-chair of the ASCE 2015 update of its Infrastructure Report Card, which most recently gave New Hampshire a grade of C+.
Q. How is New Hampshire doing when it comes to the report card?
A. Trending down. The biggest concern right now is water and wastewater. The estimated amount needed for wastewater infrastructure was $1.7 billion and for water, it was $1 billion.
The distribution infrastructure hasn't been changing as much, and because you have to get a permit every five years the plants no longer meet new standards. That's a lot of what [wastewater treatment issues around] Great Bay are about. The nitrogen standard was raised, and everywhere from Exeter up to Rochester may be at risk for not being able to meet water quality standards.
Q. On the report card, the grade for roads and bridges went down from a C to a C-.
A. And it's not clear whether it will go down to a D. We have done a good job of fixing state bridges on the interstate, unfortunately each year we are adding more bridges to the Red List than taking off.
Q. What about the roads?
A. We have been striving to get our best roads on a 10-year repaving cycle, with 500 miles of roads paved each year. We had the ARRA (American Recovery and Reinvestment Act), and they were able to pave 750 miles a year. Then with the 4.2-cent increase in the state gas tax last year, they were able to get higher than the 500. But now we are starting to trend down.
There is a double challenge. We have some budgetary issues at the state level. At the federal level, our Surface Transportation Assistance Act needs to be renewed, but there is also the highway trust fund nearing insolvency.
Q. How much do we need to raise to get our highway infrastructure up to speed?
A. That's a very difficult number. To fix all of the bridges and all of the roads, you are looking at $700 million each. A total of $1.4 billion. It gives you an idea of the order of magnitude of the difference of what we are asking for and the ceiling of what is needed
We've been using some budgetary tricks over the years, and we've used up all of that money. So we came into this year's budget battle with $88 million being cut from the DOT over two years out of a $130 million discretionary annual budget. That is a cataclysmic event.
Q. What is the best way to raise those funds?
A. The gas tax is the only vehicle in the short term. In the long term, make it more mileage-based.
Q. Do we have the right balance between I-93 and other major arteries and regular road maintenance?
A. If you come into a business as a CEO, you are looking at where your raw resources are coming in and where your products are going out. When you look at I-93, that's where your money is coming in and out. This is something that is just a no-brainer. We need to finish this project as soon as heavenly possible. We have a really large tourism influx in our state, and we really have to maintain an infrastructure that is going to sustain that.
Q. You do have skin in the game?
A. I do have an inherent conflict of interest, and it's the simple fact that my wife and my kids go over the same roads that you do. When you don't reinvest in the infrastructure, our companies are going to get more business, ultimately.
If you allow these maintenance issues to go unaddressed, ultimately there will be a need for a civil engineer. It will just be in a situation that no one would really want to think about.