Q&A with chess grandmaster Fabiano Caruana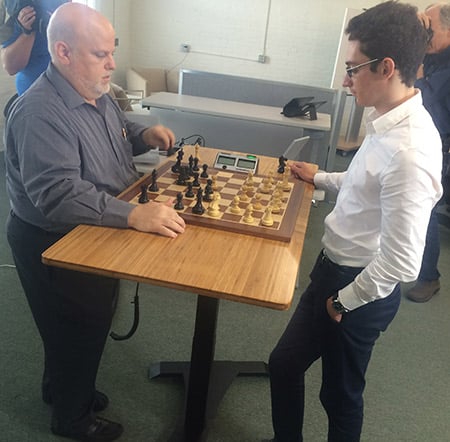 Fabiano Caruana, the 24-year-old, Brooklyn-raised chess champion who led the United States to victory in September at the Chess Olympiad in Azerbaijan, stopped by the Manchester Millyard a few weeks before the competition to promote the adjustable Prodigy Desk manufactured by ergonomics company Right Height, with design help from Caruana. As for the Olympiad, the U.S. won, and Caruana had the third best score among the first boards.
Q. When did you first start playing chess?
A. When I was five or six years old.
Q. Bobby Fisher played in New York's famed Washington Square Park. Did you?
A. Many times. When I got stronger I started playing with the hustlers. It is really fun.
Q. You started with a very aggressive style. Did it come from the park?
A. I always played with a lot of ambition, a very carefree attitude, too much risk taking and I had to adjust my style to avoid losing games unnecessarily. Sometimes you have to be more cautious.
Q. How would you compare to Bobby Fisher?
A. Styles are so different back then. In terms of pure chess strength, him at his peak and me at my strength today, I would stand a very good chance against him. With computers to analyze what moves are good, we are able to study much more efficiently. At his time he was just unstoppable.
Q. Are you a big celebrity when you go to the park?
A. No, not really. Last time I went there it was probably in May. I wore sunglasses and I did get recognized after a few games. Most places I go under the radar.
Q. How were you discovered?
A. It was in my afterschool program at the Berkeley Carroll School in Brooklyn. My first coach was Bruce Pandolfini, probably one of the most celebrated coaches in the United States.
Q. You moved to Europe to study under other grandmasters?
A. At the time, it was best to train and play in Europe, so at 12 I moved with my family to Spain, Hungary and then to Switzerland. My parents always supported my chess career. It wasn't clear at the start it was a career. I was a talented player, but I wasn't necessarily good enough to become a professional. Only when I was 17 or 18, that it became clear that I might succeed.
Q. Can you make a good living at chess?
A. It is possible, even without endorsements, just by tournament winnings, but right now I'm partnering with Right Height. I get financial aid from the St. Louis Chess Club and from the Liberty Science Center in New Jersey. Before that, I was supporting myself with my tournament earnings. I play 10 tournaments a year – tournaments that last about two weeks.
Q. Tell me about the Chess Olympiad.
A. The Olympiad has 11 games, with one rest day in-between.
It is played every two years. This year, there will be 180 countries participating and each country fields four players, plus a reserve. I will be playing against the highest-ranked players of other countries. And we are the second-ranked team, so we have a chance at medals. Our aim is to get gold.
Q. The U.S. hasn't won since 1937.
A. In the '30s, we had several of the top 10 players in the world. Since then, it is only now that we've reached a similar level.
Q. Who is your biggest rival?
A. The highest-ranked team is Russia.
The third-ranked team under the U.S. is China.
Q. You are the top-ranked player in the U.S. How about the world?
A. I'm number three, but the rankings between number two and number five are very close. About 10 points separate us.
Q. How much do you work at chess?
A. During tournaments I work nearly all day before the game, and after the game, and when I'm at home I work a couple of hours each day depending on how I feel and if there is something I particularly want to look at. I use the Prodigy Desk myself. I used a prototype of it for the last eight months or so.
Q. Standing up?
A. That's the idea behind the desk. You can both stand and sit, and you should, alternate between the two.
Q. What do you study?
A. At this moment there might be half dozen tournaments being played around the world with games worthy of study. I also try to find improvements, in openings especially.
Q. How do you prevent your success from going to your head?
A. I've lost so many games over the years. Anything can go wrong at any moment. I've had very bad tournaments, which have brought me back to reality.
Q. How long does a chess player play at the top level?
A. It really depends on energy and motivation. Vishy [Viswanathan Anand] from India is 48 and still plays at the highest level. Gerry Kasparov retired at 42, when he was best of the world.
Q. Is it going to be your life for next 20 years so?
A. I don't know but that's the plan.