Q&A with CATCH Neighborhood Housing President Rosemary Heard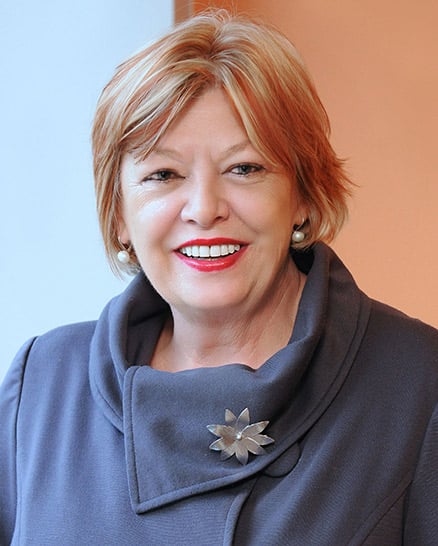 In one aspect or another, Rosemary Heard's career has been in the built environment. Starting as a draftsman for an architectural firm in Ireland, Heard moved to Massachusetts early in her career and rose to project manager and then vice president of several development corporations before working with MassDevelopment, a quasi-state agency.
She developed a broad real estate development background, partnering with cities and towns on redevelopment projects, serving as project manager for the development of a new pier in Provincetown, Mass., and working with colleges and universities on student housing issues.
Moving to New Hampshire in the mid-2000s, she channeled her expertise to successfully lead Concord-based CATCH Neighborhood Housing, a nonprofit that provides affordable rental units and other housing services, including first-time homebuyer educational resources through its subsidiary HOMEteam.
Q. Can you discuss how the challenge of finding affordable housing is affecting New Hampshire's workforce?
A. We have multiple challenges in the state. Number one we need to retain our young folks. They are moving out of the state. So we need to figure out ways to entice that Millennial generation to remain in the state, and New Hampshire isn't the cheapest place in the country to live. We need to provide job opportunities and housing opportunities for that generation. There are a lot of great minds working on that whole issue.
Spending an hour commuting to work when you may have small children at home, that's difficult. So we need housing that is close enough to our workforce that it doesn't become a financial burden or a time burden on our workforce.
Q. How does HOMEteam provide assistance for new homebuyers?
A. One of our subsidiary organizations, HOMEteam, focuses on the financial fitness aspect of becoming ready to be a homeowner. We work with folks on how to improve your credit, how to get yourself in that optimal position to buy a home and how to maintain that home after you purchase it.
In 2015, we had 611 folks go through our educational seminars, and we had 135 households purchase a home, and we resolved 171 mortgage defaults or early delinquencies. And we worked with 76 seniors on reverse mortgages. That is a cool program where it allows a senior to take out equity in their home to get a stream of income. And that's very important for seniors.
Q. At what point in the home buying process should a new homebuyer reach out to HOMEteam?
A. The earlier the better, because it provides a roadmap forward. The wonderful thing about HOMEteam is we offer classes in Manchester, Nashua, Concord and Laconia, and we take our classes on the road as well. One cannot start saving early enough or fix something in your credit or establish credit early enough.
To be able to work one-on-one with our counselors is a great way to introduce people to the process. Buying a home is a daunting process – how to work with a home inspector, how to work with mortgage companies – it gives you every aspect of home ownership. And it allows the purchasers to be eligible for first-time homebuyer programs, lending programs [geared toward] first-time homebuyers.
Q. The next project CATCH is working on is renovating the Franklin Light & Power Mill to provide 45 affordable apartments.
A. We just started on that. The city of Franklin is a wonderful city to work with. There's so many exciting things going on. There's a whole "permacitylife" culture bubbling up in Franklin, really a holistic approach to the downtown and development of the downtown. The housing project will have a big impact on Franklin and people who live there.
Concord is not that far from Franklin, and it's beautiful with the confluence of the three rivers there. [The building] is also going to have a preference for 20 percent of the apartments for income-qualified veterans.
Q. How did serving on the Federal Home Loan Bank of Boston's Advisory Council shape your view of the housing market?
A. I truly enjoyed my six years at the Federal Home Loan Bank because it gave me not only a local perspective, but it gave me a national perspective into the housing policy issues that bubble up on a continual basis in Washington.
We're a little more challenged in New Hampshire than other states. When CATCH does a development project, we have to apply for a low-income housing tax credit through the NH Housing Finance Authority, and it's a very competitive application. We compete with our sister organizations and we compete with for-profit developers for that allocation.
There were six projects approved in this year's round. That's not a lot of development throughout the state, and so what happens when we get the allocation credits, we have to go out to the syndicated loan market and we sell them to large national syndicators who pool, for instance, in a fund that might have large banks, large insurance companies. and in exchange they receive a credit on their federal taxes. It's a very complicated program; this is a simplified version. Depending on the year in the market, it could be 80 cents on the dollar.
We then take that money and it comes into our development as equity – it's not a loan. If I were to do a development project as a for-profit developer and I wanted to develop apartments, absent a program like this, I would not be able to make the numbers work. A $10 million project would probably not have more than $300,000 to $400,000 of conventional debt, whereas in the for-profit world, 80 percent of my project costs would be conventional debt.
Q. What are some ways in which CATCH has evolved to increase its revenue growth and reach?
A. At CATCH, we're constantly trying to reinvent ourselves. HOMEteam was a good example of CATCH getting together with NeighborWorks Southern NH to make this program sustainable for both of our organizations and the people we serve in the long term. Originally we were competing, but together, we were able to rebrand. It gave our users a range of locations and times that work for them. So for everybody, it was a win-win.
We also have a whole portfolio of units to look after – we house over 600 people in the CATCH portfolio. We had always used a third-party management company for our management needs, and a number of years ago I got to participate in a program at Harvard and look at a challenge in our organization. I spent two years looking at property management. We created Alliance Assets Management, and now we provide that service for multiple owners within two states.
That's one way to defer costs from our own organization and to create income on the other side. So we're constantly trying to reinvent the wheel here. I think as long as nonprofits are willing to ask those questions, there will be a strong nonprofits sector.
Q. What sort of impact did you see from the financial crisis?
A. The big piece of the financial crises for the folks living in New Hampshire was the adjustable rate mortgage crisis, where we were dealing with hundreds and hundreds of people whose rates were resetting at high rates. It was the perfect storm of tragedies at that time for folks.
Back then, we were seeing interest rates climb and climb and climb. If you tack on 3 to 4 percent on somebody's' mortgage, imagine what that does. And so out of that came a number of things. For some people we were able to work to find a solution with the mortgage company. Sadly, not everybody was able to come out of that situation to keep their homes, but some people were able to keep their credit in tack, and it created a whole segment of new renters.
Q. There is a lot of discussion over how rents have become unaffordable.
A. We serve Merrimack County. So let's take a two-bedroom household, the average household. We serve 50 to 60 percent of area median income. That would be $936 to $1,123 a month. That's still a lot of money. There are many studies out there that say a living wage in New Hampshire, I think, is over $20. The living wage in Merrimack County for two working adults and one child is $21 an hour. Livingwage.mit.edu will show what the difference expenses are. It'll show you why people can't afford housing.
So think about all of the jobs that are out there that are paying so much less than that, and how many jobs you have to work to make ends meet if you're at the minimum wage level. That 50 to 60 percent of median income is the low-income household tax credit limit. If you're a dollar over or a dollar under you're disqualified. It has very strict guidelines for participating on that program.
Q. Do we just need to attract better-paying jobs?
A. I think there's more to it than that. Education – we need to work at the very earliest age with our children to develop educational opportunities, whether that's at a technical college or a university level, we need that range of options for kids. We need to attract businesses, a range of businesses in the state that don't just provide high-end jobs; we need manufacturing jobs. And there are a lot of folks working with the state to figure out how we make all of these pieces work together.