Q&A with Campaign finance reformer John Rauh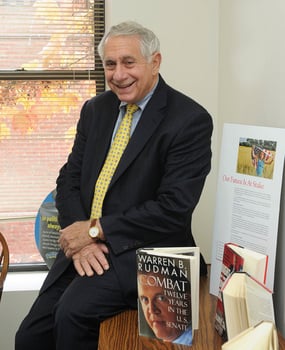 Given the reality of what has been the most money-saturated election season in American history, one would think that John Rauh, founder of Concord-based Americans for Campaign Reform, would be discouraged.
If anything, Rauh — who says he "profoundly disagreed" with the 2010 Citizens United decision by the U.S. Supreme Court that paved the way for the flood of campaign money — the court's ruling made the point he has been making since starting the bipartisan organization in 2003: Public funding of congressional campaigns is more necessary than ever.
"We haven't given up or accepted the reality that there's nothing to be done," said Rauh, who recently stepped down as president of Americans for Campaign Reform. "We are seeing far more money than ever before, and it keeps growing. The bottom line is that we need a public funding system to save our democracy and we believe public opinion is shifting our way."
Rauh offers a case in point: Before this year's first presidential debate in Denver, Rauh took in a panel discussion on campaign finance reform at the University of Denver that drew hundreds of reform advocates, students and curious citizens who wanted to learn more. Rauh, a former businessman and U.S. Senate candidate who lives in New Castle, has been joined by a growing bipartisan band of political heavyweights, including former Sens. Warren Rudman, Bill Bradley and Alan Simpson and former New Jersey Gov. Christine Todd Whitman.
Q. Why did you step down from the day-to-day operations of the organization?
A. There are two reasons. I just turned 80, and I'm very lucky to be healthy and active. I also think that, as with any entrepreneurial venture, it's time for the founder to step down and turn it over to new leadership. Larry Noble (a lawyer and nationally recognized authority on campaign finance, ethics and lobbying issues) will do a great job taking us forward.
Q. Why open a Washington, D. C. office?
A. The timing made sense. Larry is based there, and we've found that one or another of us is in D.C. at least once a week. It just made sense to be close to where many of our partner organizations who are in the campaign reform movement from the left and the right are located. We are hiring two new staff members for that office and are learning new ways of communicating with the public.
Q. Why are you confident about the future of reform?
A. It may not fully happen in my lifetime, but it will happen because the public will demand it. When we poll on this, up to 65 percent to 70 percent of the people prefer public financing for congressional elections. We have already seen it work successfully on the state level in Maine and Arizona, where as many as 80 percent of the candidates who take part in public financing win their elections.
Q. What are the key drivers to reform?
A. This election will cost $5 billion or more. Studies have shown that members of Congress spend at least 30 percent of their time involved in and focused on fundraising for their next campaign from individual donors or lobbyists for special interests.
The public clearly can see this connection to our dysfunctional political system, and they want to correct it. This won't stop Super PAC funding, but I believe a properly funded public system will limit their influence.
Q. What do you advocate?
A. We advocate the Fair Elections Now Act that is now stuck in Congress and would eliminate big-money donors and bundlers and special interest influence and enhance the role of small money campaign contributions.
For example, candidates who agree to limit their donations of $100 or less from within their districts would be eligible for $5 in federal matching funds for every $1 they raise. We estimate it will cost perhaps as much as $2 billion each election cycle, and it wouldn't be a handout. For example, if a candidate cannot reach a certain threshold amount of $50,000 of in-state contributions for a House seat primary, the candidate wouldn't qualify for a campaign grant of $420,000 or the 5-1 matching funds.
We realize that that 90 percent of candidates who spend the most win elections, but the main reason they win is because the other candidate had no chance. What does matter isn't the total amount, but a threshold that lesser-funded candidates can meet to allow them to be competitive. They don't need the most money, but they sure need enough. This is sensible and reasonable.