Q&A with Calypso Communications' Kevin Stickney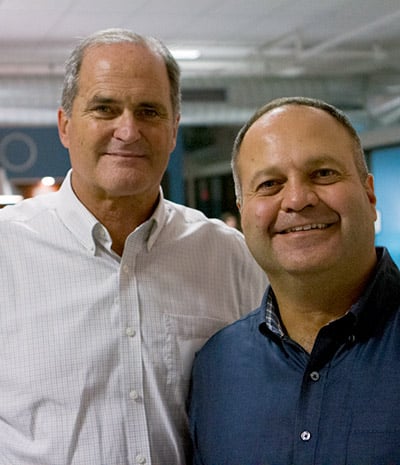 Last year, Portsmouth-based Calypso Communications celebrated its 15th anniversary, which is no small feat in a public relations industry that has been turned upside down by the digital revolution and the advent of social media.
Calypso originally served a number of clients in the energy and private equity sectors. Calypso's co-founder and president, Kevin Stickney, said he's been proud of how the company has expanded services to clients across a broad range of local, national and global sectors, including health care, hospitality, education and nonprofit organizations. Calypso's ongoing regional client roster includes Unitil, Shields Health Care Group, Exeter Hospital, Iberdrola, Babcock Power, Phillips Academy, Waterville Valley and ArcLight Capital.
The next stage in the company's evolution started last year when managing partner Houssam Aboukhater joined the firm. Aboukhater has held executive positions in the manufacturing, hospitality and private equity industries. Before joining Calypso, he was managing director of a European holding company that owned and operated seven InterContinental Hotels.
In 2015, Calypso added a new website and moved to its latest (fourth) location in downtown Portsmouth, near the harbor.
From a two-employee company at its founding, Calypso has garnered award-winning recognition and grown to 15 communication professionals with diverse skill sets.
Stickney says Calypso has thrived due to a common core value: good writing leads to effective communication and solid strategic thinking.
Q. How has the velocity of informational speed changed the PR industry?
A. Velocity is a good term. On the PR side, everybody knows the news cycle has changed from hours to suddenly a matter of seconds. Our clients need PR strategies and tactics that are lightning fast, so we need to respond in a heartbeat and occupy many different modes of media.
On the marketing side, the shift to inbound marketing shows promise, but there's also concern about connecting with the right customers. We think of ourselves as fly fishermen rather than ocean trawlers, and our real brand distinction as a company is that we develop handcrafted strategies for our clients that can have a real impact.
Q. What's the foundation of that approach?
A. Our business was founded on writing, and I think we've succeeded by having good writers and good messages at the core of everything. Even the most creative ideas have some kind of text in it.
Additionally, all of our people think strategically, and that fits into the total collaborative effort we have as a firm.
Q. Is this what you envisioned for Calypso?
A. We are smaller than we envisioned but more effective. Our original aspirations were like those of any company: We wanted to grow larger and faster. But we also realized early on that we offered a value important to our clients: a high level of consultancy that goes beyond your typical PR and marketing tools.
Q. What evolved?
A. We've gone from being just a shop to a trusted advisor and business partner to being a strategic-minded business development partner.
Because of that evolution, our relationships are deeper and longer-lasting. We have a very high client retention rate – especially those who keep us on retainer – and potential clients have seen how we've helped current clients reach long-term goals.
Houssam's broad experience and development perspective were what we needed going forward.
Q. What's been your recruiting philosophy?
A. Because we are a collaborative organization, we hire people who are smarter than us and we rely on them. They are interested in a lot of different things and have a good grasp on a work-life balance. I want this to be a fabulous place for creative young professionals to have a challenging career and make the best of a rewarding opportunity to work with large and small companies. No one has a chance to get bored, because this is a very exciting place to work.