Q&A with Businessman Bill Binnie
Bill Binnie's latest venture is the Carlisle Media Group, which consists of a TV station and 17 radio stations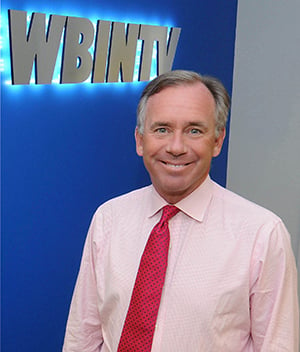 In less than four years, Bill Binnie has gone from a respected and successful, but mostly unknown, businessman from Rye to a Republican U.S. Senate candidate in 2010, and then to a New Hampshire media mogul.
In 2011, he bought a struggling television station in Derry and renamed it WBIN-TV. Binnie has since added 17 radio stations, started and then dropped an original half-hour news program, and then bought properties in Laconia and Concord to house his growing media empire.
Binnie, Scottish-born and Harvard-educated, had his first success in the plastics business and then branched out into venture capital and real estate ventures. He has been a professional race car driver and owner who twice was a class winner of the 24 Hours of Le Mans as a driver. He also served as finance chair of the New Hampshire Republican State Committee.
He says his formula for growing the Carlisle Media Group is relatively simple and derives from his previous successes: hire the right people, don't accrue debt and plow profits back into the business. He has also been a shrewd tactician — low and securing deals for radio stations coming out bankruptcy.
Q. How would you assess the performance of Carlisle Media Group after more than two years?
A. We are very pleased. We have doubled sales, and with our acquisitions this year, we are committed to physically building our stations. By and large, it's been a very good 24 months, and this is a fun business. I think it's going to take time — five years for us to have a mature business, but we have set down the basic building blocks and foundation of a successful business.
Q. What's your current focus?
A. We are in the process of building a number of facilities out and creating new facilities in Lebanon, Laconia and Concord. We moved WLNH from Gilford to downtown Laconia after we bought the old, derelict police station in Laconia. We are committed to the downtown area and in working to renovate the facility. We bought downtown property in Concord (the old Walker School Building) and plan to move six radio stations there and have it be the hub of our news platform.
Q. What will that platform be and what did you learn from the newscast at WBIN that was halted?
A. We wanted to have a news program to launch on WBIN and we did. What I learned is that's it's more important to make a wholesale commitment, which we will do with NH1 Network. This is a real commitment to use all of our platforms and go a whole bunch of different ways – radio, digital, television and social media. We are going to combine resources and be competitive.
We are also going to be platform-agnostic, because in this day and age, you can reach people on the radio or on their phones. We are at the interviewing stage for reporters and news editors.
Q. Have you thought about buying any New Hampshire newspapers?
A. No, because right now we have certain limitations as an FCC license holder. We have wonderful relationships with most newspapers in the state. We don't compete with the Concord Monitor or Boston Globe and we have terrific partnerships with them.
Q. Are you still racing?
A. At 55, I'm not planning to do any more competitive racing, though I was asked to consider driving a NASCAR entry at one of the road race courses. My last professional race was driving a Porsche at the 12 Hours of Sebring. I've always loved speed in cars or flying my own airplane, but my days with helmet on are probably over. The helmet I wear most these days is for riding a bike to stay in shape.
Q. What suggestions do you have for young entrepreneurs?
A. You can't do it for money and need to love what you are doing. This is very important: be prepared to make mistakes and remedy mistakes. The biggest misconception people have is that they can be successful without making mistakes or not deal with their limitations.
At this point in my career, after 30-plus years in manufacturing, real estate and venture capital, I've heard hundreds of ideas and no one has ever walked out and hit all the milestones (in their business plans). You need to have passion and commitment, and if you make the right decisions and are any good at what they do, they have a chance to succeed.
Q. Have you considered another run for political office?
A. I still have a desire to serve, but I'm committed to the media business, and it would be irresponsible for me to leave now. But I do keep my options open, and if I see an opportunity, I would love to be involved because this is an interesting time. I believe there is a real need in government for the skills of practical people who have built businesses and created jobs.
I worry about economic opportunities in the coming years, both at the state and federal level. My biggest worry for our state is keeping our young people here to have a job that they like and can raise a family.