Q&A with Building on Hope co-chair Jonathan Halle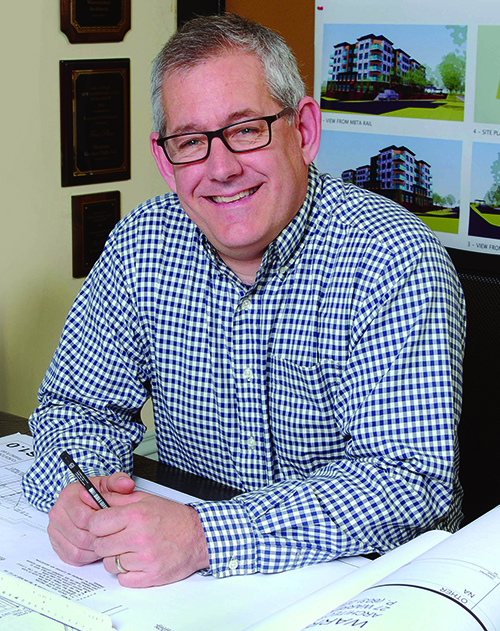 By this time next year, the organization Building on Hope will have completed its latest "extreme makeover" of a New Hampshire nonprofit – the million-dollar renovation of the 105-year-old Manchester Police Athletic League building.
Founded in 2009, Building on Hope is a community organization of volunteers who collaborate with builders, architects and designers to transform facilities of selected nonprofit agencies.
Since its first project in 2010, the Easter Seals Krol House Boys Intensive Residential Facility in Manchester, Building on Hope has also facilitated physical improvement makeovers for Girls Inc. of New Hampshire (2012) and Opportunity Networks of Amherst (2014). Building on Hope estimates that about $1 million has been donated in products, services and volunteer time for the projects.
Jonathan Halle, co-chair of Building on Hope, said the lasting impact of the projects is beyond measurement.
"What happens for organizations like Opportunity Networks is a renaissance," said Halle, a managing member of the Warrenstreet Architects cooperative in Concord. "They have a new home base that allows them to spring forward and serve their community even more."
Q. What was the genesis of Building on Hope?
A. People like Rick Broussard (editor of New Hampshire Magazine), Emily Shakra (Nick Shakra Real Estate), and about half-dozen of us talked about trying to put some kind of program together to give back to the community. We wanted to include the building industry. We were flying by the seat of our pants. We thought about a green-focused project.
Then Karen Van Der Beken (of Easter Seals NH) talked about Krol House, a home for eight boys supported by Easter Seals that needed a lot of work. The idea of extreme makeover was born, and it became a catalyst for what you would call a community barn-raising.
Q. What was that first project like?
A. We did a $300,000 renovation in a little over a week. It was stripped and gutted and a new heating system was put in. Even a small addition to the kitchen was made so the boys could have room to sit around a kitchen table.
It was amazing that 300 to 400 companies and hundreds of individuals were involved. It was a total team effort, and the premise was everyone had piece of responsibility for the smallest of details. For example, an interior designer would own a room. Landscapers had their part as did insulators.
Q. What might people be surprised to learn about Building on Hope?
A. I believe the essence of Building on Hope is to be a catalyst. As I've told others, we are still making it up as we go along. We are not a nonprofit organization ourselves. We struggle with this because we've had no administrative director and don't have financial support or sponsorships for BOH.
There has been a group of maybe a dozen individuals who have stayed together and feel passionately, but the group keeps growing every year. I look at myself as more of a cheerleader because there are a lot of people who are implementing what we do. The really cool thing is seeing people come together in a true sense of community. We've learned that when many hands make small contributions and do a small piece many people, it's not as burdensome
Q. What's an example of the catalyst impact you mentioned earlier?
A. For an organization like Opportunity Networks, they are a phenomenal program but they struggled with a building so rundown it was understandable that parents would say, "I can't leave my children there." They were able to leverage the BOH volunteer help and donated material as a catalyst for a bank loan to do the entire renovation. Before, they were struggling to compete; now they have waiting list and are moving forward to do even better work.
Q. Why only one project every other year?
A. We know the need is there. There are so many great organizations that do amazing work in all parts of the state. This year we had 30 applications for the 2016 project and we narrowed that down to a final six.
New Hampshire is small community and logistically it's very difficult to continually return to a great group of donors. Many of them are small businesses and a $1,000 or $2,000 contribution is big for them. It takes a lot of planning and coordination.
Q. How does the work you do with BOH complement your work as an architect and the cooperative philosophy of Warrenstreet Architects?
A. The employee-owned cooperative at Warrenstreet creates a strong culture of commitment and ownership. In a sense that's what BOH is: stepping up and inviting other people to take part in positive change.
For more information about Building on Hope, visit buildingonhope.com.