Q&A with builder/developer Eric Chinburg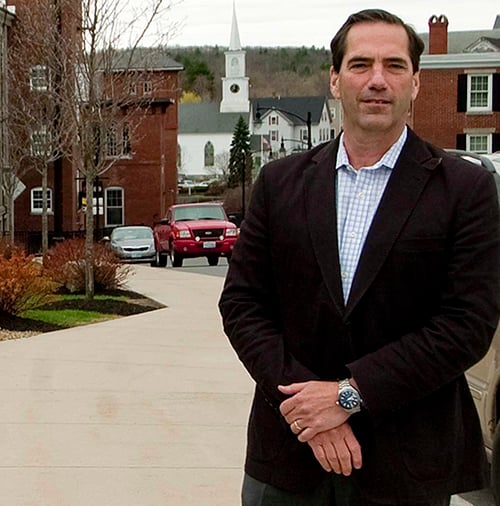 Eric Chinburg started on his path as a homebuilder and property developer in the late 1980s for a simple reason: He needed to make money to repay his parents for debt accrued during his senior year at the University of New Hampshire. Flexing his entrepreneurial muscles, he bought and moved a condemned house in Durham for $1.
In 1987, he bought a book, "How to Build a House," and with a friend built a saltbox colonial reproduction and turned a profit. "I learned two important economic lessons," Chinburg told NH Business Review. "Even if you buy a house for $1 you can still lose money and every project has different economics. There is no sure thing as costs and demands shift all the time."
Chinburg, who has a degree in civil engineering from UNH, has expanded his original base of custom homebuilding into Chinburg Properties, the Newmarket-based property development and management firm with projects throughout the greater Seacoast region of New Hampshire, Southern Maine and the North Shore of Massachusetts.
Q. What are the challenges and rewards for renovating old waterfront mill properties?
A. There are a many reasons why we love to renovate mill properties. All of the projects are unique and have their own engineering, building and design challenges to solve. These are often abandoned and decrepit complexes that have become eyesores in communities. They attract vandalism and have a general feeling of decay. However, as real diamonds in the rough, they also have these oversized windows, high ceilings, original beams and are built from solid brick or granite. These architectural details would be impossible to re-create.
Q. How would you assess what these projects have meant for those towns?
A. When we invest in the transformation of a mill property, we are very mindful of creating great places for people to live and work. Our team spends many hours in design and development to develop layouts and community spaces that are appealing and encourage the organic development of community.
The mills also attract synergistic businesses to meet the needs of local residents. For example, in Newmarket, a resident can visit the chiropractor or have a massage, take a yoga class, join a community cycle ride, have their hair styled, enjoy an excellent dinner with organic locally made ice cream for dessert and then attend a cultural event at the Millspace Center for Arts, History and Culture – all originating in the same building.
There are more people living and working in the downtown areas with income to spend at local establishments. Higher tax revenue to the municipalities supports services like libraries and schools for the broader population. Mills also contribute to the creative community and attract artists and musicians, who appreciate an eclectic and original environment. We find this also to be very much the case in Dover between the Cocheco and Washington Street mills.
Q. How has your role evolved over the years?
A. I started out doing anything necessary alongside the subcontractors: I would swing a hammer, install toilets, hang drywall and work along with the other trades on the job site. As the company grew, my brother, Jon, joined on the design side and other family members brought their skills into the mix. Many of the people who worked on the jobs with me were buddies from Durham and from UNH.
As the company has grown, it has become more about hiring and managing smart and dedicated people, and developing good relationships with towns, banks and project partners and investors. Our tagline is "Design, Build and Manage," and each new project is impacted by the development, design, building, property management and marketing areas of our company.
Q. What might people be most surprised to learn about Chinburg Properties?
A. There have been some very lean years, when things were quite touch and go, especially during the last economic downturn. We believe in the quality of what we do, and that has been a big contributor to attracting talented people to work with us and keeping people engaged in the ups and downs.
There is a lot of risk involved in these projects and you need to have a high tolerance for uncertainty.