Q&A with Bankers Association President Christiana Thornton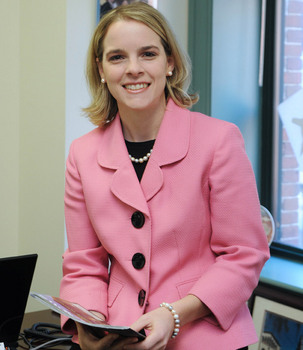 Christiana Thornton, a former aide to former U.S. John E. Sununu and a lobbyist for the New Hampshire Bankers Association, took over as the association's president in September 2011, replacing the organization's longtime president, Jerry Little. NHBR caught up with her to see what she had to say after a year on the job. The interview took place shortly before the last election.
Q. Some local banks took advantage of the Troubled Assets Relief Program, or TARP, and there is criticism that some banks are not using the funds to help homeowners.
A. Banks don't want to foreclose. They work so hard, for many, many months, sometimes years, to assist a homeowner staying in their home, regardless of whether or not there are federal programs. There has been some criticism at the national level, but New Hampshire banks have been trying to be as responsive as possible.
Q. There have been some changes in federal regulations.
A. The Dodd-Frank Act has placed thousands of pages of regulations on the bankers' doorsteps that dictate how to operate their business at a very granular level. Banks, instead of hiring employees to work with customers, have to bulk up their back operation in order to comply.
Federal regulators have proposed new capital standards for the banking industry, called Basel III, an agreement that's reached between the United States and other countries. New proposals would now require that all financial institutions would have to comply. There is a real concern about financial institutions in New Hampshire who are not engaged in international financial markets to have to maintain the same capital requirements as banks engaged in global activities.
Q. Will this mean less lending to businesses and homeowners?
A. If Basel III were implemented, we have a great concern about the access and availability of credit.
Q. We still hear complaints that the economy is loosening up, but credit is still tight.
A. We have done a study on business lending activity in response to those concerns. Bankers were telling us that they were actually lending at an all-time high to creditworthy borrowers.
It is a competitive banking environment, especially for commercial lending. Banks have money to lend and have actually increased their lending activity during this economic downturn. We thought it was important to hear from business owners themselves, and the findings were really in line with what we have observed: Those individuals who had applied for credit were able to get it
Q. What big issues are coming up in the next legislative session?
A. We will see similar pieces of legislation filed on an annual basis. Foreclosure issues continue to be of interest. We are likely to see legislation involving the Consumer Protection Act. There will be some legislation filed involving privacy issues.
I see our role as just educating lawmakers about New Hampshire's banking industry. New Hampshire's banks are the lifeblood of New Hampshire's economy.
Q. Does the association have any legislation that it is backing?
A. We have a legislative committee that meets on a monthly basis, which is about 15 or 20 bank CEOs, that give the association feedback. At this point, we haven't made any decisions, but it is likely that we will introduce something.
Q. Nationally, there's been a of consolidation and a lot of bank failures, but none in New Hampshire. Why is that?
A. Frankly, the industry had seen some consolidation back in the 1980s. What we had seen in the rest of the country, we have already experienced that in New Hampshire.
Certainly, the banking industry learned from past history and really positioned themselves well for the future and being responsible, maintaining strong underwriting standards. When you talk to federal regulators, the FDIC will say that the New Hampshire banking industry is really a gem in comparison.