Q&A with attorney Jack Sanders
"Getting old is mandatory, but aging is optional," said Sanders, a partner in the Portsmouth office of Pierce Atwood LLP.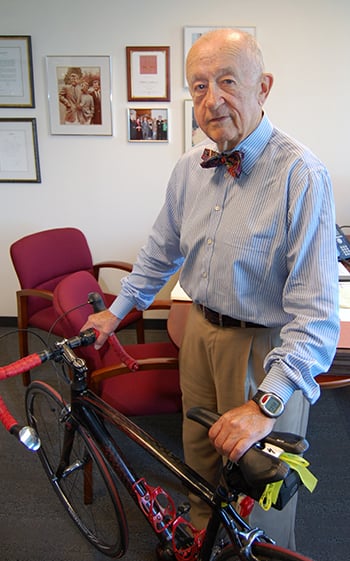 Attorney Wilfred "Jack" Sanders Jr. has a saying that well serves a man who, at the age of 77, continues to practice the law and bike and ski enthusiastically.
"Getting old is mandatory, but aging is optional," said Sanders, a partner in the Portsmouth office of Pierce Atwood LLP. "For me, skiing and biking are not just sports, but a way of life that helps me be a better lawyer and live my life better."
Sanders, a graduate of the University of New Hampshire and Boston College Law School, has no plans to slow down. He says he bikes 150 miles a week when the weather is favorable and participates in many "century" fundraising races of 100 miles or more — something he started to do after his daughter was diagnosed with cancer (she is now cancer-free). And in winter, he still hits the slopes and appreciates his role in helping freestyle skiing gain the worldwide popularity it has.
Q. How did you end up focusing on corporate law?
A. For my first several years I did trial work, but ultimately gravitated into corporate work. I found that I loved working with businesses large and small to help navigate them from one place to another. I found the challenges that business issues present were very interesting, and continue to be. I also found that businesses want their lawyers to be available and not running around in court.
Q. Why did you get involved with the UNH Center for Family Business?
A. Because I've spent a career helping family businesses, it seemed natural to be a sponsor of the Center for Family Business and the CEO Forum.
The center is a great resource for family businesses that deal with a myriad of issues, from governance to relationships to issues in the family and business succession. There's a much higher degree of regulation and more sophisticated ways of resolving issues than ever before.
Q. What was it like to go from the small firm you founded in Hampton (Sanders & McDermott) and worked in for years to merging with Pierce Atwood in 2002?
A. I've said that I've had the same job for 51 years. Being associated with a larger firm that has much larger clients and various practice groups has been tremendous. I will tell you that I am having as much fun now and bringing as much enthusiasm to the job of assisting clients as I ever have.
Q. You've been vice chair of the Judicial Conduct Committee and were recently appointed to Governor Hassan's Judicial Selection Committee. Have you ever wanted to be a judge?
A. No, I didn't. Being a judge would be a real honor, and I'm very proud of the judicial system we have in the state. It has been flattering to be considered, but I have such varied interests. I've been involved in the political process. I love working closely with and advocating for clients. I would rather do that than being a dispassionate judge.
It's important to remember that not everybody is going to be happy in litigation, especially those who lose a case. The issue is whether they got fair treatment. Our most significant contributions have been to set up a restructured appointment process to the (judicial conduct) committee and giving the public a forum to bring questions, concerns and complaints.
I encourage young lawyers to consider community and civic service because it's important to put something back on the table.
Q. When did you become such an avid biker?
A. I got involved in long-distance cycling about 10 years ago, when my daughter was diagnosed with cancer and I wanted to do something. I've completed about five "centuries" a year for the past eight years to raise money for cancer research. I've ridden a lot of races locally, but also as far away as Tucson (Arizona) in a 111-mile race. The good news is that my daughter is cured, and I feel pretty healthy as a result.
Q. How long do you want to keep working?
A. I still have pretty close to a full workload. As for down the road, I will keep working as long as I am productive for my clients and the firm.