Q&A with Albany International CEO Joseph Morone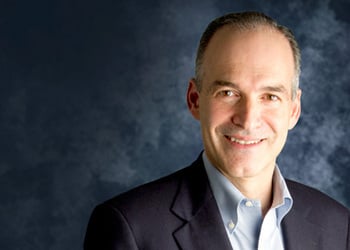 Joseph Morone is bullish on New Hampshire — in fact, he's bet his company's future on it.
Morone, the CEO and president of Albany International Corp., relocated the international company's headquarters to Rochester last year. With the French aerospace maker Safran, Albany Engineered Composites is building a new plant to manufacture a revolutionary type of jet engine with lighter composite materials developed by the parent company.
Morone, who has a Ph.D. in political science from Yale and served as a White House fellow in the Office of Science and Technology Policy, said that 90 percent of Albany's $800 million annual revenues comes from its traditional paper-based markets. But the company — which has also opened a new 45,000-square-foot research and development facility –believes the future will turn increasingly toward its work in engineered composites for the aerospace industry.
The partnership with Safran could bring as many as 500 jobs to the region and potentially position New Hampshire as a leader in aerospace research, development and manufacturing, says Morone.
Morone, who also worked for GE as a technology advisor and served as president of Bentley University for eight years, estimates that this first phase could generate as much as $500 million a year in revenues when it reaches full implementation.
Morone tells New Hampshire Business Review that he chose New Hampshire over other states for one reason — the ability to quickly build up a strong and lasting talent pool, a need that state officials grasped quickly and acted upon.
Taxes, regulations and other political schemes such as so-called right-to-work initiatives were distant priorities compared to the ability to foster talent, Morone says. He believes the state needs to invest more in education in general and science, technology, engineering and math in particular, to help develop a strong economic competitive advantage.
Q. Why did you relocate in New Hampshire?
A. Albany International originated in Albany (New York) more than 110 years ago and served the paper industry. In the past decade, many of the smaller businesses the company had acquired were sold off.
Technoweave, which was acquired in the mid-1990s and based in Rochester, developed applications to use outside of traditional markets in the textile and paper industries. It became clear there was explosive growth potential for advanced composites in the aerospace industry, and the business here required a great deal of our attention.
Since we didn't have any plants or customers in Albany, it made sense to move our headquarters here. We had a small pool of engineers and researchers who had developed the technology in Rochester, and we decided to build the plant and develop a critical mass of talent here at Albany Engineered Composites.
Q. What was the state's role in your decision?
A. To compete successfully in aerospace, we had to build and sustain a technology edge. And to build and sustain a technology edge, we had to establish immediately a critical mass of talent. In our minds, the decision about where we would locate was all about talent. Not regulations. Not taxes. Not right-to-work laws. Talent.
It has been quite a collaboration with the state, and we would not be here if the state didn't grasp what we needed. We could have built the plant anywhere in the country. We have other plants in South Carolina, Texas and Wisconsin, and Safran has them all over the country. When (former Department of Resources and Economic Development Commissioner) George (Bald) and Gov. John Lynch got involved, they knew the state couldn't bring financial inducements to the table, but they brought all the other resources to bear responsibly and quickly on the one issue that mattered most to us — talent.
They immediately began to set up training and educational programs and contacts with the Community College System and the University of New Hampshire. Sen. Jeanne Shaheen helped us secure a federal grant to create the Advanced Technology & Academic Center in Rochester. We saw the commitment to our ability to recruit, educate and hold on to the people we would need to advance this new technology.
Q. Why is talent the critical factor?
A. One question that has always interested me is why some companies are good at adapting technology and using it as a sustainable advantage and others are not. One of the unifying themes I found in my research is it had less to do with the technology and more about the behaviors of managers.
No matter what sector you are in — academia, industry, a startup or a publicly traded firm — the whole show is talent. It drives innovation and growth. You need a technological advantage to compete in the global marketplace. We can't compete with lower labor costs and never will, but talent can be the difference. We want to foster engineering talent, manufacturing talent and administrative talent. We believe this talent will support each other, grow together, and over time, create a unique, sustainable critical mass of capabilities.
Q. Do you foresee an American manufacturing renaissance?
A. I love all the buzz about a revival of U.S. manufacturing, but unless we get serious over the long haul about a commitment to education, it's hard to see that as sustainable.
We have known this for a long time. In the 1970s and 1980s, Japan was taking the lead in semiconductors and automobiles, and we were losing the technological advantages we had taken for granted.
When I was a White House fellow and worked on President Reagan's Commission on Industrial Competitiveness, we talked to more than 20 CEOs from across the country about what it would take to preserve our advantage. Number one on the list was this — investments in technology and education and renewing our commitment to university research. That was 30 years ago, and it's an undeniable truth today.