Q&A with AARP New Hampshire President Dick Chevrefils
After serving as volunteer state president of AARP New Hampshire from 2003 to 2007 Chevrefils has returned to the job for a second go-round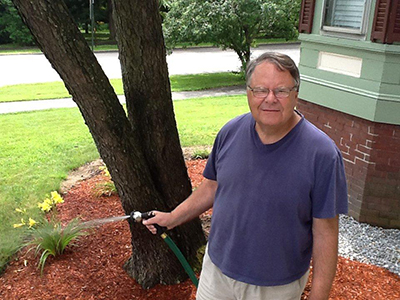 Dick Chevrefils laughs when it was suggested that he's not trying hard enough to stay retired. Chevrefils was the New Hampshire state president of AARP from 2003 to 2007 and recently returned to the same role as a volunteer.
"My experience with AARP has been very positive and powerful," said Chevrefils, who also served as AARP state president in Pennsylvania from 2007 to 2011 before, well, retiring.
It's what he calls "the perfect volunteer position."
The nonpartisan and nonprofit AARP was founded in 1958 (as the American Association of Retired Persons) and has 37 million members nationwide, making it one of the largest membership organizations in the country, offering consumer advice and discounts, supplemental health insurance plans, and public policy advocacy. Chevrefils said people are surprised to find out the depth and breadth of AARP educational opportunities on issues such as reporting Medicare fraud, tax preparation, identity theft, medication management, entrepreneur advice, voter education, civic volunteering and driver safety for older citizens.
"We are a voice for the 225,000 members in the state," he said, and it's a collective voice that is heard by lawmakers and policymakers.
Chevrefils, 67, a graduate of Saint Anselm College and former assistant commissioner of the state Department of Health and Human Services, lives in Concord with his wife Fran. In addition to AARP, he currently serves as an advisory board member with Adoptive Families for Children and on the board of the National Alliance on Mental Illness.
Chevrefils returned to New Hampshire just as the debate over Medicaid expansion in New Hampshire moved to a special commission, created as a legislative compromise that will issue a report by Oct. 15.
Q. What is AARP's position on Medicaid expansion?
A. We support the implementation because it has many benefits for all citizens in the state. I know from my work for 35 years in state government at Health and Human Services how important an issue this is. For example, Medicaid expansion would provide coverage for a growing number of uninsured people in the 50-to-64-year-old range who are underemployed and don't have health care coverage or have large gaps in accessibility and affordability. They are doing the best they can to make ends meet. They will be eligible for Medicare when they are 65, but if they don't get the preventive care they need now, they will be sicker and it will be more costly when they are covered by Medicare.
Q. How do you stay out of the crossfire of a highly politicized issue such as Medicaid expansion?
A. We do it by being nonpartisan. We do not want to jump into the political pool. Of course, we're being a player and advocating for our membership by reinforcing that we support it, but we are here to share the best factual information we have. We treat everyone the same way and share with everyone the same way.
For example, we are mobilizing voters for the 2014 midterm elections because we want our members to become involved, to learn about the candidates and the issues. We are nonpartisan and we want an informed electorate.
Q. What prompted you to come out of retirement and return as state president?
A. It's something I like to do because my heart is with AARP's mission and values. As I made that transition phase in retirement, I wanted to continue to do something for and within the community. My experience with AARP has been very positive and powerful and I was honored when I was offered this position. My mantra is the same as AARP: It's all about the people.
Q. What would people be surprised to learn about AARP?
A. First, we have a strong foundation as a national organization, but each state has its own distinct needs. We are focused a lot on member needs, and many members don't know all the education and adequacy we do until they have a need.
We have many members trying to start their own businesses, and when they take one of our entrepreneur classes, they say, "I didn't know you did that." We also have volunteers who help members discover and report Medicare fraud, because that impacts all of us. We have volunteers that help with tax preparation because it can get harder to do your taxes as you get older. We offer medication management education, because 75 percent of our members take on average four prescription drugs a day and managing it better can help save a lot of money.
We also offer driver safety because there comes a time when you get too old to drive and you just have to hand over the keys.
Q. What's your main focus?
A. For me, it's about spending time listening to our members and volunteers and asking how we can touch their lives more. We have 400 to 500 core volunteers who are a vital part of our membership and our mission. If we communicate better with our members and volunteers, they become more active, engaged and more powerful because what we do, we do for all.