Q&A: Granite VNA CEO Beth Slepian
Passionate advocate for home health care helps serve thousands of patients and families in 82 communities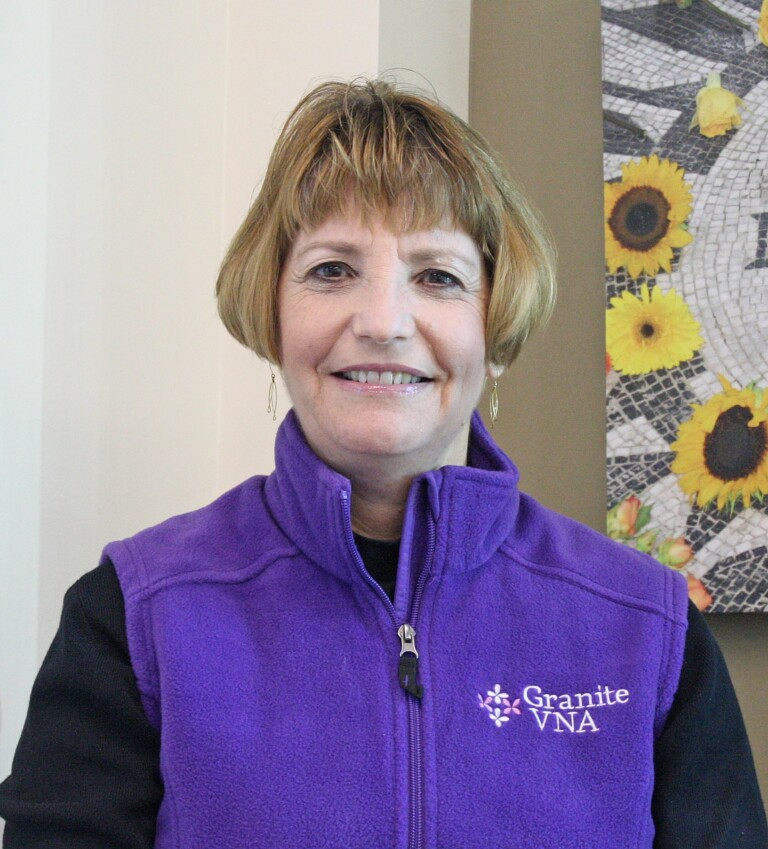 As New Hampshire's population continues to age rapidly and more elderly people seek to remain in their homes, organizations like Granite VNA will be at the forefront. Beth Slepian is the president and CEO of Granite VNA, a nonprofit which has an annual budget of more than $50 million annual and serves thousands of patients and families in 82 communities as the state's largest home health and hospice organization with 430 employees and 150 volunteers.
In 2020, at the start of the Covid pandemic, Slepian oversaw a merger of Concord Regional Visiting Nurse Association and Central New Hampshire VNA & Hospice to create Granite VNA. Slepian is a passionate advocate for home health care and serves on numerous boards, including service as a board director for the National Association for Home Care and Hospice. A physical therapy graduate of the University of Vermont, Slepian also has an MBA from New England College in Henniker. In October, Slepian was recognized with a NH Business Review Excellence Award in the Healthcare category.
Q. How would you assess the Concord Regional VNA and Central New Hampshire VNA & Hospice 2021 merger to create Granite VNA?
A. Healthcare is changing rapidly, and the merger of two strong organizations was initiated to leverage our individual strengths and increase our ability to provide high-quality care to our combined service area. We have worked hard to create a shared culture, which required a lot of work and honest conversation.
A merger during a pandemic and workforce challenge added significant stressors to Granite VNA and with strong support from our staff members, volunteers, community partners, donors and board members, we made significant strides in a short period of time. We have been able to expand our community health offerings throughout the larger service area, and we have implemented a new electronic health record system that truly integrates the two organizations.
Q. Looking back, how did Granite VNA handle working through the pandemic, and how much is the organization continuing to deal with it?
A. Throughout the pandemic, our field staff have been on the front lines continuing to care for the most vulnerable members of our community. The majority of our visits remained in person, but we also needed to consider opportunities to leverage technology. Our administrative team worked diligently to support our field staff. We worked closely with our public health officials to implement best practices, and provided in-home vaccination and Covid testing. Each day, our Incident Command evaluated the current state, and we responded to each new challenge. Foremost in our plans was ensuring the safety and well-being of our staff, and we discovered acquiring PPE (personal protective equipment) was a full-time job. Currently, our best practices remain in place, and we remain vigilant in monitoring Covid in our communities.
Q. What are some of the more interesting aspects about Granite VNA that outsiders may not know?
A. Our service area includes 82 communities and stretches as far north as Sandwich and Tilton to as far south as Bedford. Last year, our staff traveled 1,677,897 miles to deliver services and programs to community members in need. Speaking of staff, we have 95 employees with 10 or more years of service with our agency. That number includes field staff, administrative employees and managers. This experience helps us operationally, and most importantly enhances our ability to provide the best care possible to our patients and families. Lastly, we are much more than a home health and hospice agency. We offer a robust group of community health offerings that includes one-on-one, group and online programs on topics such as aging, advance care planning, grief and bereavement, caregiving and healthy lifestyles that are free of charge to the community.
Q. What are the best parts of your job?
A. I am a physical therapist by training, and have had the opportunity to provide care in people's homes. I love being a clinician and caring for patients. In my current role, I love interacting with all of our employees, and providing and encouraging them to take every opportunity to learn and grow.