Public-private effort pushed for rail project
Supporters see partnership as a solution for funding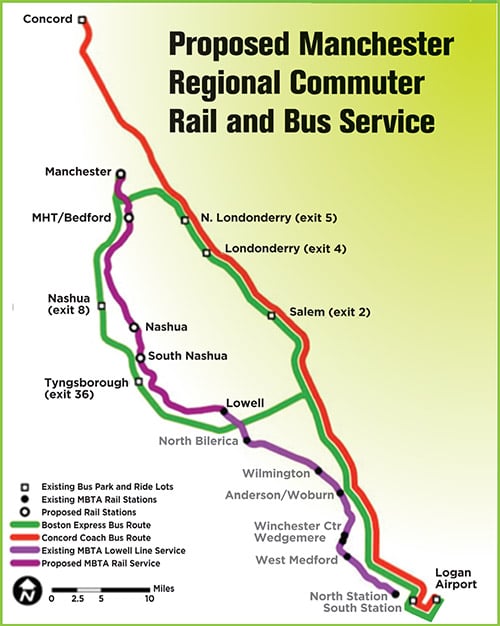 Rebuffed by the NH Legislature, advocates for expanded commuter rail service have turned to a funding concept that has yet to be tried in New Hampshire.
Known as public-private partnerships, or PPPs, they have become the go-to financing structure for a diverse menu of public projects, ranging from transportation infrastructure to public works and education.
Following the release late last year of a NH Department Transportation study, supporters of the proposal, including as Gov. Maggie Hassan, requested $4 million for a thorough financial study for expansion of commuter rail from Massachusetts into Nashua and Manchester.
Rail expansion is cited by advocates as a top priority to alleviate increased highway traffic congestion in Nashua on Route 3 and Manchester on Interstate 93, and to spur long-term economic growth in the state.
Legislators rejected the funding idea but did approve two bills that streamlined the NH Rail Transit Authority and created a legislative committee to study the feasibility of PPPs as potential revenue sources for passenger rail and other transportation projects.
Hassan signed both measures into law in August.
"We are moving forward and are confident [a PPP] will help make this a reality," said Michael Izbicki, chair of the NHTRA.
The Capital Corridor Rail & Transit Alternatives Analysis estimated a $246 million capital budget for station infrastructure and rail upgrades from Boston through Nashua to Manchester. The operating and bond payback costs were estimated at $11 million per year.
An alternative plan would bring the rail service up to Concord, but the 2014 analysis by the NHTRA and NH Department of Transportation said the plan to have two stations in Nashua, one in downtown Manchester and one at the Manchester-Boston Regional Airport would be the most cost-effective in relation to the economic benefit it would bring.
Legislative logjam
The project, which has been talked about in various forms since the 1990s, has received enthusiastic support from Hassan, Democratic lawmakers, the Nashua and Manchester chambers of commerce but little support from the Republican-dominated Legislature and critics who believe the project will serve a small number of Granite Staters in one part of the state for an unaffordable cost.
"We were disappointed that the legislature didn't approve the funding, but we've really just begun the process. The mindset we need is to recognize that we are a regional economy and rail is a tangible transportation link that will strengthen ties to the greater Boston economy," said Michael Skelton, president of the Greater Manchester Chamber of Commerce.
Izbicki acknowledged the legislative logjam but believes that continued education about PPPs will make a difference going forward.
"These types of partnerships carry a number of potential benefits, like engaging private sector innovation to help drive down costs, which can help and sustain price certainty, even in long-term budgeting," Izbicki said. He recently attended a conference in Washington, D.C., and where he said that PPPs were a hot topic among many policymakers looking for ways to mover vital infrastructure projects forward.
What is a PPP?
According to the Washington, D. C.-based National Council of Public-Private Partnerships, "a public-private partnership is a contractual arrangement between a public agency (federal, state or local) and a private sector entity. Through this agreement, the skills and assets of each sector (public and private) are shared in delivering a service or facility for the use of the general public. In addition to the sharing of resources, each party shares in the risks and rewards potential in the delivery of the service and/or facility."
PPPs are nothing new globally or in the United States. The most significant and historic was construction of the Transcontinental Railroad in the 1860s. More recently, they have been used by cash-strapped states to meet a wide range of infrastructure needs.
Across the country, with $1 billion in private financing, a public-private partnership in Denver called the Eagle 3 Project was created to construct three new commuter rail lines.
Additionally:
• In Kentucky and Indiana, the Louisville and Southern Indiana Bridges Authority is developing a major tunnel and bridge project as part of the Ohio River Bridges Project through a public-private partnership.
• The Virginia Department of Transportation is relying on a public-private partnership to redevelop a 14-mile stretch of the Capital Beltway.
• Public-private partnerships also led to multibillion-dollar redevelopments of Union Station in Denver and Union Station in Washington, D.C.
• A decade ago, the new international air terminal at John F. Kennedy International Airport in New York was completed through a PPP.
PPPs come in all shapes and sizes, but their main purpose is to spread economic risk with private sources supplying much of the capital normally raised through public sector bonding while public entities leverage federal and state grants.
'Behind the wave'
R. Richard Geddes of Cornell University and the American Enterprise Institute, an expert on PPPs, says there is still too much misunderstanding about their purpose and function.
"Private investment not only invests vast amounts of capital into transportation system maintenance and expansion, but also introduces the sharp, focused incentives to operate, upgrade and expand key facilities efficiently," Geddes wrote in his 2011 book, "The Road to Renewal: Private Investment in U.S. Transportation Infrastructure."
"It's interesting that we consider it the wave of the future when every other developed country is far ahead of the U.S. in the use of public-private partnerships," Geddes told NH Business Review. "We are far behind the wave."
He believes PPPs need to be properly understood and appreciated for their ability to solve a whole host of transportation infrastructure needs. They are tailor-made for large projects like those in Colorado and potentially for expanded rail in southern New Hampshire.
He said the Capital Corridor study is a small first step in a long journey to create a PPP, and he admits there are no guarantees for total success. Overall, he says, they are like marriage: some are good, some are bad but most agree that overall the institution of marriage is a benefit.
The challenge for key stakeholders in New Hampshire will be to develop the right PPP that can properly assign economic risk, returns and accountability, he explained.
Unlike a traditional public works project – the governing body raises the money and puts contracts out to bid for the work – a PPP works differently, by sorting out the key partnership components of design, build and finance.
He cited the $4 billion Tappen Zee Bridge project over the Hudson River in New York as one that features a design-build partner working with a separate financing partner and multiple financing agencies.
Some PPPs have one partner filling the design, build and finance roles.
In Colorado, a highway construction and maintenance project on U.S. Route 36 was built and financed by an Australian company that specializes in PPPs. To get a return on its investment, the company will collect tolls on the highway for the next 50 years.
Speaking in general terms about the Capital Corridor project, Geddes said the potential revenue sources from train ticket fees along with parking and concession rights at the proposed train stations could attract private investors.
'High expectations'
One critic of the Capital Corridor rail expansion has his doubts about the viability of the project, its true cost and whether it will deliver the promised economic benefits.
"The supporters have raised high expectations about economic growth, but we don't know how much it will really cost or how it will be paid for," said Josh Elliot-Traficante, a policy analyst with the Josiah Bartlett Center for Public Policy, a free-market think tank in Concord.
Elliot-Traficante believes Capital Corridor is a niche project that may serve up to 3,000 passengers a day from a very small part of the state.
"I'm also not sure if the MBTA can live up to any agreements, given the troubles they are having," he said about the Massachusetts transit agency that would oversee expansion of its commuter rail system to New Hampshire.
While there are so many critical steps yet to be taken for the PPP option, there will be help from the federal government to make it happen.
In September, the U.S. Department of Transportation formally unveiled the Build America Transportation Investment Center, or BATIC.
BATIC, described in a press statement, was created to "serve as the single point of contact and coordination for states, municipalities and project sponsors looking to utilize federal transportation expertise, apply for federal transportation credit programs and explore ways to access private capital in public-private partnerships."
Andrew Right, BATIC's executive director, told NH Business Review that Colorado, Texas and Florida have had the most experience and success so far with PPPs.
"The key is a comprehensive approach to PPP procurement and financing and what it will mean to potential investors," Right said. What will kill a PPP proposal is simple: poor structuring and too much uncertainty.
As for the Capital Corridor project, Right said, "it's still in the early stages."