Public higher education is an investment for all of us
New Hampshire's contribution helps enable the U.S. to compete on the world stage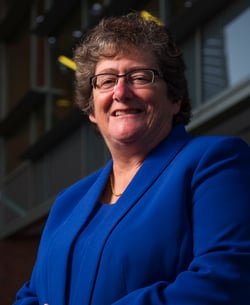 How do we further strengthen the New Hampshire economy? The answer is, of course, multifaceted, but one thing we know is that it requires leveraging the incredible wealth of resources that New Hampshire calls its own.
Some of the most valuable resources in our state are our higher-education institutions and future graduates who are preparing for employment. For example, Keene State College positively impacts the state's economy by $172 million through the development of a skilled workforce.
There has never been a more critical time to invest in our state's future by expanding collaboration between our state's businesses and educational institutions.
We all know that higher-education institutions, such as Keene State, and businesses in the state have a symbiotic relationship. It's impossible to overestimate the importance of recruiting and retaining young professionals to live and work in New Hampshire. Higher education is a crucial part of that equation. We can all benefit when we make a concerted effort together.
Two-way, open communication is a critical first step. Keene State listens to what businesses need from a workforce and addresses these needs through curriculum design and student engagement through internships and service.
We hear repeatedly that Keene State's liberal arts focus gives employers what they need as our graduates have honed the ability to work in teams, think critically, problem-solve, and have been exposed to various perspectives through their studies.
Keene State continues to emphasize these important attributes. These tools our graduates gain are critical throughout their entire careers as they change jobs, and are presented with employment opportunities that we can't imagine at this moment.
Start a dialogue
Flexibility is key. There are a variety of ways that academic institutions and businesses can work together and be very successful.
Consider just a couple of examples of the partnerships Keene State currently has with businesses:
• Swanzey-based Moore Nanotech expressed difficulty finding and retaining software engineers who understand the interaction between software code and the hardware system of which it is a part. In response, faculty from our computer science, sustainable product design and innovation, math and physics departments collaborated so that computer science majors can take courses from all of these disciplines to prepare graduates to fill these important software engineering positions when combined with internships.
• Manchester-based Dyn has been working closely with Keene State during the past year. Dyn is growing exponentially, with ambitious hiring needs that Keene State is helping to meet. Two of our students participated in Dyn's Hackathon last May and got the attention of Dyn management, resulting in discussions about employment there. A Keene State computer science major interned at Dyn last summer and performed very well, and members of Dyn management come to our campus to speak with students. The word is getting around the Keene State student base that Dyn is a great place to work.
In addition to preparing Keene State graduates in disciplines like computer science, sustainable product design, nursing and safety and occupational health, Keene State also greatly emphasizes the arts and humanities.
In fact, Keene State graduates the largest number of students in the areas of visual and media arts, which includes graphic design and film studies. Our journalism program is also very successful, and boasts alumni who are active in leading our state's media, such as New Hampshire Public Radio. Our collaborative efforts include arts and communications as well, with the ultimate goal of helping our graduates find opportunities for meaningful work in our state under our motto "enter to learn, go forth to serve."
There is no mistaking that public higher education is an investment for our state's businesses, and our children so that they may not only better their lives, but also ours in the future. It's our state's contribution that will enable America to compete on a world stage.
If your business looks to New Hampshire college graduates to be a part of the future, start a dialogue or pursue opportunities with Keene State or another higher education institution. Keene State's impact is statewide, and we are looking to continue to expand our relationships even further through conversations with businesses that are interested in cultivating a relationship.
Collaboration is our path to an even brighter future together.
Anne Huot, Ph.D., is president of Keene State College.