Provident Bank celebrates a year on the Nasdaq
Mass. bank with strong NH ties rings Tuesday's closing bell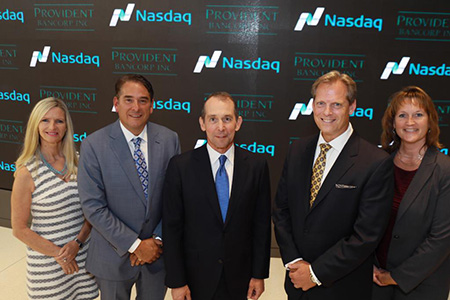 The Provident Bank might be headquartered in Amesbury, Mass., less than two miles across the border, but "it is really a New Hampshire bank," CEO Dave Mansfield summed up Tuesday afternoon, shortly before ringing the closing bell on the Nasdaq to celebrate the bank's first year going public.
The 10th-oldest bank in the country (founded in 1828) has become a strange modern hybrid, a mutual owned commercial bank that is publicly traded and partly owned by its employees.
Chartered in Massachusetts, five of the bank's eight branches are located in the Granite State, and 70 percent of its loans originate there. Indeed, it was New Hampshire's largest U.S. Small Business Administration lender (in dollar volume) in 2014 and 2015.
"Our strategic focus has been New Hampshire in 2011," Mansfield said. "All of our growth has been here."
That growth has been substantial. From 2011 to the end of 2015, Provident's deposits (as a whole) increased 42.8 percent and net loans were up 60.6 percent. In the first six months of 2016, net loans have gone up another 5.4 percent, to $580 million.
The bank's total assets total $760 million, according to the earnings report released last week. Net income for the first six months of the year was $2.85 million, or 31 cents a share.
Yet when the bank's parent company, Provident Bancorp Inc., launched its initial public offering in July 2015 under the ticker PVBC, selling off 47 percent of the company for $48 million, there was a barely a mention in the media on either side of the state border.
But it was a unique public offering all the same. The mutual shareholders – the bank's customers – retained majority ownership, but the IPO also gave 8 percent of the stock to its employees through an employee stock ownership plan, as well as $2 million worth of shares (with another $200,000 in cash) back to the community through a charitable foundation.
"We are the best of both worlds, a public company that is still a community bank," Mansfield said.
It's a full-service community bank that mainly does commercial loans, more than half in commercial real estate, about a fifth to businesses, more than 10 percent in construction and the rest in residential real estate.
And its market has become increasingly New Hampshire with branches in Portsmouth, Hampton, Exeter, Seabrook and – last February – in Bedford.
While 85 of the company's 120 employees are in Massachusetts, mostly at its Amesbury headquarters, Mansfield said that the company was "looking to expand" some of its back operations in New Hampshire. It already has a loan production office in Nashua.
The market seems to like what Provident is doing. Provident opened last July at $10 a share. As Mansfield rang the bell Tuesday afternoon, shares closed at $15.75, an increase of more than 50 percent.