Prosecutors: Man killed with hatchet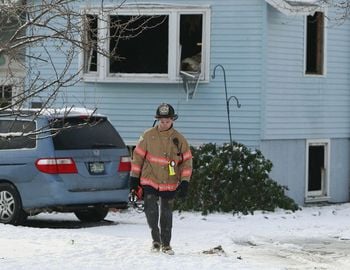 NASHUA – A 20-year-old man killed his grandfather with a hatchet and set fire to their house, prosecutors charged in court Friday.
Michael Phillips appeared at Nashua District Court on Friday morning to face charges of first-degree murder and arson and is being held without bail.
Franklin Phillips Sr., 68, was pronounced dead Thursday after being found in the bedroom of his 9 Natick St. home as it burned in a fire.
The criminal complaint of murder filed against Michael Phillips alleges he purposely caused the death of his grandfather with a hatchet. The felony arson complaint alleges Phillips "knowingly started a fire in an occupied structure."
Prosecutors remain tight-lipped on the case that has sent the Natick Street neighborhood reeling and devastated employees of Nashua Fire Rescue, where Franklin Phillips' son, Steven, works as a firefighter.
Assistant Attorney General Lucy Carrillo declined to comment on the evidence the state had gathered to charge the younger Phillips. Carrillo said the state would also not elaborate on a possible motive.
Firefighters found Franklin Phillips in his bedroom and pulled him out of the house as it burned. CPR was performed, and he was pronounced dead Thursday at Southern New Hampshire Medical Center.
Prosecutors had all other paperwork on Michael Phillips' arrest sealed, which The Telegraph has requested be unsealed. The timeline between the alleged murder and fire is unknown.
An autopsy on Franklin Phillips was performed Friday morning, but Carrillo said she didn't anticipate the results being immediately released.
Fire officials have not yet released information on how the blaze started.
Michael Phillips was adopted and had been living with his grandfather, Carrillo said. His father, Franklin Phillips Jr., lives in Merrimack.
Phillips' uncle, Steven Phillips, is a Nashua firefighter who is stationed at the Spit Brook Road firehouse. He was off duty Thursday morning when firefighters fought the fire.
Every employee of Nashua Fire Rescue stands behind Steven and his family in its time of grief, Deputy Fire Chief Michael O'Brien said.
Michael Phillips has a probable cause hearing slated for Dec. 31. He was arrested after firefighters had extinguished the early-morning blaze.
The younger Phillips was at Nashua Police Department when he appeared at the court arraignment via video feed. He attempted to comb his hair while handcuffed. Attorney Justin Hayes represented him.
Phillips waived his arraignment.
Felonies cannot be reviewed at the district court level and the hearing lasted no more than five minutes.
A day before Franklin Phillips Sr. died, he had observed the one-year anniversary of the death of his wife, Nancy.